Weekend Review: Trump Caves, Signs Bill To End Government Shutdown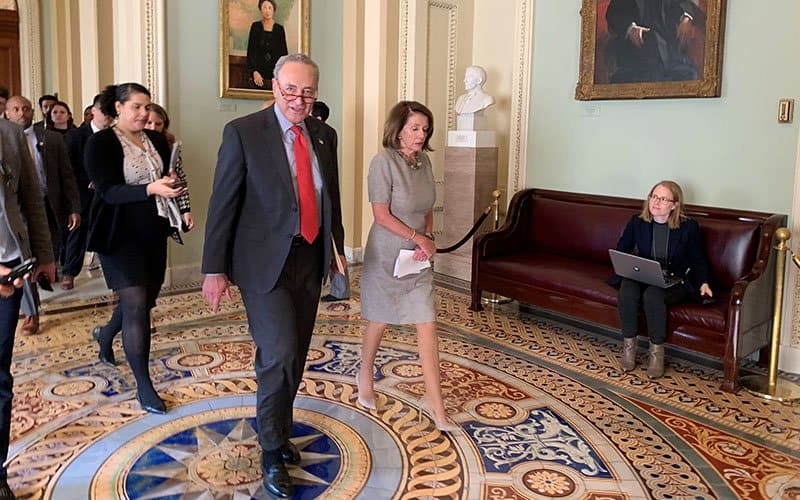 The longest government shutdown in American history ended on Friday when President Trump announced legislation to fund the federal government through February 15 without funding for a border wall. If all goes as is seemingly planned, furloughed workers will be able to return to work on Monday. Trump signed legislation to guarantee federal workers receive back pay and has said that will happen "quickly or as soon as possible". Unfortunately, some workers were struggling to secure loans, emptied their savings, and/or had to seek other assistance while going over a month without pay. Many federal contractors will not be able to make up for the missed work, but most federal workers are scheduled to receive their next paycheck on February 8. That is speculated to be the longest they would have to wait to receive their first paycheck of the year.
President Trump previously encouraged those affected to seek businesses like grocery stores and banks which would "work along" with them while they were not receiving pay. Trump suggested this after his Commerce Secretary Wilbur Ross expressed confusion over the use of food banks by furloughed federal workers. Ross suggested the furloughed should be able to take out loans before seeking assistance, but also acknowledged that they would likely have to pay "a little bit of interest" on those loans. Ross, a billionaire, argued "the idea that it's paycheck or zero" during the 35-day shutdown "is not a really valid idea" and "there is really not a good excuse" for workers to run out of money. The difficulty of accruing interest on a loan while going without pay to then receive back pay but not repayment for the accrued interest could be too much for some families. About the remarks, Trump said he understood that "perhaps he should have said it differently" but House Speaker Nancy Pelosi denounced the behavior as dismissive, comparing Ross to Marie Antoinette by asking: "I don't know, is this the 'let them eat cake' attitude?'" That attitude contributed to the unrest of the French people, which led to the French Revolution and the overthrow of the monarchy.
Trump and Pelosi Fight Continue After Shutdown Ends
After Pelosi suggested Trump delay his State of the Union address, he wrote her a letter to inform her that he was rejecting her suggestion. She then responded through a letter of her own: "I am writing to inform you that the House of Representatives will not consider a concurrent resolution authorizing the President's State of the Union address in the House Chamber until the government has opened." Two days before reopening the government, Trump used Pelosi's name in a tweet to insist he would not cave on the wall. Competing resolutions were rejected by the Senate before a temporary resolution was advanced — without a wall.
LaGuardia Airport
LaGuardia airport serves 30 million passengers a year into and out of New York but was partially shut by federal authorities on Friday due to a lack of air traffic controllers. Airport staff had reportedly been calling in sick to work in order to avoid working without pay, and other employees had been asked to work overtime to make up for shortages. This shutdown was initially reported as being temporary but may have encouraged the president's decision to reopen the government, as the decrease in staff was causing serious concern for safety and an increase in flight delays.
Trump Associate Roger Stone, arrested after FBI raid
Roger Stone, President Trump's associate, and former adviser was indicted by a federal grand jury and arrested by the FBI Friday morning at his home in Florida. Stone is facing seven charges, five of which are for making false statements. The other individual charges are for obstruction and witness tampering related to alleged contacts with Julian Assange regarding hacked emails from the Democratic National Committee (DNC). The emails showed an effort by DNC members to derail the campaign of 2016 Democratic presidential candidate, Bernie Sanders and were released publicly. Some of the information was devastating to the DNC and the presidential campaign of Hillary Clinton, and the scandal caused DNC Chairwoman Debbie Wasserman Schultz to resign from her post. It is believed the emails originated from a Russian hack. 
Supposedly, Stone contacted Assange after the leak to request information about the emails and damaging intelligence regarding the Clinton campaign. The indictment alleges a "senior Trump campaign official was directed to contact Stone about any additional releases and what other damaging information Organization 1 had regarding the Clinton campaign". Stone denies the accusations against him and was quoted outside the courthouse after his appearance: "There is no circumstance whatsoever under which I will bear false witness against the president, nor will I make up lies to ease the pressure on myself." Stone is out on $250,000 bond.
"The indictment today does not allege Russian collusion by Roger Stone or anyone else," Trump attorney Jay Sekulow pointed out. "Rather, the indictment focuses on allegedly false statements Mr. Stone made to Congress." White House Press Secretary Sarah Huckabee Sanders said "the president did nothing wrong" and asserted again that there was no collusion between the Trump presidential campaign and Russia.