Why Africa Is Losing Its Fight Against Corruption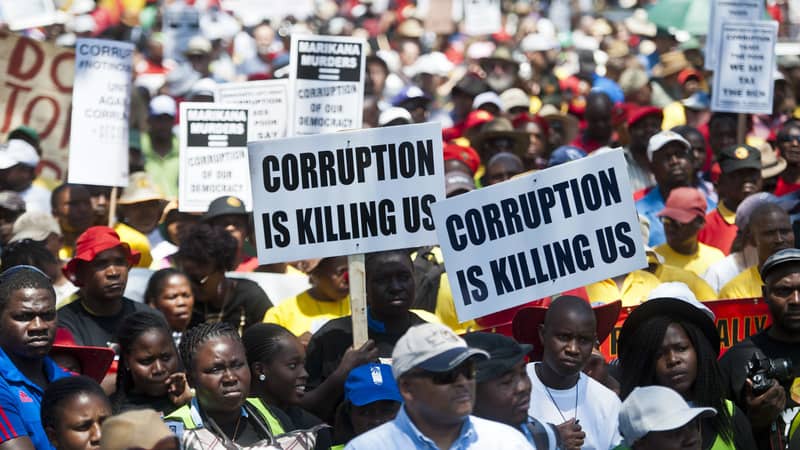 Posted:
July 15, 2019 at 3:24 am / by
James Ojo
/
Last week, Africa marked its annual Anti-Corruption Day in commemoration of efforts to stem the tide of corruption in the continent, but the bleak atmosphere that characterized this year's celebration, like other years, suggests nothing is worth celebrating, with corruption fighting back from all angles.
July 11, 2019, marked another Anti-Corruption Day across African countries. Unfortunately, what should be a rapturous event in the continent nearly went unnoticed, save pockets of celebrations reported in the media.
On July 11, 2017, the African Union launched the inaugural celebration of the Anti-Corruption Day in Addis Ababa Ethiopia to commemorate the adoption of the African Union Convention on Preventing and Combating Corruption (AUCPCC)
"We need to wage an aggressive fight against those who practice corruption and institutions that benefit from the proceeds of corruption to restore public trust in our institutions on the Continent. To ensure and sustain the level of commitment of combating corruption, the Assembly of the African Union also declared 2018 as "the African Anti-Corruption Year". The year will be celebrated under the theme: 'Winning the Fight Against Corruption: A Sustainable Path to Africa's Transformation'," the Chairperson of the African Union Commission (AUC), H.E. Moussa Faki Mahamat had noted.
African's Anti-Corruption Day seems to reinforce the "continent's political commitment towards a corrupt free, citizen-driven, democratically governed Africa, as envisioned by Agenda 2063: The Africa We Want."
However, about two years after the launch of a day aimed at sensitizing Africans and mobilizing people on the fight against corruption, statistics show little progress has been recorded. Corruption remains a great challenge confronting Africa. The continent is one of the second-world's fastest growing region in the world, with avalanche of resources. A survey revealed that "one in four people in Africa pay bribes to access services." The continent loses an estimated US$50 billion annually to corruption.
"Public sector corruption doesn't exist in a vacuum. Foreign bribery and money laundering divert critical resources away from public services, and ordinary citizens suffer most," says Delia Ferreira Rubio, Chair of Transparency International
A large chunk of the continent's population still wallows in abject poverty. A report by the Global Corruption Barometer (GCB) – Africa, released by Transparency International in partnership with Afrobarometer revealed how bad Africa is fairing in the fight against corruption.
A summary of the report reads:
Based on fieldwork conducted in 34 countries between 2016 and 2018 by Afrobarometer, as well as a survey conducted by Omega Research, the GCB incorporates the views of more than 47,000 citizens in 35 countries across Africa.
The results show that more than half of all citizens think corruption is getting worse in their country and that their government is doing a bad job at tackling corruption. The GCB found more than one in four people who accessed public services, such as healthcare and education, paid a bribe in the preceding year. This equates to approximately 130 million citizens in the 35 countries surveyed.
The GCB also reveals how corruption is hitting the most vulnerable people the hardest. For example, the poorest people are twice as likely to pay a bribe as the richest people in Africa. Paying bribes for essential public services means poorer families have less money for basic necessities like food, water and medicine. Despite this, the GCB raises hope for positive change. More than half of people in Africa think that citizens can help stop corruption.
Fighting corruption can hardly be left only in the hands of leaders. But the citizenry are increasingly being relegated to the background for fear of being hounded. According to the report, 67% of the respondents say they "fear retaliation if they report corruption," while only a meagre 28% "think they can report corruption freely without consequence."
Analysts believe that any effort towards tackling corruption in Africa should ensure independence of the press and allow free speech. "Africans believe they can make a difference. Governments must allow them the space to do so. AUCPPC provisions on media freedom and civil society should be implemented across Africa," says Paul Banoba Regional Advisor for Africa at Transparency International.
The report recommends that:
Governments should put anti-corruption commitments into practice and should:
Ratify, implement and report on the African Union Convention to Prevent and Combat Corruption (AUCPCC).
Investigate, prosecute and sanction all reported cases of corruption in both the public and the private sectors, with no exception. +Develop minimum standards and guidelines for ethical procurement and build strong procurement practice throughout the continent with training, monitoring and research.
Adopt open contracting practices, which make data and documentation clearer and easier to analyse and ensure transparency in hiring procedures.
Create mechanisms to collect citizens' complaints and strengthen whistleblower protection to ensure that citizens can report instances of corruption without fear of reprisal.
Enable media and civil society to hold governments accountable.
Support transparency in political party funding.
Allow cross-border cooperation to combat corruption. While African citizens suffer the consequences of corruption, corrupt individuals are still able to hide behind anonymous companies and stash their ill-gotten funds abroad, purchasing luxury properties, cars and other goods with public money and securing a safe haven for themselves, their families and their stolen assets.
National authorities should establish public registers that name the owners of shell companies, allowing bidders for public contracts to be vetted and preventing those who keep their identities secret from benefitting from criminal activities and keeping their dirty money untraced.
Governments in the region should put in place and enforce laws that address stolen assets – the proceeds of corruption, crime and money laundering.
Tackling corruption in Africa goes beyond earmarking a single day for sensitizing the masses about the need to wage war against the scourge. There is urgent need to revamp institutions that will stifle the spread of corruption at government level and in every financial transaction. Until the continent installs vibrant and independent institutions that can tackle cases of corruption without fear of attack, the continent's push to rid corruption will continue to be a mirage