Africa Tackling Climate Change, Deforestation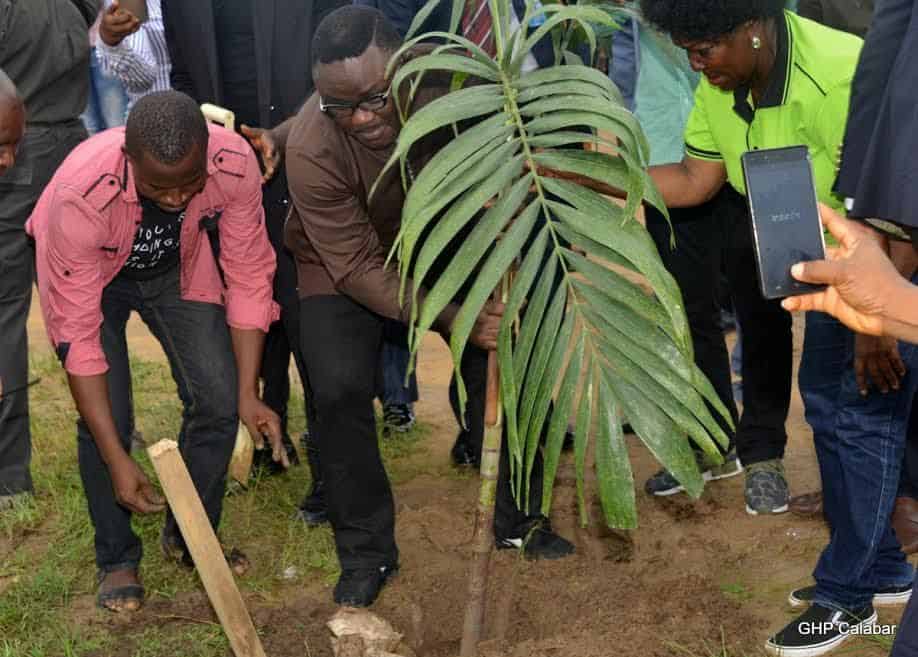 Posted:
August 4, 2019 at 1:23 am / by
James Ojo
/
On July 30th, residents of Cross River State in South-Southern Nigeria thronged the streets to participate in 'Green Carnival' geared towards the planting of one million trees. The Carnival declared by the State Governor, Ben Ayade was aimed at engaging the growing rate of deforestation and global warming.
Cross River chalks up over 50 per cent of Nigeria's high tropical forests, raising concerns. Ayade had assured participants of plans to increase budgetary allocation for the project by 2020 to meet its 1 million benchmark of planted trees.
"You must note that Cross River has over 58 per cent of the entire forest cover of the country and our plan is to achieve 68 per cent. So, we can go to the international community and ask for a Green Bond.
"We will tell the world that we are indeed planting one million trees as a justification to support the deforestation process for construction of the super highway and industrial farms that are yet to come," The News Agency of Nigeria, (NAN) had quoted the Governor as saying.
"The Green Carnival is about promoting better ecosystem by planting trees to help prevent direct sun from the sky," says Chidi Okoye one of the participants at the programme told CARACAL REPORTS.
Climate experts have consistently expressed worry over the Nigeria's ballooning statistics of deforestation. While many measures have been trawled by the Nigerian government to checkmate deforestation in the country, lack of proper supervision and enforcement of forestry laws have seen dramatic increase in the scourge.
Nigeria reportedly loses about 1.5 million trees on daily to illegal logging and other human activities such as bush burning among others. With an estimated annual deforestation rate of 3.5, the effect has been displacement of species from their habitats and worsening climate change disasters caused by unfavourable atmospheric conditions, flooding, drought, rise in sea level among others.
By 2030, over 170 million hectares of forest is estimated to have razed down, should countries failed to address their climate change issues, WWF Living Forest report. Analysts have argued that any initiative geared towards genuinely tackle rising deforestation in Nigeria must involve education of those in rural areas on the dangers of deforestation.
Felling of trees in rural areas for cooking in Nigeria is a common practice among local dwellers, who formed a significant segment of the country's population. In 2011, Solar Cooking Archive says an estimated that about 27.5 million kg of firewood is being consumed as fuel among rural dwellers in Nigeria on daily basis.
Nigeria is said to have lost about 96% of its forest to deforestation. The country's Director-General, Nigerian Conservation Foundation (NCF), Muhtari Aminu-Kano, had while speaking during an event said: "About 96 per cent of our original forest have been lost; it is catastrophic.
"It is sad that we are losing vegetation cover and there is absolute need to make concerted effort to grow more trees because the more the merrier not only in Lagos but across the country."
The Regional Centre of Expertise on Education (RCE), for Sustainable Development, reports Nigeria has the highest statistics of deforestation in the world at annual rate of 11.1 per cent.
"There is enormous evidence on the devastating effect of deforestation and charcoal production on the environment. "Forests are being cleared for logging, timber sale, subsistence agriculture and collection of wood for fuel which remains a problem in Nigeria," the agency said.
The Green Carnival in South-Southern Nigeria came shortly after Ethiopia's Prime Minister, Abiy Ahmed stated that shattered the global record of trees planting, with over 350 million trees planted in a day.
The exercise, led by the Prime Minister, was believed to be one of the many initiatives trawled by Ahmed to reposition the country on global map. The project is an extension of the Prime Minister's Green Legacy to promote afforestation, which has taken root in over 1,000 sites in the country. Ethiopia's record of over 350 million trees planted in a single day shattered the earlier known record of 50 million trees in 2017.
A United Nations Atlas reports that Africa's deforestation rate is twice that of the world. "Africa is losing more than 4 million hectares (9.9 million acres) of forest every year — twice the world's average deforestation rate," the report had stated.
With the recent move in Nigeria and Ethiopia, calls for tackling deforestation had intensified. The UN Atlas stated with consistent move by countries in across the continent, rising deforestation statistics would be drastically reduced.
"There are many places across Africa where people have taken action — where there are more trees than 30 years ago, where wetlands have sprung back and where land degradation has been countered," the report added.
Africa is believed to be making progress with its quest to tackle deforestation. According to a JRC report, "in the period 1990-2000, Africa's rainforests were reduced at an annual pace of 0.28% (i.e. 590,000 ha) compared to 0.14% (i.e. 290,000 ha) in the following decade, with a drop from 0.16% to 0.10% in the Congo Basin, a decrease from 0.91% to 0.30% in West-Africa, and a reduction from 1.63% to 0.97% in Madagascar."
The report had concluded: Despite containing about 27% of the world's tropical rainforests (a surface of around 200 million hectares or the combined area of France, Germany, Poland, Spain and Italy), deforestation is still relatively low in Africa, where the rainforest reduction is less than 10% of global deforestation.
Urbanisation, wood fuel collection and agricultural expansion are some of the underlying factors for deforestation in the Congo Basin, the world's second largest rainforest area after the Amazon. The slowdown of deforestation can be attributed to a better management of production forests where timber is exploited and, to the installation of new protected areas.
West Africa and Madagascar exhibit a higher deforestation rate, which can be partly explained by the high population pressure. The reduction of deforestation here is more related to the low remnant forest cover, which does not allow for maintaining the same rhythm of forest destruction.
As Africa's forests store about a third more carbon per hectare than a typical Amazonian rainforest, the deforestation reduction in Africa is likely to have a bigger impact in reducing emissions than declines elsewhere.