Hong Kong: Pro-Democracy Protesters Clash With Police At University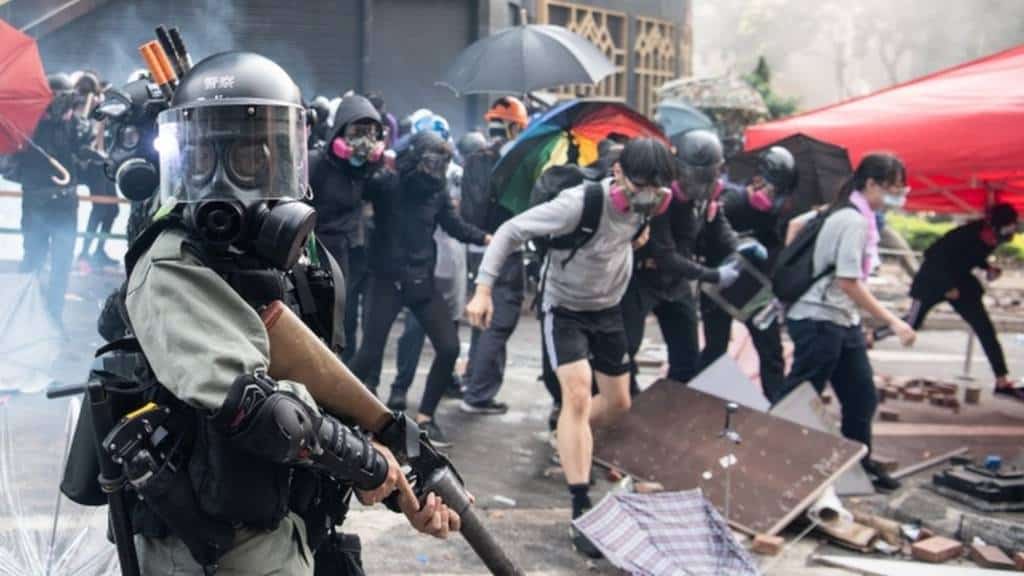 The ongoing pro-democracy protests in Hong Kong are reaching a tipping point as protestors and police have increased hostilities over the past week. Police in Hong Kong warned demonstrations were, "one step closer to terrorism" on Thursday of last week, ignoring the state-sponsored threats the Chinese military made against pro-democracy protestors several months ago.
Chinese President Xi Jinping said his totalitarian government continues to support Hong Kong Chief Executive Carrie Lam while attending the BRICS summit in Brazil this week. Jinping and his regime continue to push the narrative of every protestor being 'violent criminals' that deserve dealing with by the Hong Kong police.
Externally China has used its business relationships in an attempt to quell international support for the protests, most notably by applying pressure to the National Basketball Association (NBA) after Houston Rockets executive Daryl Morey shared his support for the pro-democracy activists.
Inside Hong Kong, a tense weekend which saw a police vehicle burst into flames after being hit with a molotov cocktail. A tense situation continues on Monday as pro-democracy activists and police clash at Polytechnic University within the region. Washingon Post reports on the situation which has armed protestors dueling with police forces in what remains a standstill as of the writing of this article.
…Then some attempted to leave, officers forced them back with tear gas and rubber bullets and made dozens of arrests. As night fell, and with explosions and black smoke emanating from the grounds, police repeated demands for the demonstrators — some of whom have been there for days — to surrender.
Approximately five hundred to six hundred students are barricaded within the university. Rallies across Hong Kong have shown support for the students with cries of, "Save PolyU, save the students!" Earlier today, a daring escape attempt from the university was captured and shared on social media by freelance journalist Michael Zhang.
Journalist Lily Kuo was able to speak to students within Polytechnic University. She writes for the Guardian:
Seze Li, 26, a protester who is in PolyU said that the protesters inside have been hiding in buildings throughout the campus, in offices and small spaces where they can barricade themselves in.

"It's a disaster," she says. "Everyone is running around, looking for exits. We heard the protesters [trying to break the police siege] are coming. We are just waiting for them."

Some have escaped by climbing out of the building. "But not everyone can do that," she says. "[The mood] is not just angry. It's anxious and frightened. We are isolated here and people are afraid. We don't know when the police will strike inside."
Li would tell Kuo that protestors within the university are watching live streams covering the demonstrations, attempting to communicate with loved ones, and trying to find hidden protestors who are attempting to avoid the police.
The New York Times reports at least 38 people were injured at a battle at the university on Sunday after speaking to Hong Kong's hospital authority. Reports state protestors are using homemade firebombs, slingshots, bricks, and bows and arrows. Witnesses have seen police forces employ copious amounts of tear gas while firing upon protestors with rubber bullets.
Many of the protestors are high school and university students who have holed up at the Polytechnic campus for approximately a week, however, police forces are attempting to block all escape from the vicinity.
From statements to the media, activists state numerous students trapped on campus are dealing with injuries that need medical treatment. Multiple reports state the Red Cross is on campus property, and those needing medical treatment will be allowed to leave. Those individuals will likely face immediate arrest following a hospital stay.
Police state 154 people were arrested over the weekend across Hong Kong, some of which associated with the situation at Polytechnic University. The siege at the university continues into Monday night in Hong Kong, moving dangerously near a catastrophic conclusion. According to the New York Times, approximately 4,491 individuals have faced arrest since demonstrations began in June.
Also on Monday, the city's High Court struck down a ban on masks in public which authorities argued allowed them to identify protesters.