Campus Pro-Democracy Protests Continue In Hong Kong As Local Elections Take Place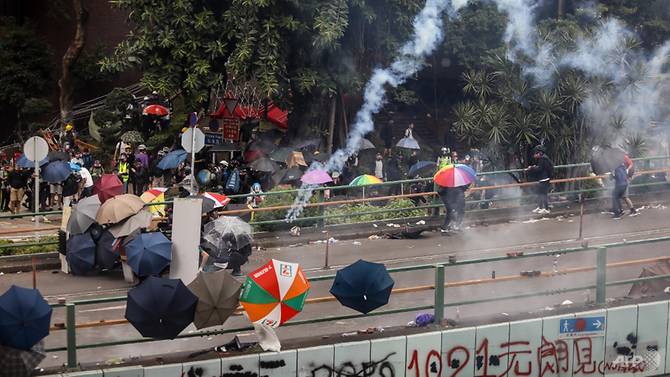 The weeks' long protest situation at Polytechnic University has begun to resolve as more activists have left the campus, with some being immediately put under arrest by Hong Kong police. South China Morning Post (SCMP) reports, "The acting president of a student union at a besieged university in Hong Kong was among those who left the campus after more than a week on Saturday." Continuing SCMP details the situation which led to the arrest of the acting president, "Ken Woo Kwok-wang, 22, was accompanied by Rodney Chu Wai-chi – an assistant professor from Polytechnic University's department of applied social sciences – and lawmaker Kwok Ka-ki as he left the Hung Hom campus at about 6 pm. He was escorted to a police vehicle."
Saturday was the seventh day of the police siege on Polytechnic University. According to CBS News, approximately fifty students were left on campus as the day began. Their report also details the arrest of around one-thousand pro-democracy protestors throughout were subject of arrest or having their IDs checked by police throughout the past week.
Since the siege began, Hong Kong police fired nearly fifteen hundred rounds of tear gas canisters while protestors responded with firebombs aimed at police vehicles. Reporters on the scene say the situation has since seen a decrease in violence.
However, an unarmed pro-democracy protestor who was recently shot by Hong Kong police provides insight into the overall protest movement. Patrick Chow's November 11th shooting was caught by video, resulting in the incident spreading throughout the internet. "The government is forcing us, citizens, telling us peaceful means can't accomplish what we want. That's why these things have kept escalating," Chow said to CNN on Saturday.
"(The police officer) took out his gun and pointed it at the guy in the white jacket," Chow said of another pro-democracy protestor at the scene on the day of his shooting, "And I said, why are you pointing it at him? He's done nothing, we've done nothing." A Hong Kong police commander claims the officer, who has since gone on leave, was fearful of his gun being snatched and believed 'he did not have any bad intentions.'
Chow is facing possible charges of unlawful assembly and attempted will report for bail in December said the following concerning his thoughts on whether democracy is worth dying for, "Democracy and freedom are basic things. But the Hong Kong government has denied it to us. The Basic Law Hong Kong's [mini-constitution] said we had the right to vote. So we shouldn't have to give our lives for this — the government must give us our right."
Pro-democracy candidates were on the ballot in each of the 452 wards during Saturday's district council elections, for the first time. Representative Clarisse Yeung is the sole pro-democracy representative in central Wan Chai spoke to the Guardian concerning the new political enthusiasm surrounding the protest movement. "I had been questioning if I should run again. It's been so heavy, being the only pro-democracy representative in Wan Chai. I'm glad all these friends are coming out after the [protest] movement: they are my hope."
Louis Mak, a new pro-democracy candidate who caught inspiration from the protests explained why he decided to run in the elections.
I always wanted to go into politics eventually, after becoming [an] expert in my field. But I was inspired by the protests and realized I can't wait any longer. Maybe in four years or eight years, we won't have real elections anymore. China may take actions against our civil society. And so that's why I have stood in this election.
Mak is running as a representative in the Canal Road ward. While the protests have gained international attention, putting pressure on both Carrie Lam's administration in Hong Kong, and the Chinese government who back her; political power for the pro-democracy movement would bring about drastic change.