West Virginia Officers Facing Lawsuit Violated Department Policy, Contrary To Chief's Statement
Story Highlights
Two Westover (West Virginia) police officers and their police chief are facing a federal lawsuit after the officers were caught on camera forcibly removing a man from his residence and beating him.
Police Chief Richard Panico condoned the behavior and said it was in-line with department policy. Still, their actions on film show multiple violations of the official Westover Police Department manual.
Body camera footage of the altercation was initially held from an attorney, and the investigation reveals further incidents of brutality and misconduct tied to the department.
---
WESTOVER, West Virginia — An investigation by Caracal Reports has found that two West Virginia police officers facing a lawsuit following a 2019 altercation violated the official Use of Force policy laid out in their department's policy and procedures, contradicting a public statement from their police chief. The city and its police department also attempted to prevent the release of the body camera footage to an attorney.
In January 2019, former Westover (West Virginia) resident Andrew Howton was pulled from his home and beaten by Westover Police Department (WPD) officer Zachary Fecsko. The incident was captured on fellow officer Aaron Dalton's body camera. The lawsuit alleges Westover Police Chief Richard Panico "publicly condoned the other Defendants' behavior and stated that it was aligned with the Westover Police Department (WPD) policies," according to local media sources.
In addition, the encounter isn't the department's first brush with excessive use of force or police misconduct, with investigation yielding previous instances, including one involving current Police Chief Panico. This history and the current lawsuit have raised questions among the community if the persisting problem exists inside the WPD.
Howton's lawsuit alleges "unreasonable, unlawful, and malicious violations" of rights. He claims Dalton and Fecsko are in violation of the 1st and 4th Amendment of the U.S. Constitution and committed Intentional Infliction of Emotional Distress and Battery, and that under U.S. Supreme Court case Monell v. Department of Social Services, Panico is liable for those actions.
HOWTON-V-FECSKO-COMPLAINT-1

The lawsuit also details Dalton and Fecsko's troubled pasts, which were public knowledge at the time of their hiring and are subsequently listed in their WPD personnel files. Fecsko faced domestic battery and burglary charges in neighboring city Morgantown (West Virginia) for allegedly breaking into his ex-girlfriend's apartment in the middle of the night and destroying her belongings. 
She also accused Fecsko of physically assaulting her the day prior and threatening to pin the death of Nolan Burch on her. Burch was a freshman pledge at the West Virginia University Kappa Sigma fraternity in 2014 when he died after consuming excessive amounts of alcohol at a fraternity pledge event. That chapter of the fraternity had its charter revoked before the incident occurred, and Fecsko was the President at the time.
Dalton, meanwhile, was formerly employed as a police officer in Fairmont (West Virginia), where he faced one lawsuit for an unprovoked attack on two men and another for racial profiling following a fender-bender. He later was terminated and/or encouraged to resign from the Fairmont Police Department for misconduct or unsatisfactory service.
Chief Panico said the department would not comment on the lawsuit, citing a pending investigation into Howton not related to previous charges against the plaintiff that were dropped in the 2019 case, according to WDTV. The City of Westover also has failed to respond to an inquiry from Caracal Reports via the contact form on their website.
A New Year's Eve party West Virginia gone wrong
---
In the early morning hours of January 1, 2019, Officer Dalton and Officer Fecsko arrived at Howton's home in Westover after receiving notice of a disturbance at the residence.
"We got a call, a third-party called, and said something was going on," Dalton said to Howton on footage of the event recorded via his body camera. "Let's see what's going on."
Howton requested police assistance in removing a woman from his home due to "her wish to use drugs," according to the lawsuit. The footage shows a woman inside the residence who appears to be confrontational, and Howton repeatedly refers to her as a "crack addict."
"She wanted me just to get high, and I don't want that in the house," Howton said at one point to Dalton.
The police removed the woman from the house, at which time Howton followed the officers outside, taking about two steps outside of his front door while continuing to yell obscenities at the woman as she was placed in a police vehicle. Fecsko quickly became hostile with Howton for verbally berating the woman, and ordered him back into his house, at which point Howton complied.
"You're in your own house, you can do that stuff. If you're going to come out here and yell, you're going to see a different person. Do you understand me?," Fecsko said to Howton.
Howton stayed inside his house but continued to argue with Fecsko, who taunted Howton, motioning for him to confront him while saying ""come outside again and start yelling." Howton declined, but yelled "crack head" at the woman in the cruiser as Fecsko began to retreat from the scene.
Fecsko then turned back towards the house, uttering the words "you know what, get your ass out here boy" while grabbing Howton by the collar and dragging him from his residence, tossing him on the ground. Fecsko can be seen on footage delivering multiple punches to Howton. A bystander watching the encounter occur, who Dalton refers to as "Paul," moves towards Fecsko and Howton, and Dalton strikes him, knocking him to the ground.
Dalton can be heard yelling at Fecsko to "spray that motherfucker," and begins to kick to Paul while stating "put your hands behind your back Paul, or I'll fuck you up." Dalton and Fecsko allege that both Howton and Paul had tried to attack them, but neither Howton nor Paul appeared to pose a threat to anyone's safety or commit a crime.
As Howton laid on the ground restrained and handcuffed, Dalton yells at Howton, "You asked for this Andre, you earned it." Howton later can be seen rolling on the ground on camera, at which point Dalton tells Howton "if you move again, I'm gonna spray you."
After the incident Howton was transported over an hour to the North Central Regional Jail, where they refused to admit him due to the severity of his injuries. He would later be diagnosed with multiple fractured facial bones, three broken teeth, and other "serious and permanent" injuries, according to the lawsuit.
He was subsequently charged with Battery on an Officer, Disorderly Conduct, Disturbing the Peace, and Obstructing a Police Officer for the events that happened that night.
A violation of policy and procedures
Westover-PD-PP-Manual-8

In a June 2019 interview with The Dominion Post, Panico condoned and defended the actions of his officers in the January encounter with Howton. He claimed there were "no rules of the road" in such instances, so the actions taken by Dalton and Fecsko were in line with department policy.
While gathering information for Howton's lawsuit, his attorney Beth Lebow obtained a copy of the official WPD Policy and Procedures Manual through a FOIA request, which she shared with Caracal Reports. An analysis of the manual in combination with the officers' actions in the video show both men violated the department's use of force policy, contrary to Panico's original statement to the media.
Under chapter nineteen of the manual, titled 'Use of Force', subsection 8.000, the manual states that "When safe under the totality of the circumstances and time and circumstances permit, officers shall use de-escalation tactics in order to reduce the need for force" and refers to subsection 8.100 for further guidance.
In subsection 8.100, examples of techniques to reduce the use of force include "to avoid physical confrontation, unless immediately necessary (for example, to protect someone, or stop dangerous behavior)." Fecsko is seen in the footage initiating the physical confrontation with Howton, despite the fact that Howton did not have a weapon and was not threatening anyone.
Subsection 8.200 also states that "an officer may not use physical force" against individuals who only verbally confront them unless the vocalization impedes a legitimate law enforcement function. In the footage, Howton does not interfere with Fecsko and Dalton's law enforcement work and actually complies with their requests multiple times. Howton is also never seen laying his hands on either officer. Nevertheless, he was attacked.
The same subsection also prohibits physical force being used on restrained subjects except in "exceptional circumstances." When Howton can be clearly pictured in handcuffs and on the ground, Dalton is heard on video threatening to "spray" Howton if he continues moving.
Furthermore, subsection 8.050 defines substantial bodily harm as including "fracture of any bodily part," "temporary but substantial disfigurement," and "temporary but substantial loss or impairment of any bodily part or organ," all three of which were sustained by Howton. Substantial bodily harm qualifies as Type III force under the same subsection.
Under subsection 8.200, officers are required to automatically request medical aid in certain situations, including "every Type III" use of force. In the video, neither officer is seen requesting medical aid for Howton in the minutes following Howton being restrained. The lawsuit alleges Dalton and Fecsko refused to administer or request aid at any point, even after he was refused admission to the regional jail due to injuries. And instead of transporting him to a hospital afterwards, they simply returned him to his residence.
An extensive legal battle
Lebow is a graduate of the West Virginia University College of Law and an attorney with Morgantown-based law firm Umina Davis Minutelli & Gutta. She first met Howton as his court-appointed attorney at his plea hearing for his criminal charges — before that day, she had only spoken with the prosecuting attorney on the case.
When Lebow spoke with Howton, she received an account of the incident much different than what she claims she heard from the prosecutor and saw in the police reports. Howton also shared with her a picture of his face from days after the incident, which shows extensive physical damage, which she compared to a photo of the officer obtained in discovery with a "couple red marks."
---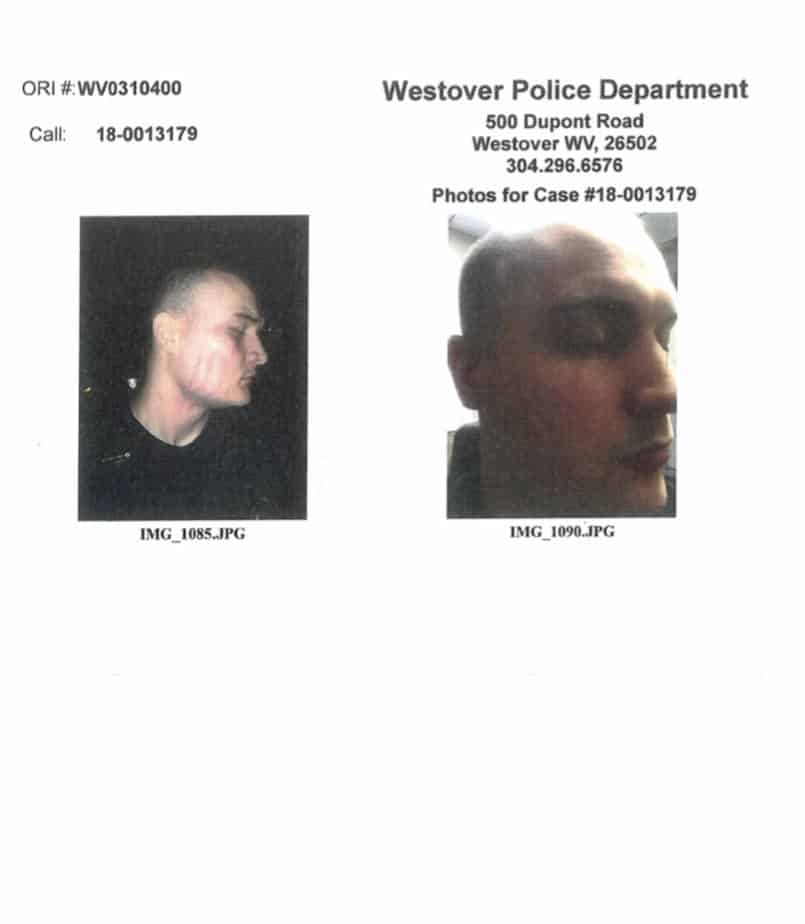 ---
"He told me, I didn't touch that officer. If I did it, I would tell you, but I'm telling you I did not hit that officer. That was the charge he was most upset about…he told me he was very certain there was footage," Lebow said.
Lebow said she never received body camera footage of the incident during discovery — she was told by the prosecutor that "the arresting officer didn't have his body cam on during the incident. After her face-to-face meeting with Howton, she returned to the prosecutor and pushed the subject.
"I asked, are you sure there is no footage because Andre said he is sure there is footage," Lebow said. "The prosecutor went in the back, and he came back out two or three minutes later and said that the other officer involved had his body camera on and that they had footage queued up for me. As soon as I watched that video, I could tell it was different than what the criminal complaint stated."
Lebow said she became "beyond disturbed" as she watched the full encounter, and told the prosecutor that they wanted a copy of the tape and that Howton was not taking a plea. She believes there were no grounds for disorderly conduct or disturbing the peace charges, as Howton was inside his own home. Also, she said the footage not only showed no proof of battery on an officer but that Howton was pinned to the ground in a way that attacking Fecsko would be impossible.
"At that point, my only motivation was to get justice for Andre on the side of criminal charges. I saw that and knew how wrong it was, and I knew that he didn't commit a crime," Lebow said.
Lebow thought Howton's case was extremely strong so she requested a trial by jury — which, according to the information she could find, had never been done in Westover. When the time came, she also filed a motion to be involved in the jury selection process. It was only then that Westover decided to drop the charges against Howton.
"[That is] one of the reasons I believe they dropped the charges against Andre," she said.
Lebow said that Officer Dalton and Officer Fecsko faced no charges for the encounter and were not punished for their actions against Howton.
"These two officers were never even punished," she said. "The chief looked at it and said – 'nothing to see here.'"
A culture of police misconduct in West Virginia Westover
In 2014, 39-year-old Granville resident Jeffrey Bane was walking through Westover with his children when a confrontation with another resident raised concerns about child abuse.
"The children appeared to be overheated, and when asked about provisions that he had with him for the children, Bane struck the stroller violently with his hand, pushing it forward abruptly while his infant son was still seated inside," the criminal complaint said.
Security camera footage from a local store shows Bane swaying and making jerky movements, but not presenting any clear danger to the children or anyone nearby. It would later be revealed by Bane's nephew, Josh Bane, that he suffers from Huntington's Disease, a degenerative disease known to attack nerve cells and cause uncontrollable movements, impaired gait and balance, and muscle control problems.
The Westover — as well as neighboring town Granville (West Virginia) — police were called to handle the situation. While no video exists to show why the confrontation escalated, a video obtained by Grafton (West Virginia) resident Sara Bostonia  — who was driving through the city to visit her mother — shows Bane being restrained and beaten by three police officers in front of his children while yelling "I can't breathe."
"Assuming because of his appearance he was high on narcotics without reason they began to subdue him, macing and beating him in the head as he fell to his face where he was then held with a great amount of force by two officers double his size as a third one landed on his torso," a statement released by Josh Bane reads.
"For the next ten minutes as my cousins watch unattended, my uncle pleads and cries out in pain for the lack of breath and agony being applied to him."
In the video, Bostonia can be heard yelling at the officers to stop attacking Bane, at which point one officer asks her if she's involved with Bane and if the kids belong to her. When she replies that they aren't, the officer threatens her with arrest.
"If you want to continue filming, that's okay," the officer says. "If you continue to be loud and boisterous, I will arrest you for obstructing, okay?"
---
---
Bostonia had lived in Westover previously and was visiting her mom at the time of the incident, who still lives in the city. She said she felt as if she was targeted by the WPD for filming the incident, and that they identified her via her license plate number. She claims she took the video to Westover mayor Dave Johnson before publishing it online to try and have the incident addressed, but didn't receive any interest from the city.
"I had a feeling they were going to be watching me after that. They knew who I was, they ran my plates…I was committing a crime I guess, but I don't know," Bostonia said.
"I told [Mayor Johnson] I wasn't trying to cause any trouble, but the police didn't seem to want the video, from what I could tell. I was deeply disturbed by what I saw…I was just trying to maintain if I was going to my mom's house back-and-forth. I didn't want any problems with the Westover police."
Bostonia said that she's had other personal experiences with the WPD that left her questioning the department's ability to control its officers, but it was the incident she witnessed with Bane that left a lasting impression on her.
"They held his head to the pavement. His inner-ear was ruptured, and he had scabs on his genitals, he was bleeding through his pants. I spoke with his wife, and they had to take him to the hospital…murderers get treated better than that," she said.
Other incidents of misconduct in the WPD in recent years are directly tied to Chief Panico. According to multiple news reports, Panico fired Officer Matthew Starsick in October 2013, who claimed Starsick failed to respond to allegations of misconduct.
Starsick subsequently filed a wrongful termination lawsuit and appealed to the Westover Civil Service Commission. The commission found the Westover Police Department failed to provide Starsick with a pre-disciplinary hearing prior to his termination, and that the allegations by Panico could not be proved.
"On the allegation sheet provided by Chief Panico, most allegations against Sgt. Starsick were centered on Councilman William Wilson, who eventually resigned from the council," the written order from the commission said. "The commission received no formal statements from Councilman Wilson to back up the allegations. In the Dec. 17 hearing, Wilson denied under oath any of the allegations presented by Chief Panico ever occurred."
Wilson resigned from the council on October 21 — one day before Starsick was fired — citing health reasons. In December, before Starsick was reinstated, Panico submitted his resignation, which was accepted by the council, and subsequently appointed to fill Wilson's seat on the council.
The community speaks out
Micah Mason-Mileto heads the Movement for People's Democracy branch in West Virginia, based in Morgantown. He also has spent time volunteering at Diamond Village — a local homeless encampment — and with other organizations in the Westover and Morgantown communities.
Reports of police misconduct in West Virginia, most especially Westover, come as no surprise to Mason-Mileto. In his years as a local activist, he's had more than a few residents of the city talk to him about similar experiences.
"They target specific people. They stop them on the sidewalk and ask them what they're doing like it's some kind of crime to walk around…they don't respect anyone," he said.
As an active member of the Monongalia County community, Mason-Mileto has concerns about the history of brutality and misconduct tied to the WPD, especially as it appears to continue.
"It makes me very, very angry. I think it shows a distinct lack of care," he said.
When Bostonia was informed of the current lawsuit against members of the Westover Police Department and the other previous instances of misconduct by the department, she was also disappointed the problem seemed to continue. She feels that in many cases, such incidents result from the culture inside of the department.
"I'm terribly upset that it would happen to someone else. It's not just a matter of one guy; it's a culture there that hasn't improved any. Crisis intervention training is what's necessary here," Bostonia said. "They're like vultures. It's like a 'boy's club" type of thing."
Some residents believe that beyond culture, it has to do with the politicians running the city. One local, Chris McLaughlin, said the pattern of behavior extends to the top executive office in the city. He alleges that Mayor Johnson threatened to punch him and told a police officer to arrest him for recycling when Johnson wanted to close the recycling center early.
Johnson was indicted in December 2014 on election-related charges. He pleaded guilty to circulating anonymous written material, a misdemeanor, and unlawful printing, possession, or delivery of ballots, a felony, but has no criminal history involving physical violence. He said the 2014 incident that led to his charge occurred with "no intent," and the felony charge was dismissed.
"Behavior starts at the top. Thugs hire thugs," McLaughlin said. "The problem will remain until the thugs are purged from the department."
Lebow said she has had numerous residents in the area come to her about "corruption" in Westover, but declined to comment on her views of how the city operates. She did say she believed that the previous history of police misconduct and the current details available regarding the Howton case demonstrated negligence on behalf of the city and its police department and that these problems do indeed tend to begin with those in charge.
"Absolutely, and it also tells me it is a leadership thing. It's all the way at the top, and those battles are hard to fight when you're in a small community like that," she said.