Voter Suppression And The Decline Of US Democracy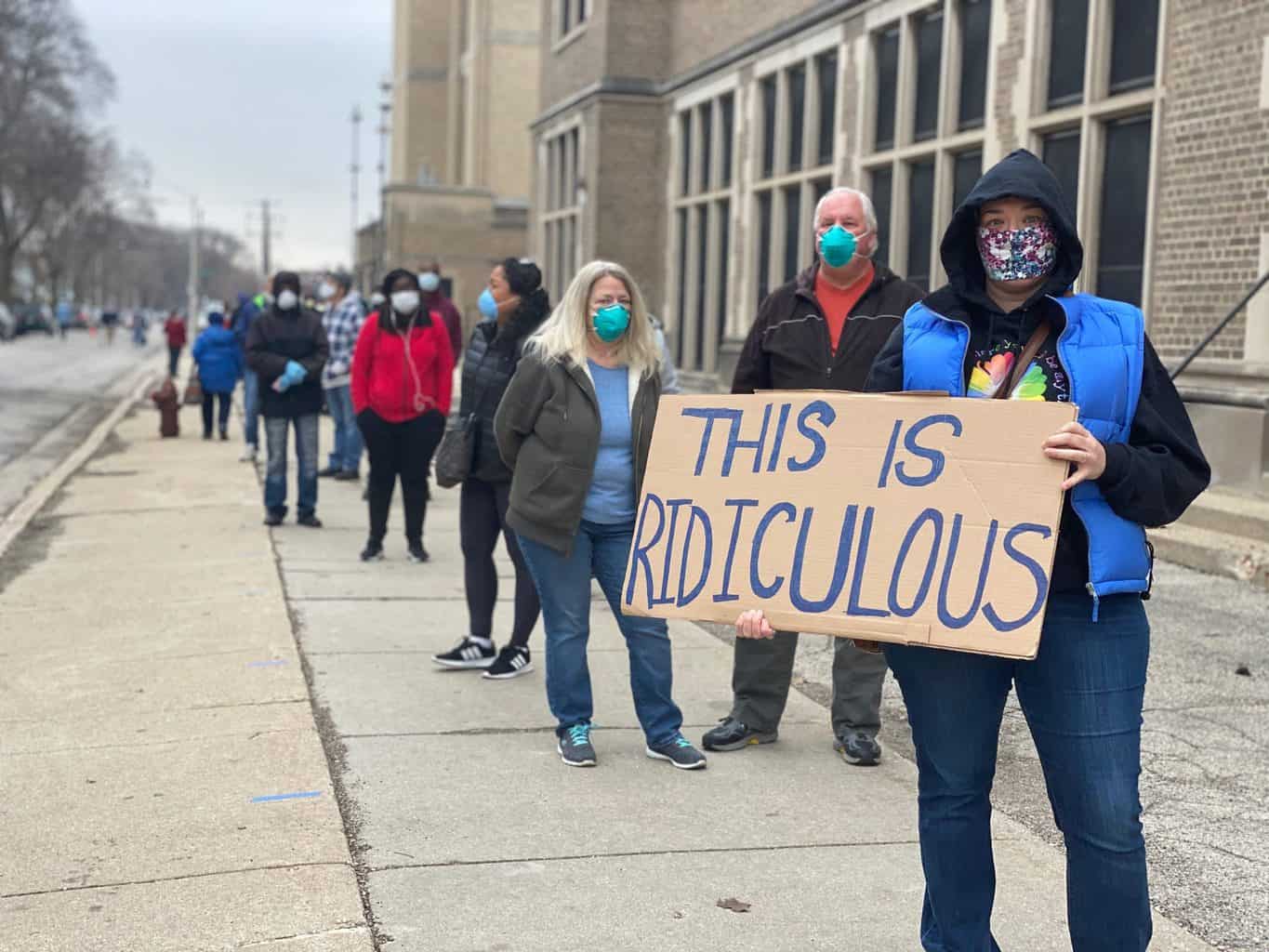 Voter suppression threatens to push America beyond the threshold of democratic institutions that helped shape equality within the nation. Depending on which state and county you live in, voting can either be a breeze or a battle hard-fought. Today, residents of many states face voting laws and restrictions which act to suppress votes. Though these laws claim to prevent fraud and maintain 'security,' they suppress minorities and urban areas that swing democrat largely.
With the United States Postal Service (USPS) in a frenzy to deliver a record number of mail-in ballots, people turn to local polling places and drop-off sites to vote. But the challenges imposed on voters threaten to extinguish voices who beg to be heard during a nation-shaking election.
Online Voter Registration Website crashes in Florida with minimal Voter Compensation
As the deadline for voter registration approached (October 5th), record numbers of voters scrambled to Florida's voter registration website. When attempting to register before the deadline, the website crashed. It is uncertain what caused the crash, whether it was the huge influx of voters or some outside interference. But the crash's effect has left many uncertain of what steps they must take next to register.
A quickly made extension pushed the registration to Tuesday at 7 p.m., the very next day. Around 50,000 people registered before the new deadline, but the hasty solution has left many voters lacking.
A lawsuit requesting additional time to register was shot down on Friday. Advancement Project National Office, Demos, and others represented a handful of voting rights organizations (including Organize Florida, Dream Defenders, Florida Immigrant Coalition, and New Florida Majority). They requested that 48hrs be added as an extension for voters who missed their opportunity due to the Secretary of State and Governor's failure to maintain a stable registration website.
Mark E. Walker, Chief U.S. District Judge, ruled in opposition to the extension, but not without additional comments on the state's poor voter registration performance:
With the public sounding the alarm, the Secretary of State decided to implement a half measure. She hastily and briefly extended the registration period and ordered Florida's supervisors of election to accept applications submitted by the Secretary's new "book closing" deadline. The Secretary's "cure" had at least one major flaw; namely, she did not notify the public until—at the earliest—afternoon on the date of her new "book closing" deadline. This left less than seven hours for potential voters to somehow become aware of the news and ensure that they properly submitted their voter registration applications, all while also participating in their normal workday, school, family, and caregiving responsibilities.
Walker cites overworked local election supervisors as a reason to deny the extension, though it was an "incredibly close call." In a swing state like Florida, every vote counts. This year, voters' state leaders have let them down. Because of a crucial voter registration component's failure, many voters will not be allowed to vote in the general election. When failures like this occur (and they have in the past in Florida, in 2018), it begs the question: why is it so difficult for Americans to vote?
The Impact of Georgia's Restrictive Voting Laws
The state of Georgia has some of the most restrictive voting laws in America today. These laws, which require and include voter IDs, polling place closures, voter roll purges, proof of citizenship, and cuts in early voting, suppress voters' ability to turn in ballots. Like Florida, Georgia has one of the earliest registration deadlines: 29 days before the election. Georgia's growing multicultural population, exemplified by Atlanta (the nation's 4th largest black-majority city as of 2010), seeks fair voting laws
In Georgia, laws that govern voter registration hold that registered voters who have not turned in ballots for three years must confirm their residency. If a voter does not update their residency, the law dictates that they are inactive. If the voter decides not to cast a ballot in the next two general elections, their registration is removed from the rolls.
In 2017, over 530,000 voters were purged from voter rolls. It was later found that of those purged, more than 330,000 voters were eligible to vote. They still lived at their registered address, yet their ability to vote was suppressed. But this law is not the only one to suppress voters.
During Georgia's Governor race in 2018, many black-majority counties faced a reduction in polling locations. Today, citizens wait for many hours to submit their ballot. The state's justification for reducing polling places is COVID prevention. But the state has failed to consider communities that are hindered by these restrictions.
As the 2020 election continues, counties in Georgia with a black majority face more challenges than white-majority counties. Many voters in black communities have reported standing in line at polling places for multiple hours (extreme cases lasting over seven hours). Meanwhile, in white suburban Georgia, the time to vote is drastically lower.
Texas's Lack of Voter Accommodation & Polling Place Restrictions
In Texas, voting by mail is limited to voters over 65, eligible people in jail, and people with a disability. With the pandemic going on, many states have allowed voters to vote by mail to reduce infection rates. Record numbers of voters have chosen mail-in ballots this election. Unfortunately, Texas does not consider the pandemic a valid reason to allow people to vote by mail.
A lack of online voter registration and limited early voting adds further difficulty to the Texans' voting process. Despite the ability to submit ballots any time before election day, the confusion caused by last-minute changes in voting procedures only acts to hinder voters.
Governor Greg Abbott attempted to reduce polling stations in Texas' counties to maintain voter 'security.' His order was met with backlash. Federal Judge Robert Pitman ruled that reducing polling stations to one per county would force people to go long distances to find drop-off locations. Besides, limited polling stations would force voters to wait in line at polling stations: a cause for concern during a pandemic. On the other hand, Judge Pitman did not rule against poll watchers. Abbott's order to allow poll watchers to observe drop off sites raises concerns of voter intimidation.
As of October 12th, a federal appeals court decided to restore Abbot's order for only one absentee drop off box per county. For counties like Harris and Dallas, with populations over four and two million each, removing ballot drop off locations is a clear voter suppression act. The three judges responsible for the decision, Stuart Duncan, Don Willett, and James Ho, were all appointed by President Donald Trump.
Fake Voting Boxes in California
Unofficial ballot drops off boxes appearing across Orange, Fresno, and Los Angeles counties cause voters and government officials concern. The Republican party in California is responsible. The illegal drop off boxes tends to pop up around gun shops, churches, and Republican offices. According to Republicans in California, their boxes are a form of third party "ballot harvesting," a tactic which the GOP has previously accused democrats of using for voting fraud.
In a memo to all state political parties, Secretary of State Alex Padilla made it clear that "State law does not authorize the use of unauthorized, non-official vote-by-mail ballot drop boxes." Besides, those who have placed the fake drop off boxes may violate the Election Code, potentially facing two to four years in prison. Granting someone permission to drop off your ballot is not illegal, but a drop off box that presents as an official is.
While California's Republican party took responsibility for the fake drop off boxes, they see no harm in the action. On October 12th, Padilla sent a cease and desist letter to Orange, Fresno, and Los Angeles counties' Republican parties. State Republicans are ready to bring the case to court. Meanwhile, the distrust and confusion caused by the whole incident put a strain on peoples' trust in the voting system.
The State of Voting Rights Today
According to the Voting Rights Act of 1965, states cannot make laws that infringe on peoples' right to vote. Preclearance, one of the most important parts of the Voting Rights Act, forced jurisdictions with a history of voter discrimination to refer to the Federal court to pass new voting laws. The "coverage formula" helped outline jurisdictions with a history of voter discrimination so that states could not abuse their power to create restrictive voting laws. In 2013, the Shelby County v. Holder decision removed the preclearance provision.
Since then, many states, including Florida, Georgia, and Texas, have become battlegrounds for voting rights. People are forced to file suits themselves with minimal assistance from the government. With Congress providing no new outline to cover discriminatory jurisdictions, the debate over voting laws and voters' rights continues. How can America call itself a democracy when many of its citizens' voices remain purged, restricted, and suppressed? What is a democracy without the representation of all its people equally?