Weekend Reviews: Trump Impeached, but Danger Looms Ahead of Inauguration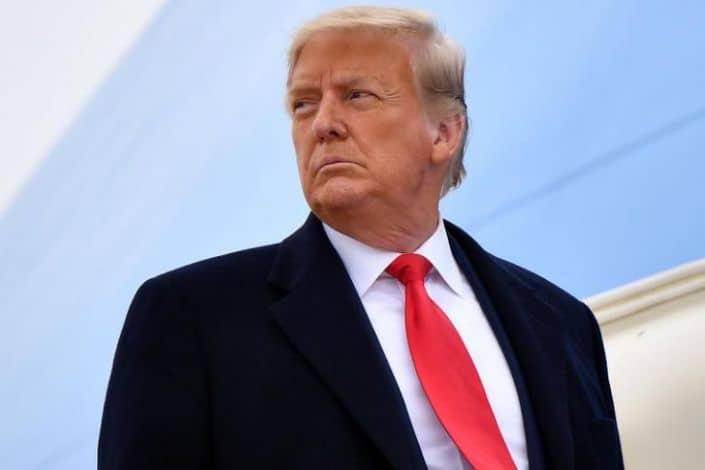 On Wednesday, President Trump became the first U.S. president to be impeached twice.
The House of Representatives voted to hold charges against the president again following a deadly uprising of pro-Trump extremists in D.C. last week.
Notably, ten Republicans joined in a 232-197 vote in favor of impeachment.
The single article of impeachment, which puts blame on the president for the insurgency, has passed to the Senate. A trial will be held before Supreme Court Chief Justice John Roberts.
Trump spoke to attendees at a D.C. rally just before thousands of his supporters overtook the Capitol building. The president encouraged rally-goers to walk to the building, where Electoral College votes were being counted in order to confirm Joe Biden's presidency.
His supporters ransacked the Capitol building, trespassing and thieving as they pleased, even attacking police officers. One Capitol policeman was killed by rioters.
Four of Trump's supporters died as a result of the event.
The insurrection was seemingly an attempt to force Vice President Mike Pence and other Republicans to stop Biden's confirmation. Trump inaccurately claimed that Pence could stop the confirmation and send the votes back to the states for recounting.
Pence was branded a traitor after years of obedient loyalty to the president. Reports claim that Pence now blames Trump for putting his life and the lives of his colleagues in danger.
In light of his second impeachment, Trump denounced the violence at the Capitol via a video shared to the White House YouTube channel.
"I want to be very clear," Trump said. "I unequivocally condemn the violence that we saw last week."
The president further claimed, "Make America Great Again has always been about defending the rule of law, supporting the men and women of law enforcement and upholding our nation's most sacred traditions and values."
The president's late words do little to put the U.S. at ease as the country approaches Biden's inauguration.
Security Increasing as Biden's Inauguration Approaches
All 50 US states and D.C. are on alert for possible violent protests ahead of Biden's inauguration on Wednesday.
The U.S. Capitol has been filled with National Guard troops to deter violence. However, the FBI warned of potential demonstrations at all 50 state capitols.
On Saturday, police announced that a man from Virginia was arrested with handguns and more than 500 rounds of unregistered ammunition. He was attempting to pass through a Capitol Police checkpoint.
The man also presented "non-government" inauguration credentials, according to Capitol Police. He was charged with having an unlicensed pistol, and an unregistered firearm and ammunition.
NRA Files for Bankruptcy
On Friday, the National Rifle Association (NRA) filed for bankruptcy in Texas.
Last August, New York's Attorney General Letitia James accused NRA's CEO and senior staff of misappropriating millions of nonprofit dollars to various personal luxuries. The group was reported to have lost over $64 million in three years.
A suit was filed to dissolve the organization and the NRA was called on to return the embezzled funds. Executives were recommended to be prohibited from ever again serving for a nonprofit in New York.
NRA CEO Wayne LaPierre said in a statement that the organization is "dumping New York" and restructuring in Texas.
He further claimed "the NRA is in its strongest financial condition in years." Meanwhile, legal troubles from multiple lawsuits have reportedly cost the organization more than $100 million, contributing to its filing for chapter 11 bankruptcy.
James said she would not allow the NRA to "evade accountability" by leaving New York and filing for bankruptcy.
The NRA faces a separate lawsuit and similar allegations from D.C.
President Museveni's Controversial Re-election in Uganda
Uganda's long-serving President Yoweri Museveni has been re-elected amid accusations of vote rigging. He has held power since 1986.
The Electoral Commission said Museveni won almost 60% of the vote.
The Washington Post reported that U.S. aid has assisted Museveni in steamrolling opponents and maintaining his place in the presidency.
Museveni's main opponent's home was allegedly surrounded by armed security working for the president to effectively keep him under house arrest. The internet was also shut down for three days prior to the election.
The U.S. relies on Uganda for assistance implementing policies in Africa. In turn, Uganda receives billions of dollars in U.S. aid.
The Assistant Secretary for the U.S. Department of State's Bureau of African Affairs condemned tactics used by Ugandan authorities.
He called the electoral process "fundamentally flawed" and stated that "U.S. response hinges on what the Ugandan government does now."