Biden Vows To End "Uncivil War" In Inaugural Adress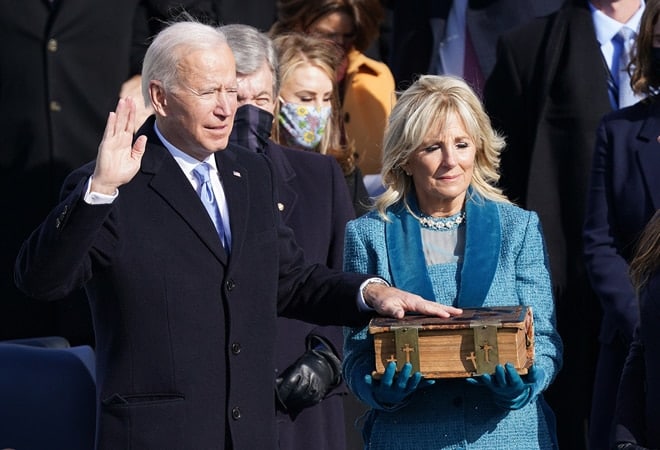 Joe Biden is officially the 46th president of the United States.
His inauguration Wednesday morning comes just two weeks after violent rioters stormed the U.S. Capitol building in a final effort to overturn Biden's electoral victory. President Biden acknowledged the disturbing event head-on in his inauguration address, which aimed to unify the nation in our time of mass political polarization.
"We must end this uncivil war that pits red against blue. Rural versus urban, conservative versus liberal," the president proclaimed. "We can do this if we open our souls instead of hardening our hearts. If we show a little tolerance and humility, and if we're willing to stand in the other person's shoes, as my mom would say, just for a moment stand in their shoes."
President Biden's call for national unity has been a consistent theme of his 2020 presidential campaign, as he looks to heal an America that is more politically fractured than ever.
A Nation Divided
Outgoing President Donald Trump left Washington D.C. early Wednesday morning, arriving at his Mar-a-Lago club in Palm Beach as President Biden prepared to be inaugurated. It had been known for weeks now that Trump did not plan on attending Biden's presidential inauguration.
"To all of those who have asked, I will not be going to the Inauguration on January 20th," Trump posted on his now-banned Twitter account.
President Trump's inaugural snub makes him the first president in modern American history to boycott the inauguration of his successor. Karl Rove, the former deputy chief of staff and senior adviser for President George W. Bush, criticized Trump for his decision to skip the ceremony.
"In skipping his successor's inauguration, Mr. Trump is acting selfishly, unwisely, and unpatriotically," Rove wrote in The Wall Street Journal. "The U.S. needs presidents to model good behavior. It isn't even in Mr. Trump's interest; Americans applaud people who are gracious in defeat and dislike sore losers."
Some of Trump's most loyal supporters took to various online forums to voice their displeasure with Joe Biden's inauguration. Among them, defeated QAnon conspiracy theorists continue to grapple with reality.
"I'm crying and tired of this pain," typed one anonymous poster on a prominent QAnon web forum. "All of the evil is being praised right now as we sit and watch. No arrests, no swamp reveal. Nothing."
Time will tell if the Biden Administration will achieve the national unity for which they hope. As of right now, though, it appears an uphill battle is ahead of them.
Biden promised Fast, Sweeping Changes
President Biden hit the ground running after his inauguration, signing 17 executive orders just hours after the ceremony Wednesday morning.
"There's no time to start like today," Biden told reporters in the Oval Office "I'm going to start by keeping the promises I made to the American people."
Most of these executive actions are aimed at directly reversing policies from the previous administration. They include halting funding for Trump's border wall, repealing the travel ban targeting predominantly Muslim countries, and imposing a mask mandate on all federal property.
President Biden also took steps towards rejoining the Paris climate accord and the World Health Organization, both of which Donald Trump withdrew the United States from during his presidency.
In addition to the U.S. presidency turning over a new leaf, the Senate will be under new leadership. With Rev. Raphael Warnock, Jon Ossoff, and Alex Padilla all being sworn in as U.S. senators on Wednesday afternoon, the Democratic Party has officially taken control of the Senate.
Senators Warnock and Ossoff were the victors of the tightly-contested Georgia runoff elections earlier this month. The pair are the first Democrats elected to the Senate from Georgia in 20 years. Senator Alex Padilla served as California's Secretary of State for the past six years before being appointed to take Vice President Kamala Harris' seat in the Senate.
The new Democratic majority in the Senate should be remarkably impactful. Both the vote on outgoing President Donald Trump's impeachment trial, as well as negotiations on a new stimulus package, are expected to take place in the coming days and weeks.