Biden Signs 1.9 Trillion Stimulus Bill For First Major Win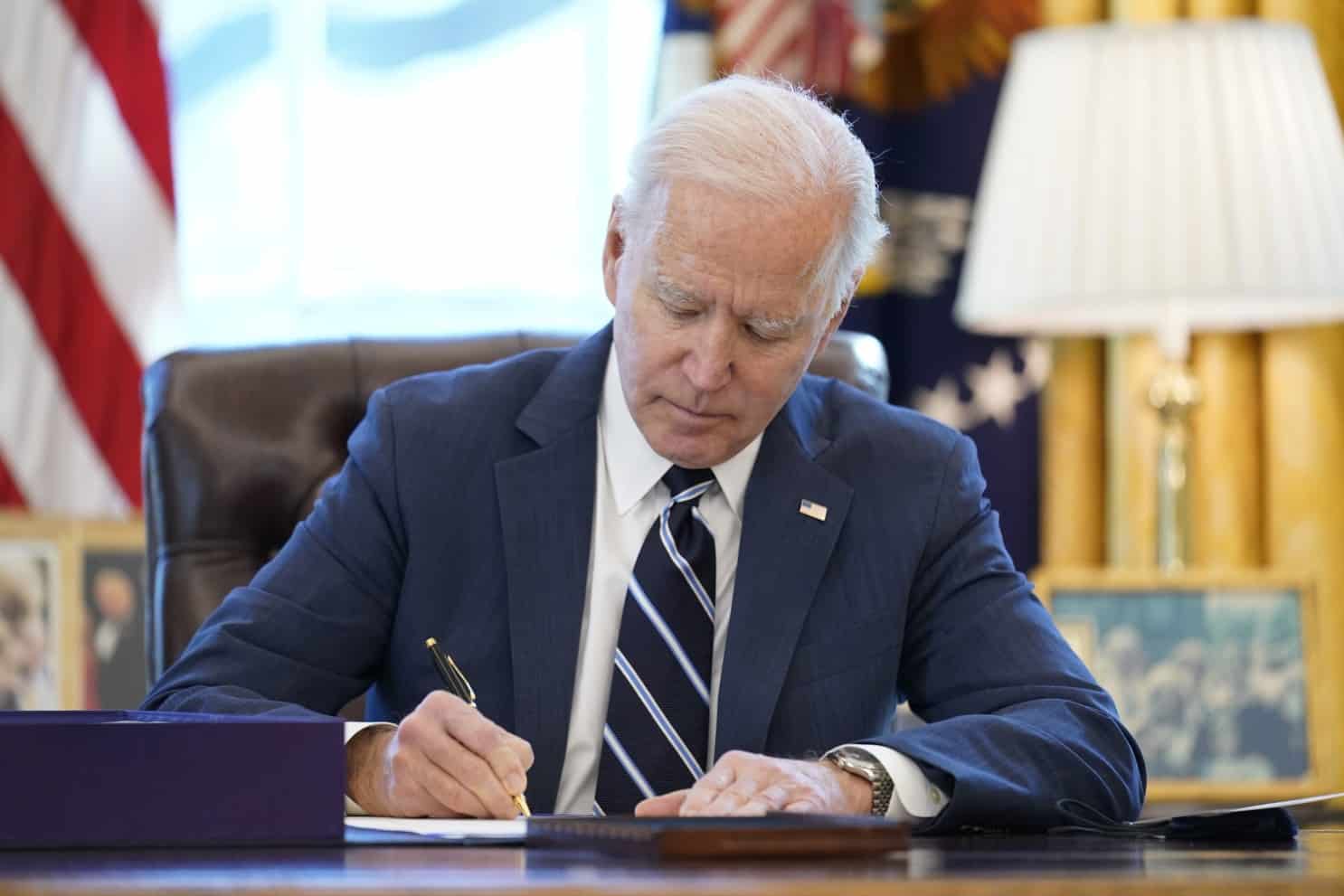 Wednesday night, the House of Representatives approved a $1.9 trillion legislative package for pandemic relief dubbed the "American Rescue Plan." After several grueling rounds of Senate revisions, the stimulus bill closely adheres to Biden's original relief proposal, with several high-profile provisions absent. The key missing features include a $15 minimum wage and better unemployment benefits. Moreover, fewer Americans are eligible for direct payments compared to previous stimulus awards.
As the first significant success of the new administration, the American Rescue Plan (ARP) is an attempt to get the nation back on its feet after the devastating effects of the COVID-19 pandemic. Before signing the bill Thursday morning, Biden addressed the bill's primary purpose and reiterated the importance of providing aid to American citizens in need.
"This historic legislation is about rebuilding the backbone of this country and giving people in this nation—working people, middle-class folks, people who built the country—a fighting chance. That's what the essence of it is," Biden said.
As of March 11, 2021, the death toll has reached 527,762, and about 1 in 5 Americans say they know someone who has died from COVID-19. Pandemic relief is one of the few issues on which many Americans are united despite political alignment.
An AP-NORC poll of 1,434 adults representative of the U.S. population found that 70% of Americans back Biden's handling of the pandemic, including 44% of Republicans.
Regarding the latest stimulus legislation, 70% percent of U.S. adults approve, including an overwhelming majority of Democrats (94%). According to the Pew Research Center, while 57% of all Republicans oppose the proposed stimulus bill, 61% of moderate and liberal Republicans favor it.
Democrats Pass Stimulus Bill Despite GOP Opposition
American citizens may be relatively united on the matter, but Washington remains loyal to party politics. The House vote strictly followed party lines, with 220 representatives voting in favor of the bill and 211 against. Though Republicans have supported several pandemic-relief legislations over the past year, they put up a united front against the ARP, claiming that it caters solely to the liberal agenda and exceeds a safe threshold for government spending.
An early-morning motion to adjourn called by Republican Rep. Marjorie Taylor Greene of Georgia was dismissed by Democrats and Republicans alike. With a tally of 149 to 235, the move served merely as a 1-hour stalling tactic to disrupt the floor schedule and did little to affect the bill's passing.
Rep. Jared Golden of Maine was the only Democrat to oppose the bill and the sole representative to vote against party lines. In his official statement, Golden cited concerns with the bill's broad scope and spending on non-urgent matters. The message remains consistent with his previous criticism.
"Borrowing and spending hundreds of billions more in excess of meeting the most urgent needs poses a risk to both our economic recovery and the priorities I would like to work with the Biden Administration to achieve, like rebuilding our nation's infrastructure and fixing our broken and unaffordable healthcare system," Golden said.
Though Golden supports efforts to funnel stimulus checks to households in need, he believes that the Senate's revisions did not go far enough and even undermined policies he supports, including the minimum wage increase and higher unemployment benefits.
Senate Majority Leader Chuck Schumer Tells Americans That "Help Is on the Way"
After the bill's passage, Speaker Nancy Pelosi and Senate Majority Leader Chuck Schumer held an enrollment ceremony during which both leaders signed the bill before sending it off to President Biden.
Pelosi called for celebration and praised the achievements of the bill and House staff. "This is a momentous day in the history of our country because we have passed historic, consequential, and transformative legislation," said Pelosi. "This is the most consequential legislation that many of us will ever be a party to."
The ARP seeks to provide relief on a macro and micro level. Households will receive stimulus checks of up to $1,400 per person for individuals earning less than $80,000 per year. Other measures focus on lending $350 billion of aid to state and local governments and businesses to stimulate the economy. A summary of the bill highlights pandemic relief for a myriad of industries, including healthcare, education, and vaccine distribution.
Biden Speaks To the American People, Encouraging Vaccination and Unity
Biden addressed the American people in a broadcasted speech Thursday evening. He opened by acknowledging the hardships caused by the pandemic and over the past year, speaking to the "collective suffering and sacrifice."
Biden transitioned into inspiring a more hopeful future, outlining some of the new administration's early accomplishments. He cited increased vaccination numbers, including the set-up and support of nearly 600 federally supported vaccination centers. Government data suggests that Biden is on track to meet his initial promise of 100 million COVID-19 vaccine shots in 100 days, with nearly 96 million shots administered to date.
According to Biden, all adult Americans will be eligible to get a vaccine no later than May 1. Concurrently, the administration will be launching new informational tools, including a website that assists citizens in finding vaccination centers near them.
The president also mentioned that the new secretary of education, Miguel Cardona, would be making it his top priority to accelerate the nation-wide effort to reopen schools safely.
Touching lightly on the possibility of virus resurgence, Biden asked all Americans to do their part in getting vaccinated and following safety protocols.
"I promise I will do everything in my power. I will not relent until we beat this virus. But I need you, the American people," Biden said. "Even if we devote every resource we have, beating this virus and getting back to normal depends on national unity."
Despite things potentially looking up, the call is to remain vigilant. Biden urged, "We have made so much progress. This is not the time to let up."