Georgia's SB 202 Voting Bill Meets Heavy Opposition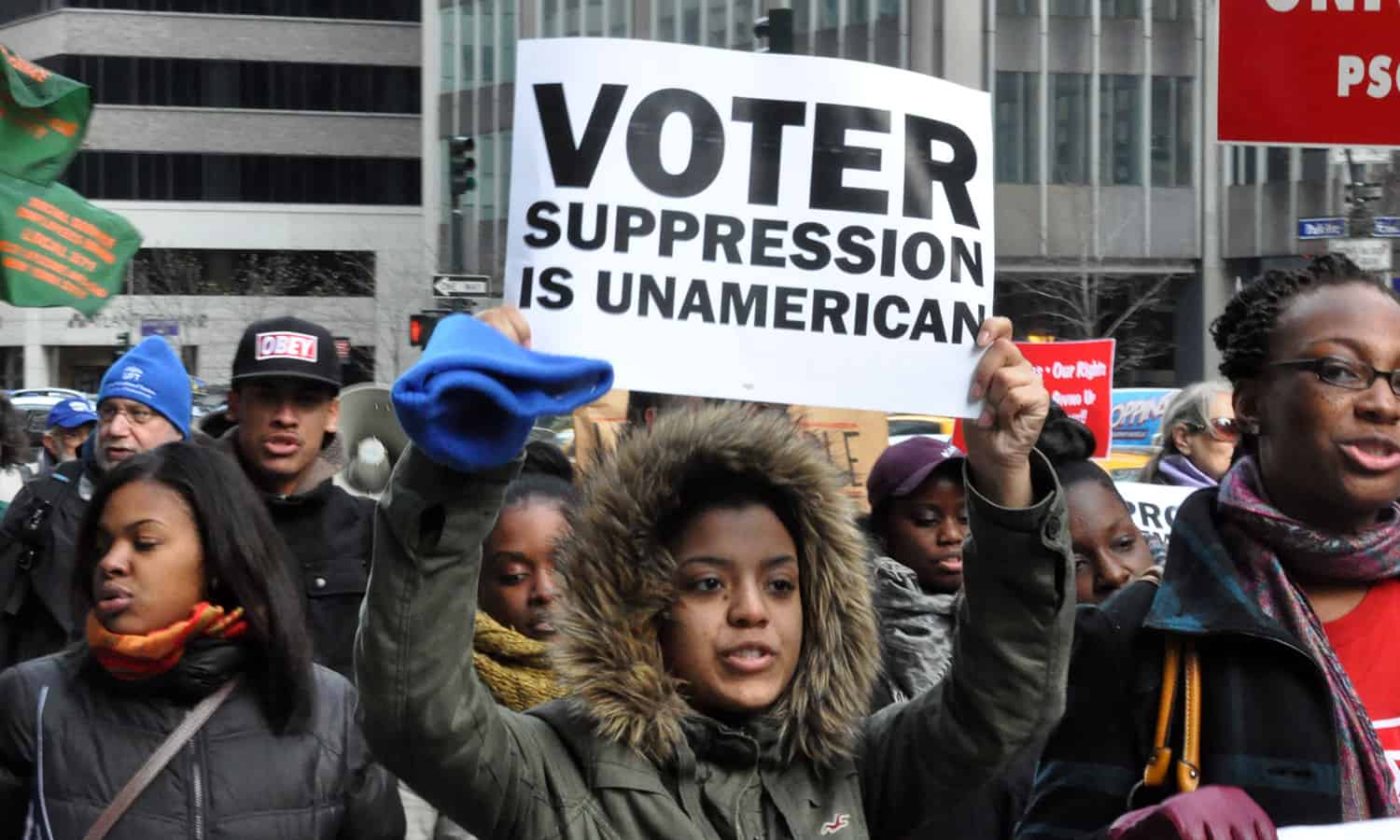 On Thursday, March 25, Georgia Governor Brian Kemp signed SB 202, dubbed the "Election Integrity Act of 2021." Officially, the 98-page bill seeks to reform the election system and eliminate election fraud. However, objectors contend its measures will do more to suppress votes rather than secure them.
Highlights of the bill include new ID requirements for mail-in ballots, disallowing handouts (including food and water) to voters waiting in lines, and shortening the run-off period from nine weeks to four. The new bill also allows the Republican-controlled State Election Board to remove and replace local election officials, granting the board extensive influence over election results certification.
Before reaching the governor's desk, SB 202 passed the state legislature with a party-line vote of 100 to 75.
"Few [issues] are more important than the bill I signed into law moments ago," Kemp said during the post-signing press conference. "With senate bill 202, Georgia will take another step toward ensuring our elections are secure, accessible, and fair."
Conversely, polling shows that the majority of Georgia voters strongly oppose numerous aspects of SB 202. More than 70% of voters refute measures criminalizing food and water distribution, restrictions on early voting, and more.
Opponents of SB 202 Strike Back
Shortly after the bill was signed into law, several activist groups filed lawsuits against Georgia Secretary of State Brad Raffensperger and the State Election Board. According to The New Georgia Project, Black Voters Matter, and Rise Inc., the law violates the first and 14th amendments and parts of the federal Voting Rights Act.
The lawsuit states, "These unjustified measures will individually and cumulatively operate to impose unconstitutional burdens on the right to vote, to deny or abridge the voting rights of Black Georgians, and to deny Black voters in Georgia an equal opportunity to participate in the electoral process and elect candidates of their choice."
Moreover, there is also noteworthy resistance happening at the federal level, with For the People Act currently under Senate consideration. The bill, which seeks to protect and expand voter rights rather than limit them, has already obtained House approval.
SB 202 law for Election Security or Suppression?
President Biden was quick to condemn SB 202 in an official White House statement:
"Republicans in the state instead rushed through an un-American law to deny people the right to vote. This law, like so many others being pursued by Republicans in statehouses across the country, is a blatant attack on the Constitution and good conscience," Biden said. "This is Jim Crow in the 21st Century. It must end. We have a moral and Constitutional obligation to act. I once again urge Congress to pass the For the People Act and the John Lewis Voting Rights Advancement Act to make it easier for all eligible Americans to access the ballot box and prevent attacks on the sacred right to vote."
Kemp responded to the president's accusatory message with an equally passionate defense. His statement read,
"It is obvious that neither President Biden nor his handlers have actually read SB 202, which I signed into law yesterday. This bill expands voting access, streamlines vote-counting procedures, and ensures election integrity. There is nothing 'Jim Crow' about requiring a photo or state-issued ID to vote by absentee ballot – every Georgia voter must already do so when voting in-person."
When it comes to voting ease and security, lawmakers embody a similar push and pull dichotomy. To date, state legislators have sought to enact more than 250 bills to make it harder to vote and more than 700 that would make it easier.
The Governor Who Called Election Fraud
Though SB 202 may be a direct response to former-president Trump's unsubstantiated claims of election fraud during the 2020 election, Kemp is no newcomer to the arena. In past years, the governor has received copious criticism regarding his heavy-handed approach to voter fraud. Kemp won the 2018 state governor title after purging more than a million votes in the name of election security.
Well-intentioned or otherwise, Georgia's most recent bill may fail to fulfill objectives of voter trust and election security. On top of disapproval of its thinly-veiled attempt at voter suppression, SB 202's efficacy is also being called into question.
"The bill adds up to more burdens and cost and returns to old practices that were abandoned years ago for security, convenience, and safety," said Rep. Debbie Buckner.
GOP Election Strategy Takes a 180
In the past, the GOP has sought ways to appeal to minority voters, such as connecting with church institutions that share many of the same conservative values. Today, they have all but abandoned that path, seeking instead to circumvent such voting populations altogether.
Senate Majority Leader Chuck Schumer called attention to GOP maneuvers on Twitter. "Since 2012—the GA GOP has closed more than 200 polling places. Voters in mostly Black precincts now wait for 8X LONGER to vote than voters in mostly white precincts. Now the GOP makes it a crime to give water to people standing in long lines THEY CREATED," Schumer said.
Uncertainty Undermines Democracy
Regardless of their accuracy, voter fraud claims cause citizens to lose confidence in electoral integrity. And despite the lack of verifiable evidence, 77% of Trump voters believe that fraud is common in U.S. elections.
With the battle for voter engagement underway in numerous states, it is no surprise that many feel as if the very fabric of our democracy is being threatened.
"This is anti-democratic," said Cas Mudde, a political scientist at the University of Georgia. "It [SB 202] literally tries to undermine the one-person, one-vote principle that is at the core of democracy."