Defense Of Derek Chauvin Called Six Witnesses On Its First Day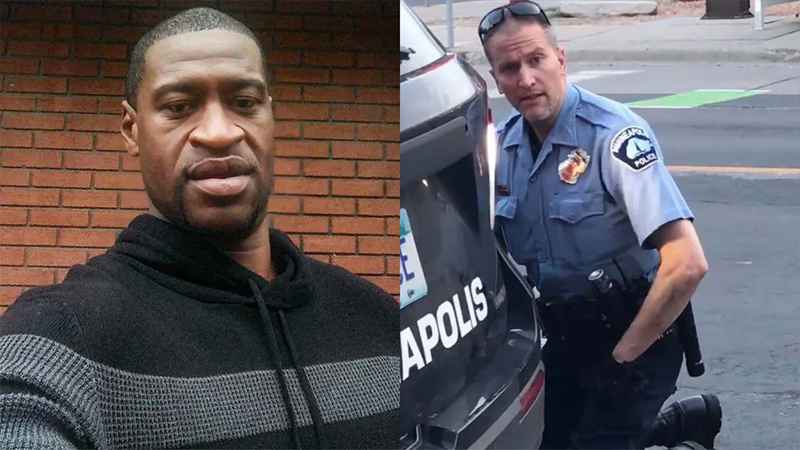 On Tuesday, the defense team of Minneapolis police officer Derek Chauvin began calling its own witnesses to testify on the 2020 killing of George Floyd.
Chauvin has pleaded not guilty to second-degree unintentional murder, third-degree murder, and second-degree manslaughter charges. His defense attorney, Eric Nelson, is attempting to make the following cases to acquit his client: that Floyd's death was due to health and drug issues, that Chauvin's use of force was justified, and that bystanders became aggressive and interfered with the arrest.
Most of the witnesses thus far have disputed these theories, but the defense hopes that their own witnesses will make enough of an impact to convince the jury to acquit Chauvin.
On Tuesday morning, the defense called its first witness: former Minneapolis Police officer Scott Creighton. Creighton worked for the MPD for 28 years and was involved in George Floyd's arrest during a 2019 incident. A body-cam video was played to the court showing the arrest.
The judge only allowed Creighton's testimony "for the limited purpose of showing the effects of the ingestion of opioids may or may not have had on the physical well-being of George Floyd," but not to judge his character.
During his cross-examination, Creighton admitted that he had drawn his gun when approaching Floyd in 2019. Floyd was sitting on the passenger side of a car that police had pulled over. Prosecuting attorney Erin Eldridge asked Creighton if he had been yelling and using profanity during the stop.
"Yes, I was. It escalated real quick," testified Creighton.
According to Mary Moriarty, Hennepin County's former chief public defender, Creighton's testimony actually helped the state's case against Chauvin.
"Once again, we saw a police officer approach George Floyd, who was sitting in the passenger seat at gunpoint and yelling profanity at him. So it was strikingly similar to what happened on the day he died," Moriarty said.
Shawanda Hill's Testimony
Shawanda Hill, a friend of George Floyd's, testified that Floyd offered her a ride from Cup Foods the day of his death. She ran into him at the store, where she said Floyd was "happy, normal, talking, [and] alert" when she saw him.
When Hill got in Floyd's car, she said Floyd fell asleep while sitting in the vehicle. She was able to wake him up once, but he nodded off again. Officers approached the vehicle while Floyd was still asleep, and Hill began urgently trying to wake him up.
Hill testified that once Floyd awoke, he immediately saw an officer with his gun drawn at the car's window.
"So he instantly grabbed the wheel, and he was like, 'please, please, don't kill me! Don't shoot me! Don't shoot me!'" Hill said, explaining how Floyd seemed "very" startled when he awoke to a gun drawn at him.
Peter Chang's Testimony
Minneapolis Park Police officer Peter Chang also testified on Tuesday. Chang responded to a call at Cup Foods to assist officers on the day of Floyd's death. Body-cam footage from Chang was played to the court and showed the officer arriving at the scene for assistance.
Chang described that, when he arrived "Floyd was in handcuffs, sitting on the ground, leaning against the wall."
Another officer asks Chang to stand by the SUV Floyd had been driving and watch the two passengers who had been inside it. One passenger was the aforementioned Shawanda Hill, and the other was Morries Hall, a friend of Floyd's. Chang was near neither Floyd nor the crowd.
Nonetheless, Chang testified that the crowd grew "very aggressive" during Floyd's arrest, and he became concerned for the safety of the other officers.
Barry Brodd's Testimony
Barry Brodd was the final witness of Tuesday. Brodd is a former police officer and use-of-force expert who surprisingly testified that Chauvin's actions the day of Floyd's death were warranted.
"I felt that Derek Chauvin was justified, was acting with objective reasonableness, following Minneapolis Police Department policy and current standards of law enforcement," Brodd told the court.
Brodd defended the position that Chauvin held Floyd in for over nine minutes on the concrete. He argued that Floyd's facedown position on the ground was the safest for both the officer and suspect, adding that holding somebody in that position is not a use of force.
"If the officer is justified in using the prone control, the maintaining of the prone control is not a use of force. It's a control technique," he testified. "It doesn't hurt."
Brodd also said that the situational constraints of Floyd's arrest justified Chauvin keeping him prone for so long, arguing that the unsettled crowd contributed to Chauvin keeping Floyd in the position for so long.
"At one point [Chauvin] felt threatened enough to pull out his pepper spray, shouting commands to move back," he said.
Of all of the witnesses called to testify in the case thus far, Barry Brodd has been the one most defensive of Chauvin's actions on May 25, 2020. The defense is expected to resume testimony Wednesday morning.