Chauvin Found Guilty of All Charges in Floyd's Murder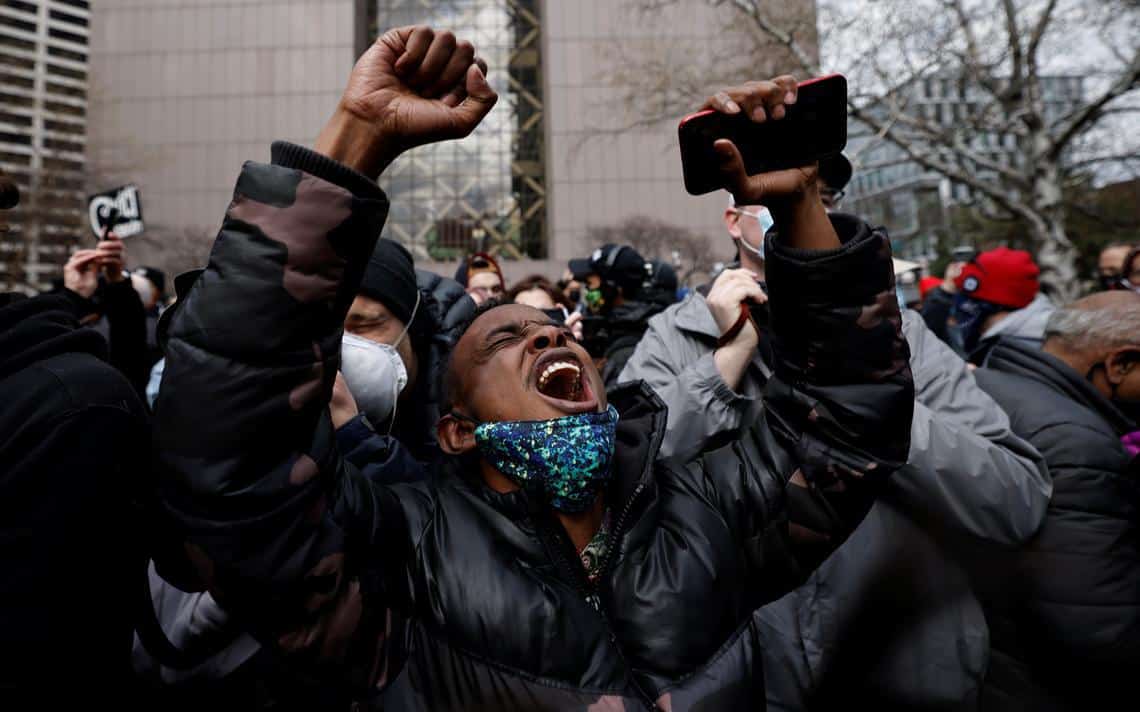 The trial of former Minneapolis police officer Derek Chauvin has come to a close almost a full year since the world witnessed George Floyd's horrific murder. With an anxious crowd gathered outside the courthouse, the jury relayed their decision on Tuesday after more than ten hours of deliberation spread over two days.
Guilty on all counts, Chauvin was convicted of three separate charges: second-degree unintentional murder, third-degree murder, and second-degree manslaughter. Though external factors such as Floyd's hypertensive heart disease may have played a role, the guilty verdict deems Chauvin's actions as purposeful, excessive, and the direct cause of Floyd's death.
The jury came to an agreement after hearing testimony from 38 witnesses for the prosecution and seven for the defense. They never heard from the accused, as Chauvin neglected to take the stand. Immediately after the verdict was given, Judge Peter Cahill granted the prosecution's motion to revoke bail and take Chauvin into custody.
Minneapolis Governor Tim Walz said in a statement, "Today's verdict is an important step forward for justice in Minnesota. The trial is over, but our work has only begun. True justice for George only comes through real, systemic change to prevent this from happening again."
After commending the jury's five men and seven women for their hard work, Judge Cahill revealed sentencing would take place in eight weeks. Chauvin faces up to 75 years in prison for his crimes.
COMMUNITIES EXPERIENCE WIDESPREAD SOLIDARITY
After waiting with baited breathe, public reactions to the guilty verdict ranged from unsuppressed elation to sighs of relief. Footage from outside the courthouse revealed an excited, chanting crowd sharing an emotional moment as cries of justice and black lives matter rang out across the premises.
Though some people contend that the jury was pressured by public opinion and politics, the overwhelming majority have expressed feelings of relief and renewed faith in a nation rocked by social inequality.
"We hope this guilty verdict begins to show that white supremacy will not win. White supremacy has no place in democracy, especially one that is supposed to guarantee us our freedom to live," said Black Lives Matter Global Network Foundation (BLMGNF) in a statement.
Though the battle for equality is ongoing, the guilty verdict undoubtedly provides Floyd's family with a moment of peace and a sense of closure.
Prosecutor Jerry Blackwell said, "No verdict can bring George Perry Floyd back to us, but this verdict does give a message to his family that he was somebody, that his life mattered, that all of our lives matter, and that's important."
PUBLIC FIGURES OFFER SUPPORT IN ONGOING FIGHT FOR EQUALITY
Minnesota Attorney General and lead prosecutor Keith Ellison expressed gratitude to the community for allowing him the time and patience to conduct a thorough case. Like others, he believes that Tuesday's verdict is just the first step in enacting actual change.
"Well the conviction of Derek Chauvin for the murder of George Floyd is a moment of real accountability. And it's a huge relief," said Minnesota Senator Tina Smith. "But of course, we also know there's so much work to be done to address the systemic inequity that still plagues us and I think about the millions of people who took to the streets to make their voices heard, and I think about all of the people who haven't seen justice, because their civil rights or their lives were taken. And so there's lots of work ahead but this is a moment where I believe that justice was served."
Though justice has been found for George Floyd, numerous cases of systemic racism have yet to be addressed.
"Too many Black people have lost—and continue to lose—their lives at the hands of law enforcement in our state," said Governor Walz. "We must rebuild, restore, and reimagine the relationship between law enforcement and the communities they serve. We must tackle racial inequities in every corner of society — from health to home ownership to education."
Responding to queries about police reform, Senator Elizabeth Warren said, "We must root out racism in our criminal justice system, that is our first obligation."
Former President Barack Obama also released a statement on Twitter mirroring the message of justice still to come.
FEDERAL AND WHITE HOUSE RESPONSE TO POLICE REFORM
President Biden expressed his support via phone calls to Floyd's family both before and after the verdict was announced. During a national address, Biden called for legislative measures, name-dropping the George Floyd Policing Act. "Nothing can ever bring their brother, their father, back," said Biden. "But, this can be a giant step forward in the march toward justice in America."
Invigorated by Chauvin's conviction, House Democrats have renewed the pressure on Senate Republicans to pass the George Floyd Policing Act, which the House already passed with a vote of 236-181.
"The fact is, we still have work to do. We still must reform the system," said Vice President Kamala Harris. "This bill would hold law enforcement accountable and help build trust between law enforcement and our communities."
Though the nation has yet to feel the full impact of Chauvin's conviction, many can count Tuesday's proceedings as a much-needed social justice victory.
After the verdict, Floyd's brother Philonise Floyd called for celebration today but vigilance tomorrow. He said, "I'm going to put up a fight every day, because I'm not just fighting for George anymore. I'm fighting for everybody around this world. . . . Today, we are able to breathe again."