Biden and Putin Hold Tense 'Positive' First Meeting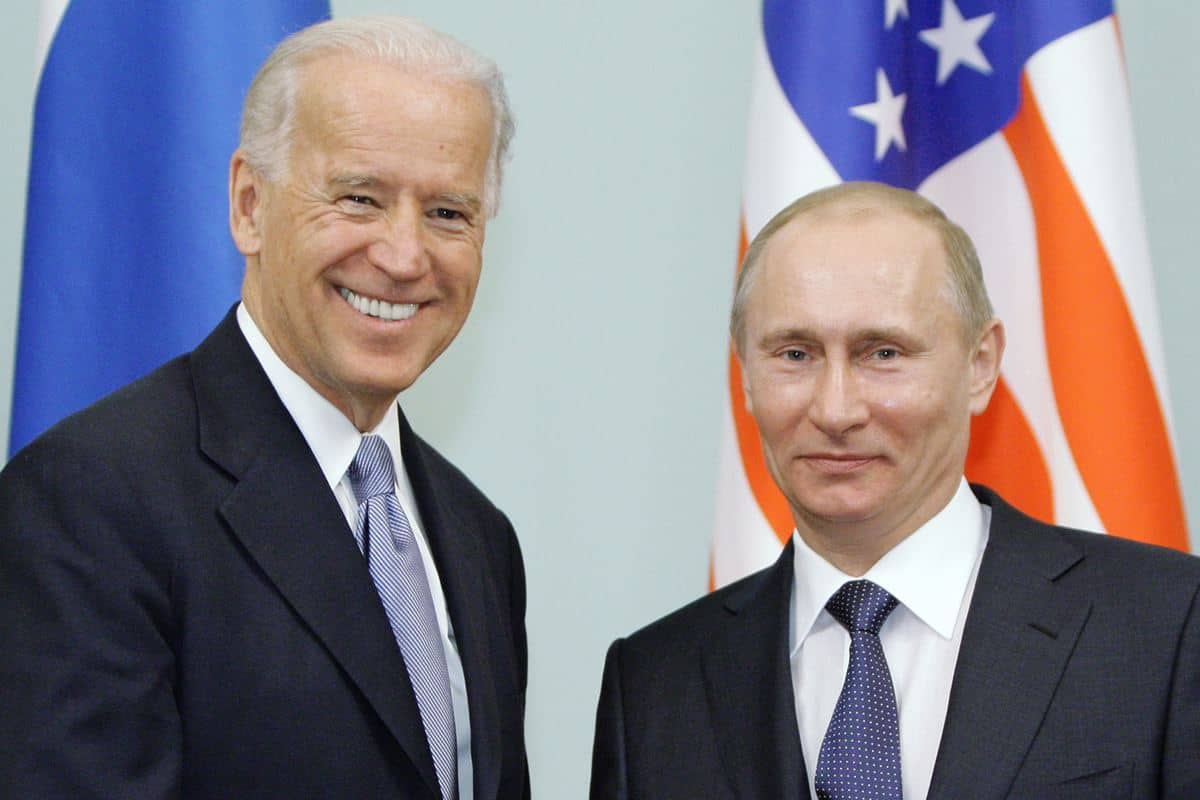 Posted:
June 17, 2021 at 5:21 am / by
Alec Pronk
/
Presidents Joe Biden and Vladimir Putin met in Geneva in their first meeting since Biden became US President in January. The meeting's agenda set out key discussion areas, including imprisoned Russian dissident Alexei Navalny, Ukraine, alleged election interference, and other foreign policy issues.
The two leaders had a small chat with translators and U.S. Secretary of State Antony Blinken, and Russian Foreign Minister Sergey Lavrov, before several senior aides joined the discussion on each side. In between their short chat and their longer meeting with senior aides, Biden and Putin appeared in front of the press.
The pair exchanged cordial greetings with the Russian President telling Biden, "Mr. President, I'd like to thank you for your initiative to meet today."
But, many Western journalists reported "chaos" behind the scenes as a disagreement broke out between members of the press and Russian security.
The two leaders met in Geneva as opposed to former President Trump and Putin's meeting which was held in Finland. Switzerland was chosen for this meeting due to the country serving as a symbol of neutrality.
Trust
One of the first things the press and social media caught onto was President Biden nodding yes when asked if he trusts President Putin.
But, the White House Communications Director released a statement saying that Biden was responding to another comment, and instead, his policy was to "verify, then trust."
For U.S. Democrats, Russia has served as a bogeyman since many in the party blamed Russian interference in the 2016 presidential election.
Putin has repeatedly dismissed these allegations and did so again ahead of his meeting with Biden.
Investigations into Russian interference in American elections were once number one on the agendas of Democrats; the issue has fallen down the pecking order slightly now that the Democrats control Congress and the White House.
Biden imposed new sanctions on Russia in April for the alleged hacking. But, the issue is still tender for the American public, who heard wall-to-wall coverage on Russian interference.
While Biden broached the subject of cybersecurity, alleged Russian interference into American elections is unlikely to take center stage in any meeting between the two leaders.
The Agenda
The summit with Putin will wrap up President Biden's first international trip as President. Last week, Biden was in the United Kingdom for G7 meetings and followed up with NATO meetings in Brussels.
In the buildup to the meeting with the most eyes on it, Biden has attempted to balance forceful language and leave the door open for diplomacy.
A whole host of important topics are expected to be discussed by the two leaders, including the Syrian Civil War, which both countries have their hands in, Alexei Navalny, Ukraine, climate issues, and more.
The US and Russia have supported different factions with the Syrian conflict, with the Russian supporting the Syrian government. In the American press, the meeting was pitched as Biden's last chance to stave off the closure of the last aid crossing into the country.
The Iran nuclear deal is also an important foreign policy issue to both nations. Russia and the United States were both signatories to the Iran nuclear deal, a groundbreaking agreement that limited harmful sanctions on Iran while providing some outside check on Iran's nuclear program.
Trump tore up the deal early into his tenure, and his Administration regularly infuriated the Iranians. All other signatories remained in the deal, and Russia and the European Union have been keen to salvage the agreement.
NATO Increasing Pressure
The meeting also took place with the backdrop of NATO ratcheting up its rhetoric against China and Russia. Biden and other NATO representatives met in Brussels earlier this week and emphasized the "threat" posed by the two countries.
China insisted that the military alliance should "devote more of its energy to promoting dialogue."
The NATO meeting and corresponding statement released by the organization put an unusual emphasis on China. NATO has placed a longstanding emphasis on security issues regarding Russia.
Biden has said that China and Russia are trying to "drive a wedge" between NATO countries and diminish "transatlantic solidarity. While increasing hawkish rhetoric against China and Russia, Biden also insisted that he is not seeking conflict with the two states.
Putin has long expressed his disdain for NATO, and he reiterated to Ukraine that joining the military organization was unacceptable. Ukraine and Russia have had a prolonged diplomatic row that spilled over into open conflict in 2014 and has festered ever since.
The fact that Biden met with NATO allies ahead of his meeting with Russian President Putin sends a very different message than the previous Trump administration. A NATO now "standing together" means that America's European allies are now assured that the American head of state is once again interested in taking a more hawkish approach to Russia.
Observers will have to wait and see if the fallout of Biden and Putin's meeting suggests a continuation down that path or a possibility for a more diplomatic solution.