Gavin Newsom Wins Recall Election Comfortably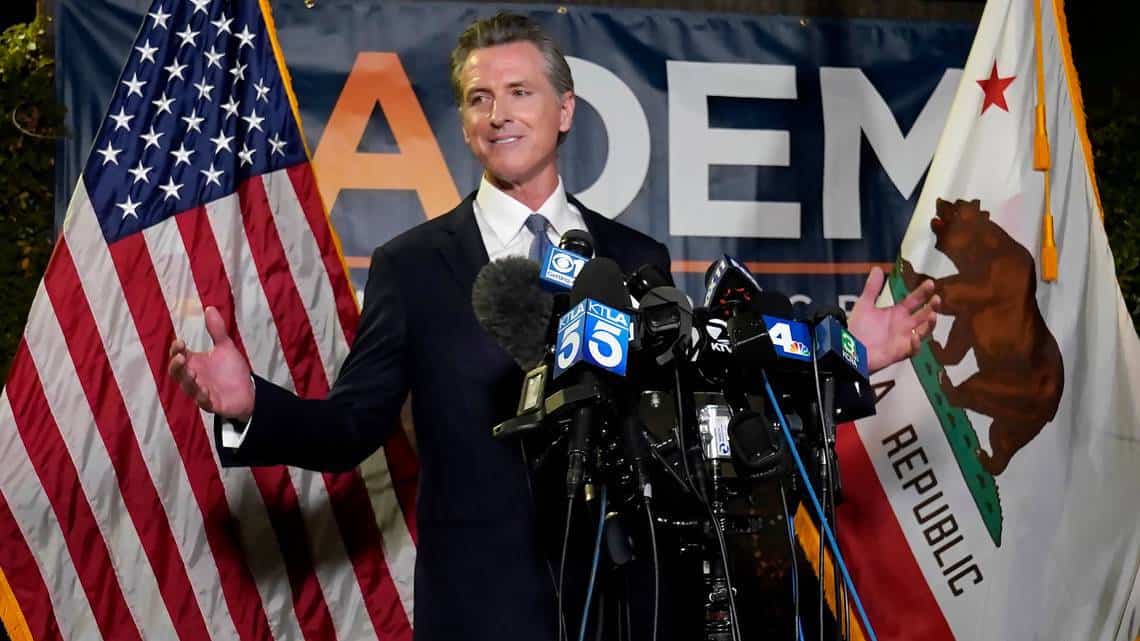 Posted:
September 15, 2021 at 6:34 am / by
Dean Lewis
/
Despite shaky early polls, California Governor Gavin Newsom won his recall election by a comfortable margin of over 60% of voters rejecting recall. The Governor will now remain in Sacramento and prepare for a reelection bid in just over a year.
The embattled governor faced the historic recall vote largely on a wave of conservative discontent surrounding coronavirus lockdowns. The poor early polling was a wake-up call for a race that many wrote off as a circus.
No contender with a traditional political backing emerged in the large pack of over 40 candidates vying to replace Governor Newsom. But conservative radio host Larry Elder quickly became Newsom's target on the campaign.
Elder received nearly two million votes more than the next candidate on question 2 of the ballot, but this portion was irrelevant as most Californians voted against recall. Unfortunately for Elder and recall hopefuls, Newsom's strategy of asking voters to skip the second question worked; nearly half of voters, more than Elder received, left that question blank.
Newsom effectively painted Elder as a bogeyman and called him more right-wing than former President Donald Trump. Elder is a passionate Trump supporter, and he used the right-wing broadcaster he works for to get his message out.
Elder's Emergence Helped Newsom in the Recall Election
The coronavirus pandemic loomed large over the recall election. Conservatives were able to get enough signatures to force a recall vote after many conservative Californians protested the state's public health measures.
Newsom was also involved in a public relations scandal related to the pandemic when photographed at a boutique restaurant with powerful lobbyists last November breaking his own lock-down rules.
This gaffe, an affront to many Californians either stuck at home or out of work, fueled the anti-Newsom narrative.
But Newsom was able to make his coronavirus response a key platform point in the recall election. The majority of California voters prefer Newsom's approach to the pandemic over Elder's laissez-faire attitude to the deadly virus.
Newsom told the Sacramento Bee that Elder "sharpened the focus of the consequential nature of this election."
Elder's emergence as the leading candidate to replace Newsom has been chalked up as a huge benefit to the struggling Newsom. Before any competitor became a household name, Newsom struggled with the recall vote hovering around the 50-50 mark in polls.
Democrats began throwing big names out in support of Newsom in the face of potential defeat, with several senators and Vice President Kamala Harris campaigning in California. President Joe Biden also told Californians to vote for Newsom.
Newsom was also able to keep any Democratic challenger out of the election, drawing on his political power in the state's party apparatus. The highest vote-getter running as a Democrat was Kevin Paffrath, a YouTube real estate guru.
Victory Speech: Pandemic Over?
Newsom contrasted his coronavirus response with Elder's pledge to remove mask and vaccine mandates as the more virulent Delta variant tears through the country.
In his victory speech, Newsom said "we said yes to science. We said yes to vaccines. We said yes to ending this pandemic."
Currently, 7,223 people are hospitalized with coronavirus complications across the state. California has been able to stave off the worst of the Delta variant surge compared to Florida and other states, but only 69% of Californians over the age of 18 have been vaccinated against COVID-19. With over 30% of the adult population still susceptible to the virus, the state will not be able to get the spread of the virus under control.
Newsom, along with other Democrats, have supported vaccine mandates. Still, with over two million Californians voting for Larry Elder, there are clearly plenty of people unwilling or reluctant to take the vaccine.
Trumpism Not Defeated
Newsom also took aim at former President Trump and Trumpism in his victory speech. Newsom made a clear connection between Trump and Elder on the campaign trail, proving effective to turn out some California voters.
"I said this many, many times on the campaign trail. We may have defeated Trump, but Trumpism is not dead in this country," said Newsom.
Some analysts suspect more Democrats may deploy this political strategy as the country approaches the 2022 midterm elections.
"Larry Elder is on the ballot here on the recall, but a version of Larry Elder is going to be on the ballot all over the country," said Juan Rodriguez, Newsom's campaign manager to CNN. "And that's an important lesson for Democrats and how they kind of lean into the message that we have done."
However, it is unclear how long the Democrats will be able to deploy the specter of Trump effectively in elections, especially if Trump is not on the ballot. Democrats are also worried that this strategy will not play well outside of California, especially in areas more amenable to "Trumpism."