Sen. Manchin Opposes Build Back Better Bill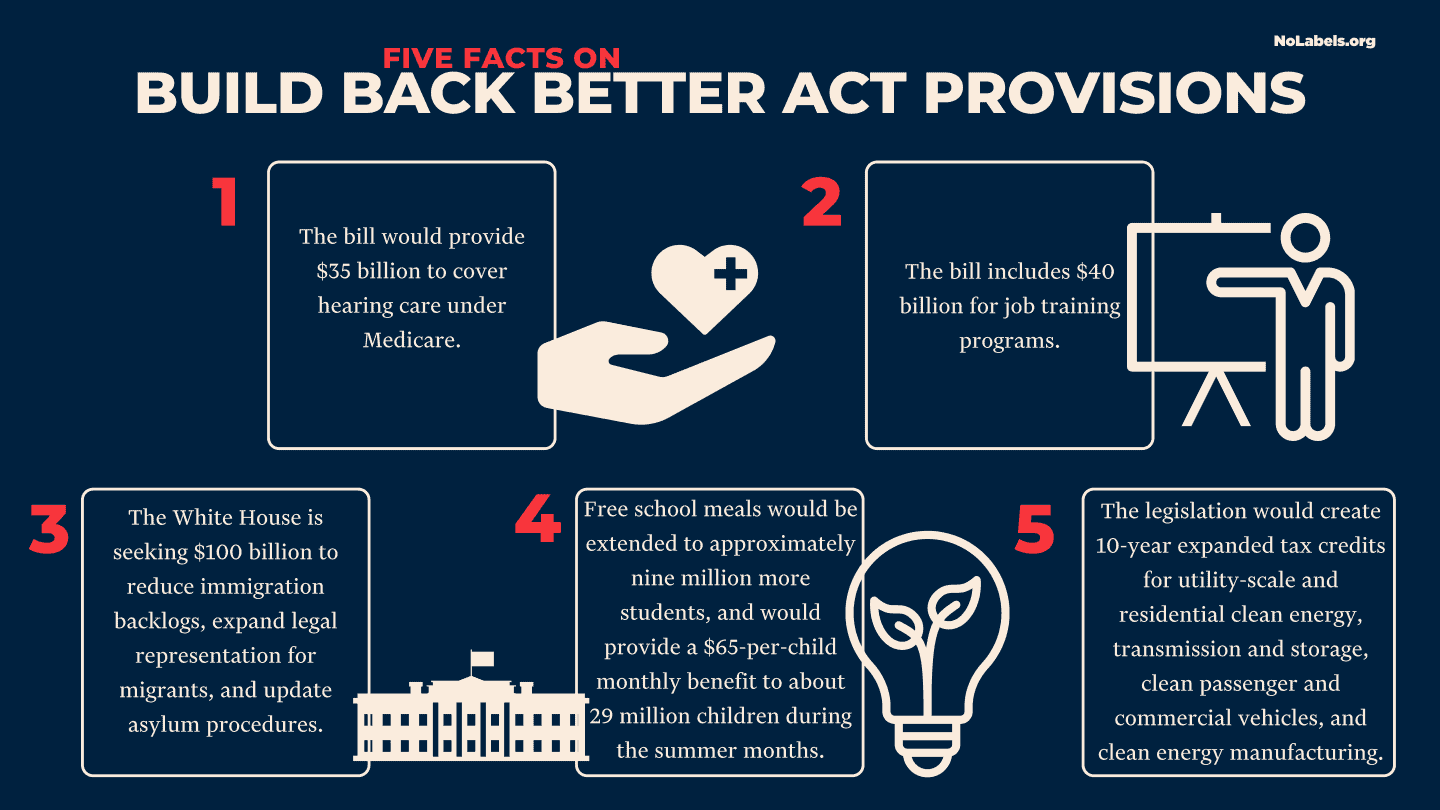 Democratic Sen. Joe Manchin of West Virginia did not budge on his stance on the Build Back Better plan on Sunday when he announced that he does not support President Joe Biden's $1.9 trillion plan. His decision has ceased any final negotiations of the latest version of the legislation.
Sen. Manchin made an appearance on Fox News Sunday explaining why he did not support the bill while calling it a "mammoth piece of legislation."
"If I can't go home and explain it to the people of West Virginia, then I can't vote for it," Manchin said. "I cannot vote to continue with this piece of legislation. I just can't. I've tried everything humanly possible. I can't get there … This is a no on this legislation."
With Manchin's decision, the social safety net bill, a plan that would reduce childcare and health costs and climate change, did not meet the necessary 51 votes to pass.
Manchin expressed that he had reservations since he heard about the bill. But, few of his statements thoroughly explained his concerns on the bill itself. He continuously cited his concerns about rising inflation costs and the latest coronavirus variant, omicron. 
"I have tried everything I know to do," Manchin exclaimed. "And the President has worked diligently. He's been wonderful to work with. He knows I've had concerns and the problems I've had and, you know, the thing that we should all be directing our attention towards the variant – the Covid – that we have coming back at us in so many different aspects in different ways, it's affecting our lives again.
"We have inflation that can really harm a lot of Americans and especially those who are most needy and having a hard time struggling right now," he continued. "So, I think that's where our attention needs to be directed towards immediately."
MANCHIN RELEASES STATEMENT
Manchin released a statement on the Build Back Better act not long after his appearance on Fox News Sunday, echoing many of his comments on the Fox show. He wrote that his "concerns have only increased as the pandemic surges on, inflation rises, and geopolitical uncertainty increases around the world."
"My Democratic colleagues in Washington are determined to dramatically reshape our society in a way that leaves our country even more vulnerable to the threats we face," Manchin said in his statement. "I cannot take that risk with a staggering debt of more than $29 trillion and inflation taxes that are real and harmful to every hard-working American at the gasoline pumps, grocery stores, and utility bills with no end in sight.
"The American people deserve transparency on the true cost of the Build Back Better Act," he continues. "The non-partisan Congressional Budget Office determined the cost is upwards of $4.5 trillion, which is more than double what the bill's ardent supporters have claimed. They continue to camouflage the real cost of the intent behind this bill."
The trillions of dollars in the bill would help reduce emissions and energy costs and help the American people under the Build Back Better Act. It would reportedly "create jobs, cut taxes, and lower costs for working families – all paid for by making the tax code fairer and making the wealthiest and large corporations pay their fair share." Health care access, increased child care programs, and the fight for climate change were expected to expand over the course of a decade if the bill was passed.
On Monday, Manchin addressed concerns about children under the care of their grandparents on the West Virginian radio program Talkline with Hoppy Kercheval.
"We have children that are now living with grandparents, and really to the assistance that we give to the welfare system, don't you think we can basically target that child?" he said on the program. "Make sure the money follows the child so if a grandparent's raising the child, they're getting the money and not the parent — even though they're biological parents who are not capable or not having the desire to raise that child."
WILL AMERICANS ABUSE BENEFITS?
But, two unnamed sources have said that "Manchin has told several of his fellow Democrats that he thought parents would waste monthly child tax credit payments on drugs instead of providing for their children," according to HuffPost.
He has also reportedly stated that Americans would abuse the proposed paid sick leave policy by pretending to be ill and "go on hunting trips," a source told HuffPost.
His press release statement, however, never addresses these concerns. Nor does it give much insight into a better way of improving the bill.  
While Republican leaders have rejected the bill overall, Democrats needed the approving vote of all 50 senators in caucus for the bill to pass. Manchin's final decision has killed any chances of the Build Back Better act passing this year, but he continues to promise cooperation with the House and Senate.
"I will continue working with my colleagues on both sides of the aisle to address the needs of all Americans and do so in a way that does not risk our nation's independence, security, and way of life," Manchin concluded in his statement.