Homeschooling: A Rising Trend Here To Stay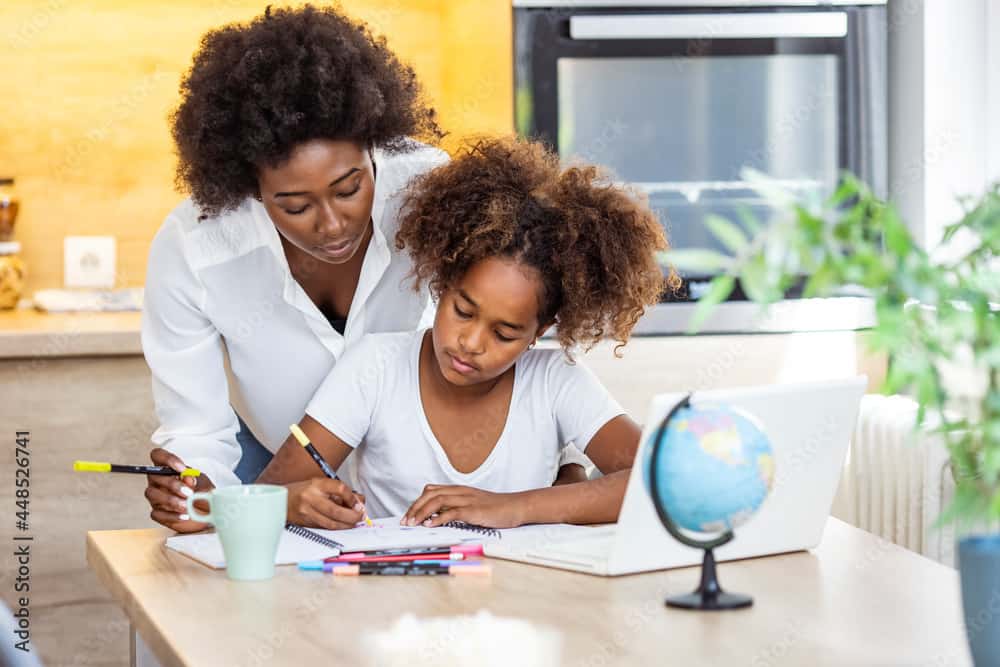 Jaime's son was crying. Again. "I'm just not a good student," he said. After months of trying to make it work, the confession caused a permanent shift in Jamie's perspective. It was 2020, and her son was a first-grade virtual learner. She sympathized with his teacher, but the pressure put on her son was too much. He needed to be her priority.
"Here we are, all of us, even the teachers at school, setting these non-age-appropriate expectations on these six and seven-year-olds," Jamie told Caracal Reports. "He's getting the message that he is not doing a good job, that he is not a good student."
Jaime has since joined an ever-growing cohort of homeschooling parents. Her daughter, in third grade when schools became virtual, was doing fine in virtual school, except for the waiting. For the first time, Jaime watched how often her daughter was waiting on the sidelines while other kids got the help they needed. She realized that in-person school operated in much the same way.
Not for lack of trying, Jaime was quick to point out: "They're understaffed and have larger classrooms, and they don't have the staff to meet children where they are." The result is that kids aren't spending seven hours learning at school. They are spending a couple of hours learning and a couple of hours waiting.
Able to work at her own pace and receive one-on-one help when challenged, Jaime's third-grader is progressing through the curriculum much more quickly. In some subjects, she is approaching fifth-grade work. This leaves time for other types of learning: practical life skills, free socialization at a local learning center, and family adventures.
"We just look at learning differently. It's experiential. They do online, Khan Academy, Outschool, workbooks, and things like that, but it is not so structured that they have to sit there and do it seven hours a day."
"Learning can be just be much more than what, in my mind, it was supposed to look like," Jaime said. "Honestly, it has really been awesome for us."
A Rising Trend
Jaime isn't alone. Following a rise in homeschooling from 1999 to 2012, rates remained steady at around 3.3 percent of the population. According to the U.S. Census Bureau's Household Pulse Survey, homeschooling rates rose from 5.5 percent around the start of the pandemic in April 2020 to 11.1 percent in the Fall of the 2020-2021 school year.
Some groups and states saw a greater rise than others. The homeschooling rate in Alaska rose from 9.6 percent to 27.5 percent. African American families nationally reported the most significant rise, from 3.3 percent in April 2020 to 16.1 percent in Oct 2020.
Tee Burks, an African American resident of Avondale, MD, never thought she would be a homeschool mom. In the 2020-2021 school year, after having her son Carter home for preschool, she asked him whether he wanted to go to school. He said no.
She was worried about limiting his exposure to the virus but also concerned by reports she was hearing from other parents. "When I talked to other parents, so many parents said their kids were falling behind," Burks said. She worried that even in a traditional classroom setting, teachers overburdened with students would not be able to pinpoint her son's strengths and weaknesses.
A natural planner, Burks consulted the Maryland Code of Regulations (COMAR) to ensure she was meeting the state's requirements and arranged a robust schedule of extracurricular activities to support Carter's social and physical development.
The pair start their day together each morning: Burk working from home on her computer and Carter schooling from home on his, using a host of verified online learning programs and apps. If he starts to get frustrated or off-task she takes a minute to help, much as one might chat with a coworker in the office. They take an hour and a half lunch, which often includes a lesson.
"Homeschooling is so feasible, which I never realized," Burks told the Caracal Report.
This arrangement allows for one-on-one instruction at a level that isn't possible when one teacher is working with thirty children. It also gives Carter more freedom in the afternoons. "I know he still has twelve more years of schooling," Burk says. "I don't want to burn him out in Kindergarten."
The one-on-one attention, Burk believes, allows for less structured learning time while also supporting mastery. Carter is already working on first-grade math.
Homeschoolers Routinely Outperform Their Peers
Burk's experience is supported by the evidence. Homeschool students regularly score between 15 and 30 percentage points higher than their public-school educated peers, with African American students routinely scoring 23 – 42 percent higher than their peers. It is unclear whether homeschooling itself or other attributes of homeschool families are responsible for the performance improvement.
Concerns with the quality of education in public school is also a driver for new homeschooling mom Dawn Williams. Her son Omar, age 13, started homeschooling because of Covid concerns, but he continues for more nuanced reasons.
"I never realized that he was only frustrated because no one sat him down and walked him through how to solve certain problems," Williams says. "He literally had mastered giving the illusion that he knew how to solve problems." With his mother's personalized attention, Omar can't fake it and he doesn't get lost in a crowd of learners.
In addition to personalized instruction, Williams is able to teach Omar to navigate life basics that can be neglected when children spend hours at school each day, coming home to do more homework. "We're able to actually work on problem-solving – adult tasks [like] Laundry, grocery shopping, anger control, etcetera."
The point is not often brought up by parents, but it is recognized by teachers of younger children. Angela Snodgrass reached out to over seventy teachers a single question in February 2021: "What skills do you wish every incoming kindergartener would have mastered when they come to your classroom on the first day of school?" The response was overwhelmingly geared toward life skills. Openings your own string cheese trumps the alphabet at this age, Snodgrass argues.
This paradigm extends to older children and teenagers. A 2019 Pew Poll found that parents doubt their sixteen and seventeen-year-olds can accomplish basic life tasks without them. Only eight percent of respondents thought their teen could make their own doctor's appointments. One parent, Sarah Clark, reported a phone call from her college-aged daughter. She called to say she was sick and didn't know what to do. "I'm like, what do you mean what do you do? You have a drug store down the street. Go have at it," she told Insider.
Attempts to reintroduce home economics courses to students in the United States have been unsuccessful, leaving all these life skills to be learned during evenings and weekends at home.
Homeschooling as a Silver Lining
For some families, the silver lining of COVID was an honest evaluation of an educational system they otherwise would not have considered.
Williams had to overcome community and personal biases to discover how well homeschooling worked for her family. "I thought people who did it [homeschooled] were trying to isolate their kids from reality," she said. "I changed my perspective almost immediately."
Krissi Boehmer, who started with a more benign view of homeschooling, began homeschooling her seven-year-old son in September 2020 and doesn't plan to return to traditional education.
"I always thought homeschooling just wasn't necessary, and that the school system was good enough," Boehmer says. "But even before covid, I started to notice Ethan being less curious and losing his love of learning. Once we figured out our new rhythm with homeschooling, I realized how amazing it is. Ethan is more invested in learning because he's the one who guides what we focus on, he's endlessly curious and exploring, and it's been amazing for our family relationships."
Reasons for COVID-initiated continued homeschooling are diverse – spanning both families who felt that COVID was too great a threat for school to be safe and those who felt that school was too restrictive, given the new COVID-precautions, to be developmentally healthy.
On both sides of this often-contentious divide, homeschoolers report the same reasons for satisfaction: their children are learning more, waiting less, and experiencing the world in a way that wasn't possible when they were at school all day. According to Williams: "It's like I gave him his childhood back."