Biden's Fiery Call to Change Filibuster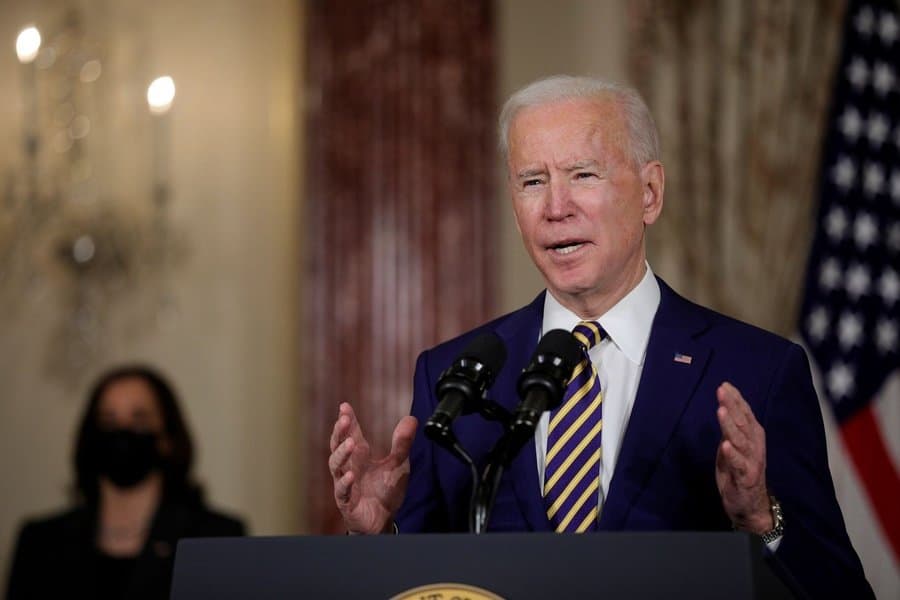 President Biden is refusing to keep "quiet" any longer. In a speech on Tuesday at the Atlanta University Center, Biden urged Senate Democrats to change the filibuster, a Republican block that has delayed the passing of a voting rights bill.
Voting rights block is an attack on democracy
"I've been having these quiet conversations with members of Congress for the last two months," Biden told a crowd of college students, activists, and elected officials. "I'm tired of being quiet!"
The Freedom to Vote Act – a bill that combats voter suppression, gerrymandering, interference in elections, and dark money – is a key voting rights bill that has been the hot topic of debate among Democrats for almost a year.
The push for the bill came last September after at least 18 states enacted new voting restrictions following the 2020 elections. A unanimous opposition from Republicans back in October resulted in a filibuster, an act that prolongs or blocks the passage of a bill, as Democrats debated to push the vote. The voting act would have needed 60 passing votes to advance in the U.S. Senate. However, the unanimous decisions of the Republican party in a 50-50 split Senate meant that the voting-rights bill was ten votes short of the 60 needed for the act to pass, resulting in a filibuster.
"The Vice President and I have supported voting rights bills since day one of this administration," the President said. "But each and every time, Senate Republicans have blocked the way. Republicans oppose even debating the issue."
Biden made a heated attack at Republicans, claiming that Senate has "weaponized and abused" the filibuster.
"The facts won't matter. Your votes won't matter," Biden exclaimed. "They will just decide what they want and then do it. That's the kind of power you see in totalitarian states, not in democracies."
"The filibuster is not used by Republicans to bring the Senate together but to pull it further apart," he said. "Not a single Republican has displayed the courage to stand up to a defeated president to protect America's right to vote."

Biden said that if a continual block is placed, "we have no option but to change the Senate rules, including getting rid of the filibuster for this."
His latest threat at ending the filibuster echoes similar remarks made during a CNN town hall meeting in Baltimore, where he said he was open to altering the filibuster or "just end the filibuster straight up."
Reception to the speech. Is it too late for Biden?
Biden's tone during his speech in Atlanta, a city historically known for the birth of the civil rights movement, contrasts his previous approach of persuading the passage of the voting act. He called the Senate, where he served for 36 years, "a shell of its from self."
Many praised the President for his ambitious will to pass the vote. Voting rights activist and Democrat Stacey Abrams acknowledged Biden's "deep understanding" while asking Senators to restore the Senate. U.S. House Speaker Nancy Pelosi said that "time has come for the Senate to heed the call of John Lewis and do its part to protect the vote and end the Republican nullification of elections."
Senate minority leader Mitch McConnell unsurprisingly disapproved a Biden's speech, however, calling it "profoundly unpresidential."

"I have known, liked, and personally respected Joe Biden for many years," McConnell said. "I did not recognize the man at the podium yesterday."
Despite his obvious disapproval, McConnell is not the only one upset with the President's newfound voice on the issue.
Derrick Johnson, the President and CEO of the NAACP, has expressed concern with Biden's actions, or lack thereof, many times before.
"Our democracy stands in its final hour," Johnson said in a statement on Tuesday. "Unless President Biden applies the same level of urgency around voting rights as he did for BBB and infrastructure, America may soon be unrecognizable.
"While President Biden delivered a stirring speech today, it's time for this administration to match their words with actions, and for Congress to do their job," he continued. "Voting rights should not simply be a priority – it must be THE priority."
Cliff Albright, the co-founder of the Black Voters Matter Fund, expressed his frustration a day before Biden's speech and put immense pressure on the President's lack of effort.

"For seven months, we heard nothing else about voting rights from him," he said. "We don't need another speech. We don't need him to come to Georgia and use us as a prop. What we need is work.
"If he is saying the next seven days is going to be historic and critical, he's got to fully lean in after he gives the speech, having the kinds of meetings, finding out from Manchin what exactly it's going to take, and being very direct and forceful – just as forceful as he has been on infrastructure and on some other issues," Albright added.
Biden is expected to meet with Senate Democrat on Thursday to discuss the push for the voting rights bill and a potential change on the filibuster in Senate.