Why All Citizens Need To Protest The War In Ukraine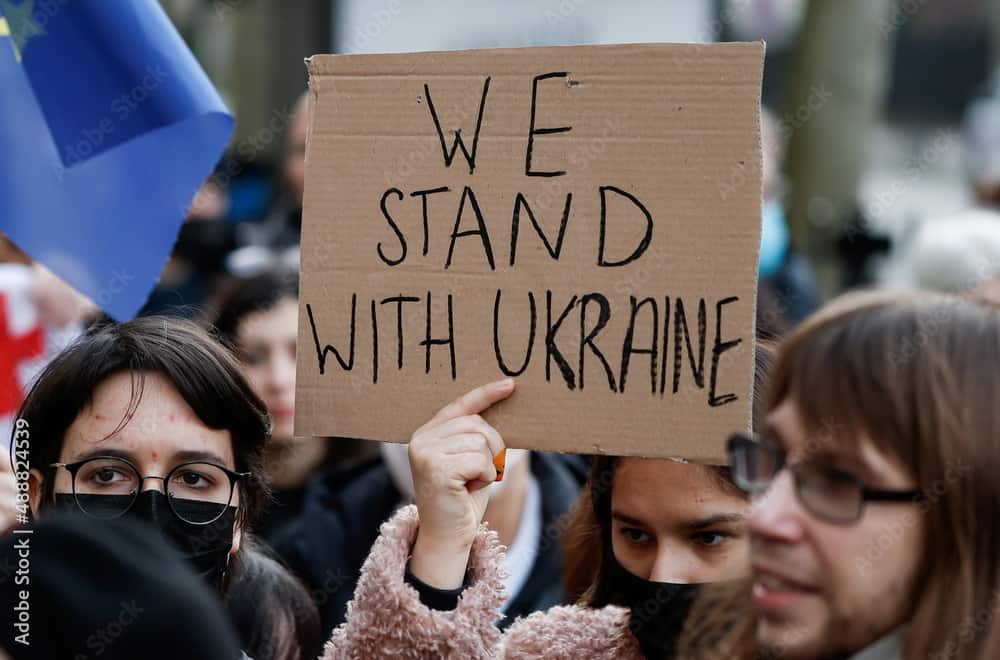 Russia has officially launched an attack on Ukraine. This is devastating on a global level.
It is now time for all citizens to take action and protest the war in Ukraine.
No One Wants This
If you look on the internet, the resounding statement from both Ukrainian and Russian citizens is that they have no desire for war. As one Russian Reddit user Wontobe puts it:
"… it feels like you woke up as a child from screams, you run out, and you understand that your drunk mother has gone crazy and went to fight with the neighbors. You stand and look at it, you feel shame, fear, and you are afraid to say something because she will kick you at home."
Another Redditor in Odesa, Ukraine posts, "I'm sitting here with my wife, waiting for the full-scale war to begin. We have no means to leave the country and nowhere to go when shit hits the fan. And from this perspective, every previous problem in my life now feels so… meaningless, it's 2022 in Europe, but here it's 31st of August 1939 here in Ukraine."
There are currently protests all over Europe, even in Moscow where more than 1700 protesters have been arrested.
Clearly, there are more people opposed to the war in Ukraine than there are people for it. We need to make our voices heard.
The World Need This To Stop
The past couple of years has been globally traumatic. As of right now, COVID has taken 5.93 million lives. Every year there are several climate catastrophes.
Perhaps the most painful aspect about the attack being launched is it feels so unnecessary. Plague and bad weather feel like they come from outside forces, but war is deliberate.
However, we've seen how human actions contribute even to "acts of God" like disease and disaster. We know climate change is caused by giant corporations. We know a lot of people were unnecessarily put at risk to COVID because many companies refused to shut down. We need to demand more. We need to start here. Stand together and demand an end to this war.
China Is Also Poised to Invade
We also need to show world superpowers that this is not ok. China will not call the Ukraine invasion an "attack." China is also currently poised to invade Taiwan.
Protesting this war is not only a protest of Russia, it is a protest of the entire concept of invasion. Showing up to a protest is our collective way of saying no to war. It's not a protest of this war, it's a protest al all wars.
As A Global Society, This Is How We Heal
We have stated before that the only antidote to the woes of capitalism is community. A great way to engage with your community is to participate in collective action like protests.
Most countries oppose the war, so most people outside of Russia and China are unlikely to face any arrest or police brutality. On a lighter note, most anti-war rallies have a fun, party-like atmosphere. They can often be a great place to meet friends.
Other Ways to Support Ukraine
If you are unable to attend a protest, there are many charities that are currently working to help Ukrainian refugees that need funding. Here are some organizations that are currently in need of financial assistance:
Unicef aims to secure safe drinking water and other infrastructure that is damaged by war. According to their website, they support "health, nutrition, HIV prevention, education, safe drinking water, sanitation and protection for children and families caught in the conflict in Ukraine."
Medicins Sans Frontiers is a French organization that provides medical care to areas affected by war and other forms of devastation. They have several projects to help the people of Ukraine.
Voices of Children is a Ukrainian charity that gives psychological support to children affected by the trauma of war.
Sunflower of Peace is a non-profit fundraiser that aims to provide doctors and paramedics with medical tactical backpacks. Each backpack is designed to treat 5-10 people for an array of first-aid needs.
The London-based charity provides humanitarian aid to places of conflict. They currently have many operations in Ukraine.
There are many people currently displaced by the war right now. The UN Refugee Agency aims to help refugees find new settlements in conflict-free countries.
We're at a crucial moment in history. It's time to demand peace. Our future depends on it.