France Macron Defeat Pro-Putin Far-Right Le Pen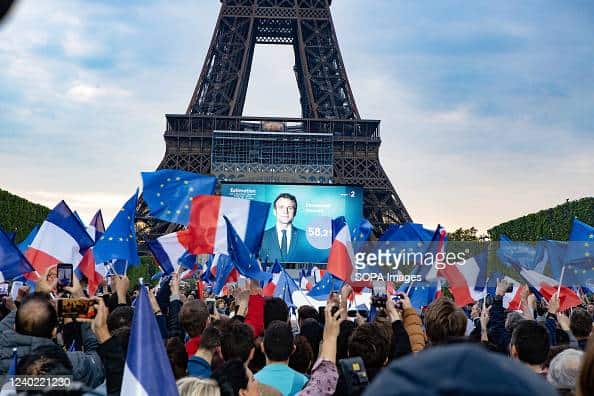 The French presidential election is over, incumbent Macron again claiming victory against far-right interloper Marine Le Pen, albeit with much closer results than their first encounter.
Macron and Le Pen ran against each other for the first time 5 years ago, with Macron decisively routing Le Pen for control of the country at that time.
For some, the tightness of the current race illustrates troubling trends in the general political landscape of Europe, with the more extreme views of Le Pen appealing to a wider audience than many thought possible in the past.
The reelection of Macron came as a relief to the European Union at large, where anxieties have been high in response to Russia's recent invasion of Ukraine. Macron has often served as a liaison between mainland Europe and Putin, heading to Russia on numerous occasions in order to attempt to ignite negotiations.
As Europe's only nuclear power and second-largest economy, a shift to the far-right could have proved disastrous for the fates of the less robust members of the European alliance.
"We have a lot to do and the war in Ukraine reminds us that we are going through tragic times where France must make its voice heard," said Macron, addressing supporters in a victory speech. 
For her part, Le Pen made numerous pledges to distance France from the EU, NATO, and Germany, all of which represent elements of a united west in the face of Russian aggression.
Despite Macron's victory, the strong showing of Le Pen and the far-right was interpreted by many of her supporters as a form of victory.
Prior to this election, it had been unprecedented for a far-right candidate to receive more than 40% of the vote, a milestone recently achieved by Le Pen that some found troubling.
Florida Governor DeSantis Removes Disney's Special Sovereignty Protections
Florida Governor Ron DeSantis has proceeded to remove the Walt Disney Corporation of its special ability to self-govern in a vindictive effort to punish the company for its resistance to new Florida legislation that limits the teaching of LGBTQ issues in schools.
The Republican Congress of Florida approved the legislation, which strips Disney's unique control over its properties. For decades, Disney has controlled the right to operate Walt Disney World Resort as if it were its own sovereign city.
Disney itself has not yet made public comment in response to the move from the Florida government and declined to initially oppose the offending Republican legislation, speaking out only after receiving pressure from its employees at large.
The legislation in question was nominally dubbed the "Don't Say Gay" law for the restrictions it places on LGBTQ education. Republican advocates claim that the spirit of the law intends to give parents more control of their children's education, while critics claim that it is a fairly transparent attempt to marginalize and oppress trans and gay individuals.
DeSantis's move has ended an era, where for the past 50 years Disney has been able to function as if were a county government, supplying services like fire-fighting, power, water, and roads on its own accord within the boundaries of its park.
Speaking at a fundraiser in Washington State, President Joe Biden assessed the friction between the two sides, criticizing the legislation as inane and proposing that it was outside the bounds of traditional conservatism.
"I respect conservatives. There's nothing conservative about deciding you're going to throw Disney out of its present posture because Mickey Mouse … should … not be able to say, you know, gay."
US Defense Department Officials Visit Ukraine
Several prominent officials of the US defense department are due to head to war-torn Ukraine to meet with President Vladimir Zelenskyy.
Zelenskyy has asked the United States and the rest of the west for more ammunitions, resources, and arms as he struggles to equip Ukrainian resistance fighters against Russia's invasion more adequately.
Among the officials to visit Ukraine include U.S. Secretary of State Antony Blinken and U.S. Defense Secretary Lloyd Austin. The White House has yet to release an official press statement on the visits.
"You can't come to us empty-handed today, and we are expecting not just presents or some kind of cakes; we are expecting specific things and specific weapons." Said Zelenskyy, expressing very specific expectations concerning the impending visits.
This is the first time that senior defense officials have visited Ukraine since the Russian invasion commenced approximately two months ago.
In recent weeks the Russian military has significantly stepped up the aggressiveness of its attacks, pummeling Ukraine's eastern regions while practically annihilating the city of Mariupol in a scorched earth blitzkrieg.
The city remains a target of interest for Russia due to its strategic position on the Sea of Azov, and its capture would connect Russian forces to the annexed Crimean Peninsula, significantly easing the transportation of goods and forces across the southern portion of the country.
Mariupol's population has allegedly diminished to just 100,000 from 430,000 in prewar times, with the remaining residents suffering from shortages of food, freshwater, and heat. Recent satellite images have shown what appear to be mass graves of civilians just outside the city's borders.
Over Easter weekend, Pope Francis appealed to the combatants to seek a truce.
"The attacks must be stopped to respond to the suffering of the exhausted population."