Voting Rights In Danger At The Supreme Court Once Again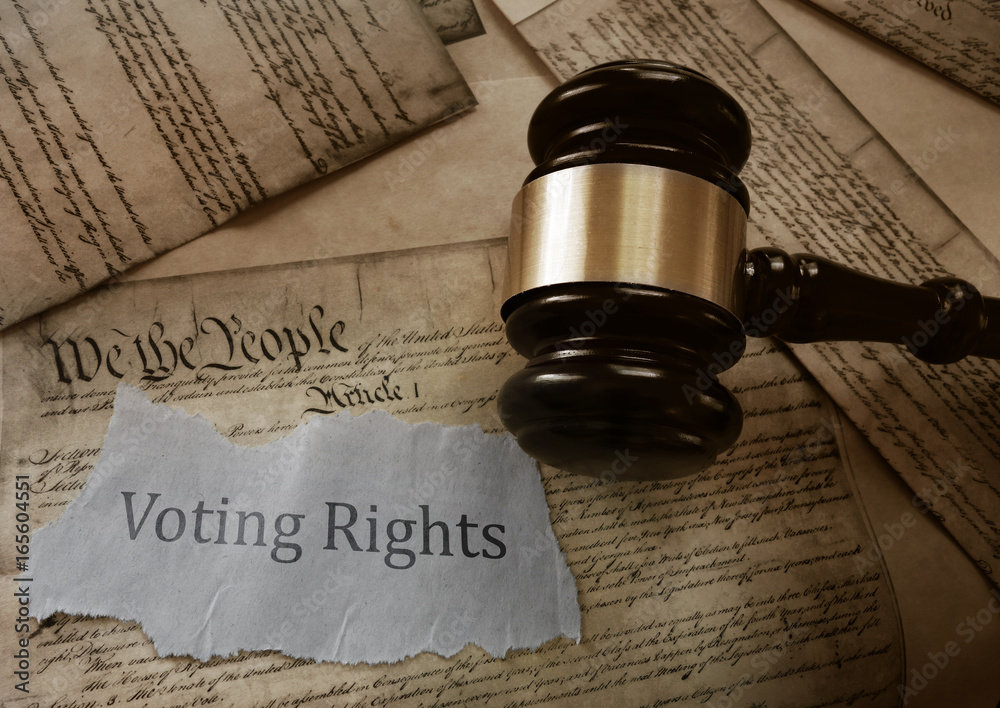 Voting rights will be back on the docket at the Supreme Court. In Merrill v. Milligan, the Court will decide whether, under Section 2 of the Voting Rights Act (VRA), Alabama is legally obligated to create a second district for Black Voting rights will soon be back on the docket at the Supreme Court. In the case of Merrill v. Milligan, the Court will decide whether, under Section 2 of the Voting Rights Act (VRA), Alabama is legally obligated to create a second district for Black voters. Section 2 prohibits discrimination against voting practices based on race and forbids electoral district lines from being drawn to undermine minorities' voting power. Despite making up about 27% of Alabama's population, Black Alabamians only have significant influence in one of seven congressional districts, meaning only a 14% chance to elect their desired candidate.
What's at Stake for Black Voters
Defendants in the suit argue that Alabama's new congressional map denies Black residents fair participation in their state's political process.
Since 1992, Black Alabamians have only been able to elect a congressional representative in the only Black-majority district. This puts Black voters at a disadvantage and is regarded as a byproduct of Alabama's dark history of racism against African Americans.
Until the Justices hear the redistricting case on October 4, 2022, the Supreme Court has handed down a brief order on Tuesday, June 28, 2022, that bars a federal trial court's ruling on Louisiana's new congressional map, reinstating its gerrymandered congressional map to be effective for the 2022 election. Despite making up one-third of Louisiana's population, Black residents will only have control over one of the State's six congressional seats.
According to Ballotpedia, "Redistricting is the process by which new congressional and state legislative district boundaries are drawn." Controversy arose on November 4, 2021, after Alabama legislatures enacted the State's new district map proposal following a 65-38 vote in the Alabama House of Representatives and a 22-6 vote in the Alabama State Senate.
Although a federal court struck down the proposed map and requested a new one to be drawn in January 2022, the Supreme Court has placed a temporary halt on the federal Court's ruling until the upcoming Supreme Court case is litigated.
The Voting Rights Act in Recent Years
Prior to the Voting Rights Act, Black voters were often the subject of discriminatory voting practices such as forced literacy tests, high poll taxes, and voter intimidation. In the mid-1950s, only a quarter of African Americans were registered to vote, and the registration rate was as low as 4% in some states. The passing of the VRA finally guaranteed Black citizens the ability to exercise their right to vote without fear of repercussions, leading to increased Black voter participation.
In recent years, however, restrictions have begun to re-emerge, resulting in states re-engaging in racially motivated redistricting and voter suppression.
The Supreme Court voted 5-4 in the 2013 Shelby County v Holder stating "it is unconstitutional to use the coverage formula in Section 4(b) of the Voting Rights Act to determine which jurisdictions are subject to the preclearance requirement of Section 5 of the Voting Rights Act." Section 5 of the VRA required states and localities with histories of discrimination against minorities to have amendments to their voting provisions approved by favorable determination. Consequently, the Shelby ruling opened the door to ramped racial discrimination once again in the electoral process.
CONSEQUENCES OF THE SHELBY DECISION
Following Section 5, Texas and North Carolina legislators enacted new voter ID laws and other voting restrictions. The U.S. Court of Appeals for the Fourth Circuit called it "the most restrictive voting law North Carolina has seen since the era of Jim Crow."
According to a report on voter suppression by the Leadership Conference Education Fund, the gradual gutting of the VRA has led to hurdles in accessing polling places due to the closing of polls, longer lines, difficulty accessing polls, and denial of in-person assistance. These restrictions have drastically increased voting complications for many eligible voters.
The report also found that between 2012 and 2018, 1,688 polling centers once protected by Section 5 had since been shut down; including 750 centers in Texas, 320 centers in Arizona, 214 centers in Georgia, and 72 centers in Alabama.
In 2021, the US Supreme Court further stripped most of what was left of the VRA in a 6-3 vote on two Arizona laws: one that threw out ballots cast in incorrect precincts and another that prevented the collection of absentee ballots by anyone other than legal guardians. Although a federal appeals judge struck down the ruling due to the unfair impact the laws would have on minority voters, the Supreme Court decided otherwise.
Justice Samuel Alito wrote in the decision that "just because voting may be inconvenient for some doesn't mean that access to voting is unequal."
Once widely regarded as a landmark of civil rights legislation, the VRA has been reauthorized five times since 1965, becoming less and less inclusive with each passing revision. The current trajectory of the Supreme Court jeopardizes deconstructing and reversing all the rights the VRA was built to preserve.