Death of Mikhail Gorbachev, 91, Recalls His Complicated Legacy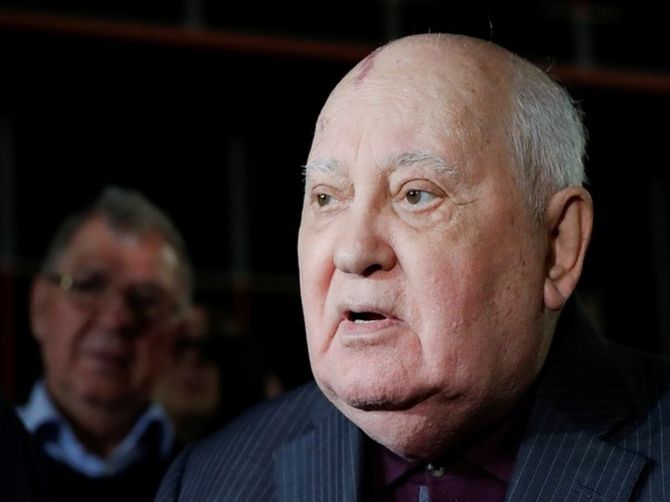 Winner of the Nobel Peace prize and man credited with ending the Cold War, Mikhail Gorbachev, died on Tuesday at the age of 91 in a Moscow hospital where officials reported he had been suffering from a long and serious illness.
Gorbachev was a Russian and Soviet politician who acted as the last leader of the Soviet Union, serving as the President of the Soviet Union until the country's dissolution in 1991. He is celebrated for dropping the Iron Curtain of the Soviet Union – freeing Eastern Europeans from the Soviets and establishing an early design of the modern Russian state.
Gorbachev's Rise to Power
Gorbachev was born to an impoverished family, growing up under the rule of Joseph Stalin. As a young man, he joined the Communist Party before pursuing a law degree at Moscow State University in 1955. 
He was appointed the First Party Secretary of the Stavropol Regional Committee in 1970, then he steadily ascended party ranks until the de facto politburo elected him as General Secretary in 1985. 
Gorbachev's notable achievements include withdrawing from the Soviet-Afghan War, limiting nuclear weapons, ending the Cold War, and introducing new political and economic freedoms in the Soviet Union. These accomplishments culminated in his winning of the Nobel Peace Prize in 1990. 
After resigning the presidency, he launched the Gorbachev Foundation and campaigned for Russia's social-democratic movement.
Immediate Reactions From the US and Around the World
U.S. President Joe Biden praised Gorbachev for being open to democratic changes.
"As leader of the USSR, he worked with President Reagan to reduce our two countries' nuclear arsenals," Biden said in a statement. "After decades of brutal political repression, he embraced democratic reforms. He believed in glasnost and perestroika – openness and restructuring – not as mere slogans, but as the path forward for the people of the Soviet Union after so many years of isolation and deprivation."
Biden added that "these were the acts of a rare leader – one with the imagination to see that a different future was possible and the courage to risk his entire career to achieve it. The result was a safer world and greater freedom for millions of people."
Russian President Vladimir Putin released a statement regarding Gorbachev's legacy shortly after his death was announced on Tuesday.
"He led the country during difficult and dramatic changes, amid large-scale foreign policy, economic and social challenges," Putin said. "[He] realized that reforms were necessary and tried to offer his solutions to the acute problems."
In Germany, where he is popularly referred to as "Gorbi," former Chancellor Angela Merkel saluted him as "a unique world politician."
"Gorbachev wrote world history. He exemplified how a single statesman can change the world for the better," Merkel said. 
No Condolences From Longtime Dissenters
News of Gorbachev's death was also met with hostility by longtime opponents. Despite his global accomplishments, many in Russia view him as responsible for the collapse of the Soviet Union leading to the social and economic crises that enveloped the country. 
Oleg Morozov, a member of United Russia, said Gorbachev should have "repented" for his mistakes.
"He was a willing or an unwilling co-author of the unfair world order that our soldiers are now fighting on the battlefield," Morozov said, in reference to Russia's current war in Ukraine.
Gabrielius Landsbergis, Lithuania's top diplomat, tweeted, "Lithuanians will not glorify Gorbachev."
In 1991, hundreds of Lithuanians protested against Soviet troops. In the clashes that followed, 14 civilians were killed and more than 140 others were injured. 
Gorbachev's funeral will be held on Saturday, September 3 at Moscow's Novodevichy cemetery where he will be buried next to his wife, Raisa, who passed in 1991. Russian President Vladimir Putin will not be in attendance and the Kremlin has yet to declare Gorbachev's funeral a state funeral.