Territorial Disputes Between Armenia and Azerbaijan Result in Bloodshed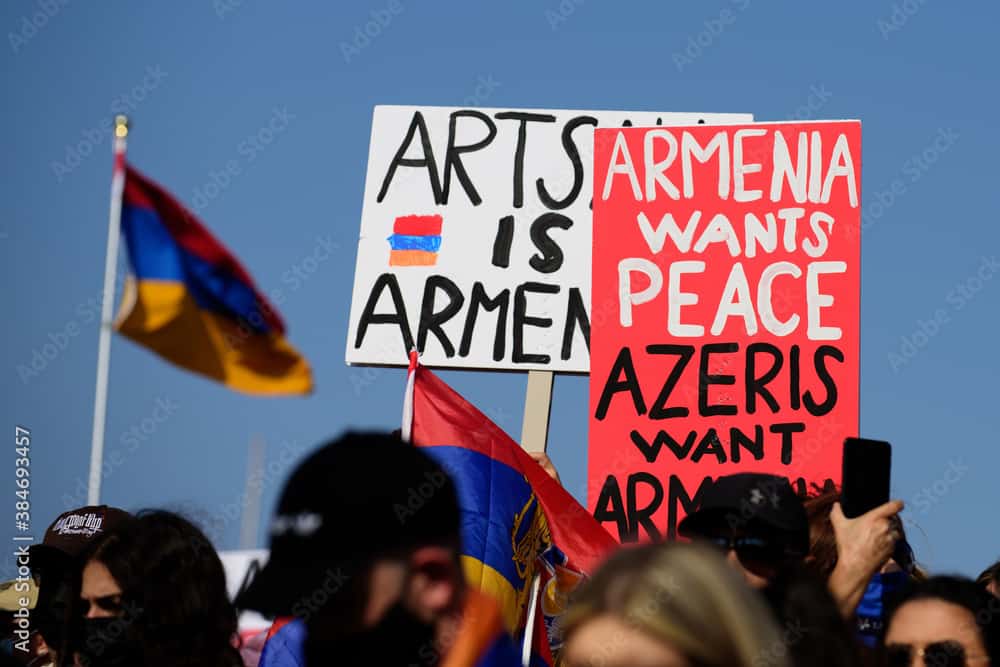 On September 12, fighting broke out along the border between Armenia and Azerbaijan, ending a two-year period of peace. Thousands of Armenians living in villages along the Azerbaijani border have since evacuated their homes in search of safety.  
Armenia and Azerbaijan leaders are attributing fault to the other for instigating the attack. Armenian Prime Minister Nikol Pashinyan asserted "Azerbaijan's military used drones, artillery, mortars, and small-arms fire to target a number of border towns" with the intent to further advance into Armenia's territory. 
However, President of Azerbaijan, Ilham Aliyev, claimed Armenia has possessed long-term plans for conflict. These recent outbreaks have left more than 170 soldiers dead and Armenians fearful of a possible invasion.
Origins of Armenia / Azerbaijan Conflict
In the late 80s, the Soviet Union began to weaken. The Armenian majority population in Nagorno Karabakh sought independence from the Azerbaijan SSR and underwent efforts to unite with Armenia. Following their declaring of independence, ethnic in-fighting between Armenian and Azeri residents of Karabakh escalated. Soon leaders of Armenia and Azerbaijan became involved, intensifying the territorial disputes into a full-blown war.  
A ceasefire declared in 1994 resulted in victory for Armenian forces, who conquered large swaths of Azerbaijani land. While Armenia and Azerbaijan experienced intermittent low-level disputes, the conflict remained mostly frozen until September 2020.  
On September 27, 2020, Azerbaijani forces launched an offensive to reclaim territory obtained by Armenia during the last war. Equipped with sophisticated Israeli weapons and support from Turkey's military personnel and mercenaries from Syria, Azerbaijani forces outmatched its Armenian counterpart. Fighting continued for 44 days, resulting in the deaths of thousands of soldiers and many more left injured and homeless. 
A Russian-backed peace deal signed twelve days later put an end to the conflict. However, the deal allowed Azerbaijan to keep land conquered during the 2020 conflict and forced Armenia to withdraw from several other areas obtained during the first war. 
The treaty was largely unpopular among the Armenian people. Many politicians and organizations called for Pashinyan's resignation and furious civilians took to the streets. After the peace deal's announcement, protestors stormed Parliament and other government buildings demanding the deal be invalidated.
What the Conflict Means for Armenians
On Wednesday, September 14, 2022, a senior Armenian official said that Azerbaijan had agreed to a truce after two days of fighting.
While numerous battles in the disputed zone have taken place, this is the first time that the fighting occurred directly on the international state border of Armenia and Azerbaijan.
In a speech to Parliament on September 14, Pashinyan stated that Azerbaijani forces managed to occupy an additional four miles of Armenian territory. He also assured Armenia's readiness to "recognize Azerbaijan's territorial integrity in a future peace treaty, provided that it relinquishes control of areas in Armenia its forces have seized."
Pashinyan's comments have angered Armenians living both domestically and internationally, who fear they may be rendered stateless. Thousands of angry protesters have descended upon Parliament and once again call for Pashinyan's resignation.
Resurrected regional conflict has fueled Armenian fears of statelessness – increasing distrust in Turkey and its allies. Paranoia continues in part due to lack if involvement and intervention by world leaders.
 "Armenia has not received the kind of attention Ukraine has received, and this will shine a light on a country crossing an international border in violation of international law," said Anthony Barsamian, co-chair of the Armenian Assembly of America.
Azerbaijan possesses stronger military capabilities, greater economic income, and larger territorial claims. In spite of these harsh realities, civilian Armenians are prepared to continue the fight for Karabakh.