Eight States To Watch For Midterm Elections
The United States midterm elections are fast approaching and all signs indicate this midterm season will be one of the most crucial elections in recent U.S. history.
The midterm elections will not only determine the makeup of the U.S. House of Representatives and the U.S. Senate, but they will decide state leadership, too.
In the 2022 midterms, reproductive rights, religious freedom, LGBTQ+ expression and school curriculum guidelines are all matters on the ballot. Currently, the Democratic Party has control of the House of Representatives as well as a slight lead in the Senate.
The Senate is split 50-50 between the two parties. The Democrat's only advantage is Democratic vice-president, Kamala Harris, acting as the 51st deciding vote. Democrats stand to lose this slight majority if Republicans flip even one Democrat-held seat.
Here are some states to watch that could determine which party will end up taking control of Congress.
Arizona
Mark Kelly vs Blake Masters
The incumbent Sen. Mark Kelly, a former Nasa astronaut and husband of retired Arizona Rep. Gabby Giffords, is defending his seat against Republican candidate Blake Masters.
The Republican candidate Masters, embraces claims that Donald Trump won the 2020 presidential elections and alleges theories of illegal election tampering. Top Republican groups have avoided big spending on this race, due in part to the fringe views espoused by the Masters campaign. Kelly has maintained a lead since the summer.
The incumbent's campaign has taken in over $52 million and held nearly $25 million in cash on hand since mid-July, while Masters' campaign held about $1.5 million in late September, according to data compiled by OpenSecrets.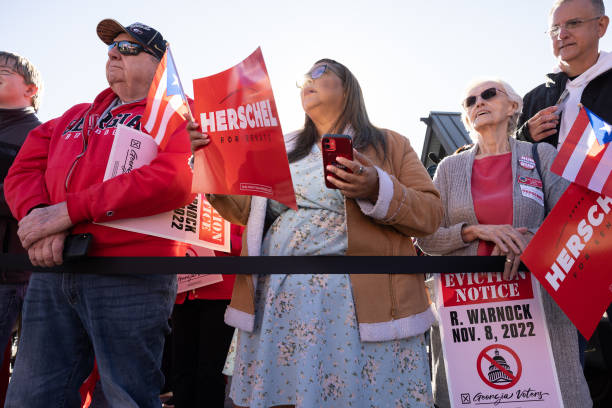 Georgia
Warnock vs. Walker
Rev. Sen. Raphael Warnock was elected into the Senate in 2020 to occupy the remainder of a former senator's term. Now two years later, he is eligible for reelection.
The Republican Party has rallied support for former NFL player Herschel Walker to face off against Warnock this election season and leverage his Trump endorsement in attempts to secure a victory.
Over time Walker has narrowed the polling gap but has endured an endless stream of controversies while doing so.
Recently, right-wing social media star son, Christian Walker, publicly broke ties with his father after allegations surfaced that the pro-life candidate paid for an abortion in 2009, which Walker denies. Christian accused his dad's entire campaign of being built on lies and falsehoods.
Warnock hopes his campaign to protect abortion and voting rights will inspire liberals to vote for his campaign.
Polling averages of the race show the two candidates neck and neck, with Warnock holding a slight lead.
Michigan
Michigan has several races that could determine how the state will look like when it comes to the 2024 elections.
Whitmer vs. Dixon
Democratic Gov. Gretchen Whitmer faces conservative commentator Tudor Dixon for the state's gubernatorial race. Whitmer is bidding for her second term but faces a challenging battle against Dixon who has been endorsed by Donald Trump.
With only two weeks left before Election Day, the margin separating them is narrowing.
Benson vs. Karamo
Michigan's secretary of state race is marked as the marquee contest of the state. Democratic incumbent Jocelyn Benson faces Republican candidate Kristina Karamo.
Karamo is endorsed by Donald Trump and participated in efforts to overturn the results of the 2020 elections. Meanwhile, Benson has become a well-known political figure with a Time magazine cover photo, a testimony before Congress about threats election workers have faced and regular appearances on cable news.
The final campaign finance reports filed ahead of the midterm showed Benson holding a $3.1 million cash advantage over Karamo. Benson had more than $3.3 million cash on hand while Karamo ended up with $184,734.68 ahead of the election, according to the reports.
Pennsylvania
Fetterman vs. Oz
One of the most competitive and closely-watched races of the cycle is the Senate race of Democratic Gov. Fetterman against Republican celebrity Dr. Mehmet Oz.
Fetterman's rebukes Oz for his status as an outsider – a New Jersey resident – attempting to cross his own state lines to wine an election.
Oz – known largely in pop culture as "Dr. Oz" – has received the endorsement of Trump and Republicans across the country. The Oz campaign, aided by tens of millions of dollars from Senate GOP Leader Mitch McConnell's PAC, has bombarded Fetterman with ads accusing him of being soft on crime.
Oz and his staffers have also sowed doubts about Fetterman's health as he recovers from a stroke he suffered in May of this year.
While Fetterman still leads Oz, polling averages reveal the gap between the two candidates has shrunk considerably in recent weeks.
Nevada
Cortez Masto vs. Laxalt
The Republican Party currently views Nevada as one of their best chances to flip a seat from blue to red.
Adam Laxalt, who served as the 33rd Nevada Attorney General from 2015 to 2019 is up against freshman Democratic Sen. Cortez Masto.
Cortez Masto, the state's first Latina senator, has outraised and outspent her opponent. She has also received more support from PACs and other outside groups. The Nevada election is the second-most-expensive Senate fight in the nation, trailing only the Georgia race.
But polling averages show Cortez Masto head to head with Laxalt, making it a race currently too close to call.
Democracy is also on the ballot, as Republican Jim Marchant, who has cast doubt on the 2020 election, seeks to run Nevada's elections as secretary of state.
North Carolina
Budd vs. Beasley
Republican Rep. Ted Budd and Democrati Cheri Beasley are running to replace retiring Republican Sen. Richard Burr.
Beasley is the first Black woman to serve as chief justice of the North Carolina Supreme Court. She takes on Budd who is endorsed by Trump and is a three-term congressman. The two are consistently side-by-side in polling.
Campaign finance records show Beasley's campaign has outraised Budd's. Her campaign reportedly raised a $13.3 million haul in the third quarter, nearly doubling its second-quarter fundraising. But the McConnell-linked Senate Leadership Fund PAC has spent more than $20 million opposing her campaign efforts.
Ohio
Vance vs. Ryan
Republican Senate candidate J.D. Vance is facing Democratic Rep. Tim Ryan in one of the most hotly contested races of the country.
Vance made headlines recently for being the bestselling author of Hillbilly Elegy, a memoir turned divisive Oscar-nominated film starring Glenn Close and Amy Adams.
Once a critic of Donald Trump, he has since changed his narrative and earned the former president's endorsement.
Tim Ryan is a longtime House representative who briefly ran for president in 2020 before withdrawing from the primary race and endorsing Biden. His campaign's fundraising efforts are leading against Vance. The Democrat has $21.5 million versus Vance's $3.6 million, according to the most recent data from OpenSecrets.
Vance and Ryan, both Ohio natives, are competing for the seat being vacated by retiring GOP Sen. Rob Portman.
Wisconsin
Johnson vs. Barnes
The race between Democratic Gov. Mandela Barnes and Republican Sen. Ron Johnson has lacked predictability. Although Barnes was in the lead for majority of the year, in the last month polls have shifted in favor of Johnson.
Johnson, endorsed by Trump, has framed the election as a matter of keeping Wisconsintes safe, accusing Barnes of being soft on crime.
Barnes has experienced a successful political career but is now facing the risk of losing his seat to Johnson.