Murder of Tyre Nichols: The Aftermath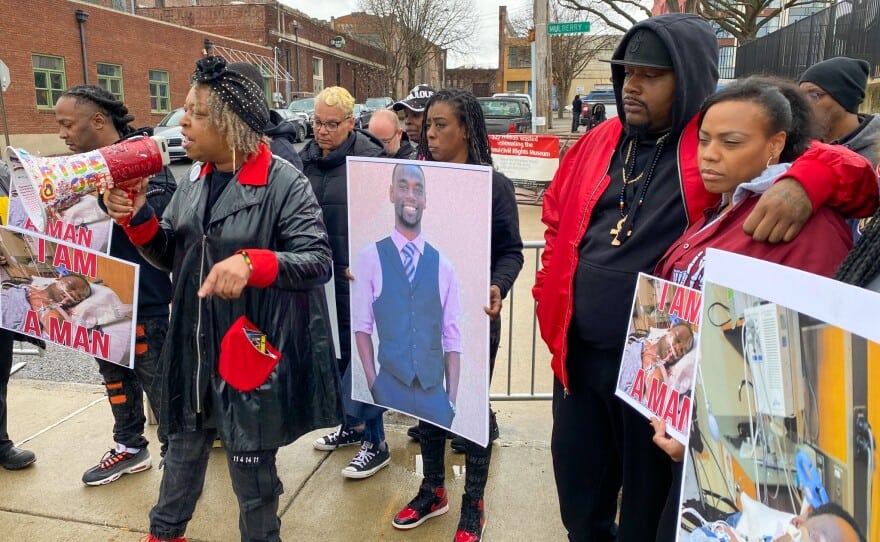 Memphis police announced Saturday that they have permanently deactivated the unit including the five officers who fatally beat Tyre Nichols. 
SCORPION, or Street Crimes Operation to Restore Peace in Our Neighborhoods, included more than two dozen officers tasked with taking on street crime. According to the department, their responsibilities included finding violent criminals, drugs, or weapons.
"While the heinous actions of a few cast a cloud of dishonor on the title SCORPION, it is imperative that we, the Memphis Police Department take proactive steps in the healing process for all impacted," Saturday's statement read.
Nichols, died on Jan. 10 at the age of 29, three days after being violently beaten during a traffic stop by Memphis police officers.
Nichols was pulled over for alleged reckless driving on Jan. 7.  Bodycam footage released Friday revealed he was pulled out of his car and pushed to the ground. Nichols ran away, but the officers caught up to him and struck him using batons, kicked and punched him, and used pepper spray for three minutes. 
After more officers arrived on the scene, officials said, they waited another 20 minutes before getting Nichols medical care. Nichols died in the hospital three days after the encounter from the injuries.
Mostly peaceful protests took place throughout the weekend, with more vigils and protests planned in the coming days. 
The mother of Tyre Nichols, RowVaughn Wells, said the officers had "shamed their own families."
"Even though this tragedy happened to my son, I truly believe that there is going to be a greater good that comes out of this," Ms. Wells told MSNBC.
"And that is what keeps me going to get this justice for my son because I'm not going to stop until every person that had anything to do with my son's death is prosecuted to the fullest of the law."
"I hate the fact that it was five black men that actually did this to another black man. My son probably was their age.
"They just brought disgrace to themselves. I'm not an evil person; my son is not an evil person… I pray for (the officers') families because their families didn't deserve any of this either."
The five former officers, who have since been fired, have been identified as Demetrius Haley, Tadarrius Bean, Emmitt Martin III, Desmond Mills Jr., and Justin Smith. The officers were charged on Thursday with second-degree murder, assault, kidnapping, official misconduct, and oppression in Nichols' death and dismissed from the department.
Reaction from both sides of the aisle
Sen. Dick Durbin (D-Ill.) told Martha Raddatz on ABC's "This Week"  that he would not rule out a federal investigation into the Memphis Police Department. 
"But I always say that we have to be honest about this when it happens in Minnesota, when it happens in Tennessee, and it happens on the streets of Chicago," he continued. "We've got to be very honest about it."
President Biden said in a statement Friday that Nichols' family deserves a "swift, full, and transparent investigation."
Biden called on Congress to pass the George Floyd Justice in Policing Act, which would enact reforms to tie federal aid to officer conduct.
Republican House of Representatives Judiciary Chair Jim Jordan, appearing on NBC's "Meet the Press," cautioned against rushing into new legislation to create new mandates for police.
"These five individuals did not have any respect for life. And again, I don't think these five guys represent the vast, vast majority of law enforcement. But I don't know if there's anything you can do to stop the kind of evil we saw in that video," he said.
Who was Tyre Nichols?
Tyre Nichols was a California native, though moved to Memphis in recent years where he was close to his mother and 4-year-old son. Nichols enjoyed skateboarding and was an aspiring photographer.
"Photography helps me look at the world in a more creative way. It expresses me in ways I cannot write down for people," he wrote on his website. He preferred landscapes and loved the glow of sunsets most, his family has said.
"My vision is to bring my viewers deep into what I am seeing through my eye and out through my lens," Nichols wrote. "People have a story to tell, why not capture it."
Nichols was on his way home from taking pictures of the sky when he was stopped by the police and beaten. 
Nichols worked second shift at FedEx with his stepfather. Every day, they'd come home together on their break at 7 p.m., and his mother would have a meal waiting for them.
His website, called This California Kid, starts with an invitation: "Welcome to the world through my eyes." He took pictures of pink flowers, sunsets over the Mississippi River, fields of grass, and statues of Elvis.
He highlights a quote from another photographer: "A good photographer must love life," it begins.