"May Day Rise Up" Rally to Resist Trump Administration's Bigoted and Anti-Worker Policies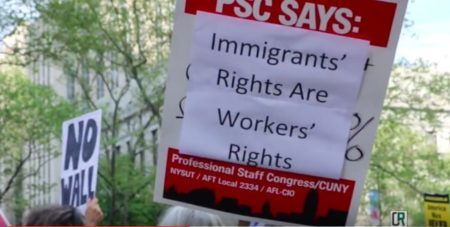 Amanda Ortiz and Nadia Oulahna provide coverage of the May 1st "May Day Rise Up" event at Foley Square in New York. At the rally, New Yorkers from all over came together to resist the Trump Administration's bigoted and anti-worker policies.
"May Day" began in Chicago in 1886 as part of the labor movement's fight for an eight-hour work day. Since then, the day has become an international workers' holiday.
Several featured speakers spoke at the event, including those who have been directly impacted by the President's Muslim and refugee ban; those who have been directly affected by Trumps indiscriminate immigration enforcement actions; Linda Sarsour, Palestinian American civil rights activist; Hector Figueroa, the President of the SEIU Local 32BJ; Leticia James, New York City Public Advocate; Scott Stringer, New York City Comptroller, and more.