Nigeria Must Spend Out Of Recession: Kemi Adeosun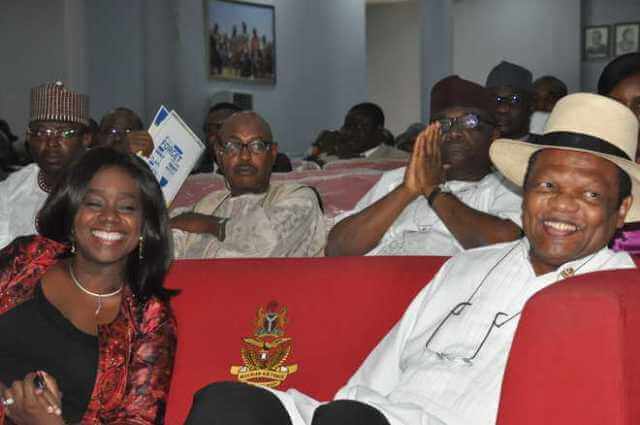 Finance minister Kemi Adeosun says spending on "capital and critical infrastructure" is the way for Nigeria to grow.
"If we spend more on capital and critical infrastructure, we will be able to industrialize and make many more of our sectors viable," she said in her presentation at the Daily Trust Dialogue.
Her presentation centered on Nigeria's spending pattern, its priorities, and pitfalls that have made government spending inefficient.
The lack of infrastructure, she said, was detrimental to all sectors of the economy, resulting in huge waste to agriculture and ruin to existing decrepit public utilities.
Against the backdrop of Nigeria needing loan to spend on infrastructure, the minister said, "We need the infrastructure. It is an extremely difficult time for everybody, but if we stick with it and don't lose our heads, we will make it."
The finance ministry has been driving to cut costs and overhead spending throughout the government, including cutting out sitting allowances and rejecting souvenirs for public functions.
"These are the sort of things that crept up on us, we were not paying attention," said Adeosun.
Now without sitting allowances, some committees are finishing their tasks, according to her.
"We need to defer gratification to grow the economy. That's the choice Nigeria faces."
She argued that the fall of federal allocation shared among states from N909 billion in June 2014 to N302 billion last June, was a push for change.
She noted reform was needed but the country didn't start it until it was too late for oil.
Nigeria's focus has shifted from the US as an oil buyer to China, after the US began fracking to produce shale oil—up to 8% of world production.
"It was obvious oil price was going to fall. We didn't start to do [anything] until oil prices collapsed to $30.
"Nigeria is not an oil economy, we need to get away from that," she added.
Nigeria's around 2.2 million barrels of oil is outstripped by a population of nearly 180 million. Saudi Arabia produces 30 million barrels, with a population of 10 million.
"We need to move away from oil and focus on our GDP. Oil is 10% of GDP and 90% of government revenue."
She complained of weak fiscal discipline and money spent on unnecessary things.
"We better start talking about corruption, because it has an impact on where we are today. It is a factor. The reason you don't have airports, some people were just looting the treasury. If we don't speak to it, it will happen again."
"Where are we today and what's the problem? This is my requirement every month: salaries, statutory transfers every month, I need N210 billion every month," Adeosun said.
"Debt, not the debt that we are planning to take, but the inherited debt; I need N120 billion just to service it. So, every month, I need N330 billion
"Just to give you an idea of where we are today, last month's FAAC allocation was N310 billion. So, the federal government got about N140 billion; but I must cover N330 billion a month before we can do a single capital project.
"So, when we start the argument, should we borrow, should we not? The truth is that we have no choice. If you are waiting for the oil price to recover, the prognosis is that it's not going to go back to $110 per barrel any time soon."
The minister added that: "To get the economy growing, we have no choice but to look for low-cost funds and put that infrastructure in place, because it is the infrastructure that will unlock the economy".
Adeosun attributed the high rate of non-performing loans in the banking industry to the huge contract sums owed by government to its contractors that had collected loans to finance these contracts.
She added that the government is working with the CBN to issue promissory notes to clear these backlog of debts.
"So, we are working with the CBN to issue a promissory note to clear the backlog. When we clear the backlog then we start afresh," she said.
"If you get a government contract, these are your payment terms, and that will also give us lower pricing.
"What we have discovered is that because people feel that there is a risk that they may not be paid, they load the price of the contract."