Revealed! Nigerian teenagers lured into prostitution for promise of survival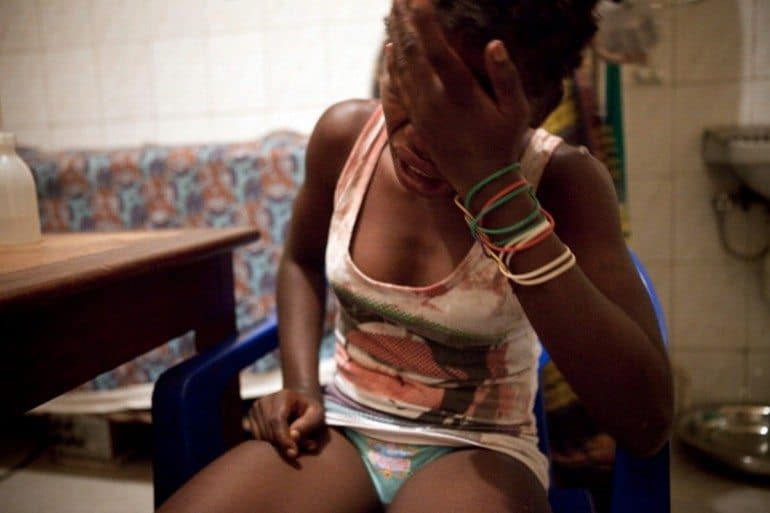 Caracal Reports exclusive investigative reports.
Nigerian government needs to put in more efforts to save the future of young women, especially those living below the poverty line who often are subject to abuse and enslavement from both parents and peers.
Caracal Reports investigations reveal how young girls from ages 11 to 16 are being sold into the illicit trade of prostitution in the Nigeria.
Our correspondent's special findings upon some tip-offs over the matter confirmed the manner in which the children are being adopted into the illicit activities upon their naivety and fight for survival.
Our correspondent also gathered from an underground source that some of the young girls were inducted into what was called 'prostitution cult' before they could be allowed to plight the trade among the rest. The purpose of the cult is to tie the girls to a secret oat of secrecy which also makes it impossible for them to leave the illicit trade.
Upon the information revealed to our correspondent by an informant, our correspondent confirmed the children at various hidden brothels and locations within Lagos and Ogun state communities respectively.
Modus Operandi Of The Business
Caracal's Reports' reporter in disguise, gathered from a senior prostitute, Blessing, at Jolly hotel, Mascara, Ketu, Lagos, how the young girls are being lured and used in the business by their colleagues.
Blessing, who was lured into a conversation after assurance of overnight patronage by our correspondent, said men that patronize them in the area now prefer the younger girls from 11 years old.
According to her, "some of the young girls that are in the business in this area are students of junior secondary schools within Ketu and Alapere communities.
"Most of them were introduced to the business by friends having noticed what their friends earn on the job."
When asked about the average amount earned on the job by a kid prostitute, Blessing said "patronage depends on how attractive and neat each prostitute appears. What also determines is her strength to satisfy her customer. But no matter how the case may be, she will go home with no less than N4000 every night. And that is on short time".
Blessing also told our reporter that recruitment into the job is done on various levels.
"Recruitment is done on various levels. For instance, most of those that came every night for only short time are students in this area. Friends introduced them on the job, and they pay daily dues to the leader of each group who is a senior member. The due on a daily basis depends on the leader of the group, but the one I know very well is N1000. It also covers the room they use".
Another mode of recruitment explained by Blessing was done by some of the senior prostitutes that travel to their various villages.
"Some go to their village to bring them. They must have been brainwashed on a good job in Lagos so that their parents can release them for the senior prostitute who pretends to be a big sister, but on getting to Lagos, "the game plan" will change, and they are introduced into the business. So, when they start seeing money on it regularly, they key into it".
A check at one of the rooms used in Jolly hotel at Mascara showed a mattress on the floor with a 14 inches television set and compact disc player. The room was lighted in red color with protective (condom) rappers littering the floor.
An encounter with one of the dark slim minor prostitute who only identified herself as Juliet gave additional insight into how minors have infiltrated the illegal business in Lagos.
Juliet, who was introduced by another senior prostitute for patronage, came out from the backyard of a brothel called kings.
It was few buildings away from the place where Blessing was earlier encountered on the same street, Mascara.
Juliet, on negotiation requested for N2000 on short time patronage, N7000 on overnight.
The young girl, who was between ages 14 and 15, after agreement on short time, and entertainment at the beer parlor, divulged little about the business.
"I will be sincere with you. What I do here is not new. If you check around very well, you will see a lot of people with their various businesses. A friend introduced me. I still attend school, but I will not tell you the name of the school, and I sponsor myself with this.
"I was selling oranges on traffic at Ketu before, but I accepted a friend's offer when task force men pursued us from selling on the traffic again. There was a time I fell, and motors marched my goods. I was as if my life was going to end because that was my means to survive. But when I tried this business once, I realized good money, and I decided to join the league".
Juliet who said she came from Anambra state, said, she began to Lagos to serve as a house cleaner with her former boss in Alapere. "I left the woman when they started maltreating me, and I started living with a friend's family. They only offered me a roof over my head, and I fend for myself".
At Ipodo Street, Ikeja
Our correspondents at Ipodo Street, off Toyin Street, Ikeja Lagos, also witnessed secrete involvement of teenagers in prostitution.
The street harbor several brothels with different prostitutes in operations on a daily basis. Checks in disguise into most of the brothels revealed women of age 18 and above in service.
But at an uncompleted story-building and a low-profile bungalow both which serves as a shelter for prostitutes in the area, few teenagers were noticed among the mature prostitutes.
To confirm that they are in the business, our correspondent approached one of the teenagers named Tasty.
Tasty who was hostile to engage in any conversation other than business said she could go for a 'short rest' with N1500.
The offer of beer to engage her shortly before patronage was unsuccessful as she said "I am strictly here for business. I am sorry".
But findings from one of the boys in the brothels revealed that the teenage girls where being monitored by their sponsors, which often punish or discipline them if they engage in other things than 'business.'
According to him, "They have their sponsors among those adults you see. They deliver to them late in the night. Those girls you saw came from far places so that people around here don't recognize them. Another thing about them is that they use fake names and they are cautious with the business. They don't come out anyhow so that attention will not be on them unnecessarily. But when you go inside, or you make a request from some of the senior girls, they will take you to them inside some of the rooms, and if they suspect you, they will tell you they don't have young girls here. But we that we are here understand things well", he explained with a sip of on a beer bottle.
At Ikorodu
Caracal Reports' further investigation at a brothel located at Fola Ahmed Street, Agric Bus Stop, in Ikorodu, revealed several teenagers engaged in the illicit Trade.
No fewer than five of them were witnessed at the open beer parlor of the brothels. When our correspondent called, one of them who only identified herself as Cynthia was quick to responded and charged N1000 for a 'short time.'
Cynthia, who took time to speak with our correspondent, apparently under the influence of alcohol, said she joined prostitution when her aunty who brought her from Calabar abandoned her.
"I joined the job when my aunt brought me from the village in Calabar. After some months of my stay in Lagos, she said she could not be responsible for my upkeep again. She has been in the business for more than seven years".
She also explained that she paid N1800 for the room she used on a weekly basis.
Cynthia also mentioned names of some of the young girls that operate in the brothel as Joy, favor, Bukky, and others.
Caracal Reports investigators also spoke with one of the teenage prostitutes at Empire hotel, Oju Elegba, Lagos.
Though prostitution is not new to anyone in Lagos when it comes to Empire hotel, what is alarming was the development in the recruitment process, some which involve induction of teenage girl into the business.
Our correspondent's careful investigation of the hotel gathered that teenagers are only allowed to operate at night and in a secretive manner.
A tipster who doesn't want name mentioned, said, "The teenagers don't operate openly like the adult. In most cases, they don't flaunt their naked bodies like the mature ones that you are looking at. But they are made available on request".
He also revealed that some of them worked for the seniors once who are their sponsors.
Our correspondent witnessed some of the teenagers who were kitted in provocative armless shirts and Jeans trousers.
Attempt to lure them into conversation did not yield as their sponsors were supervising them.
At Oshodi community, Lagos
Underage sex hawkers also dominate the popular Oshodi community in Lagos. Findings indicate that most of the teenage sex hawkers ventured into the illegal act as a means of securing accommodation at night since they have no roof over their heads.
But here, the young girls, who have a secret association called Egbe Omoalaje (Association of Prosperous Traders) are mostly patronized by motor park touts, who sleep overnight at various parks within the community.
A commercial bus attendant (conductor), who spoke with our correspondent, Musa, said, "The teen prostitutes at Oshodi always commence work when it is 6 pm. They usually charge the sum of N600 for their service. Most of them do not have a place to put their heads at night except inside the market in Oshodi here. They are mostly patronized by drivers and conductors, especially those that sleep overnight.
"The girls vary in age. Their ages range from 11 up to 20 years and above. Most of them usually pretend to be selling things like a gala, pure water (sachet water) and so on, but when it is 6 pm, they take a bath and dress well for the business."
Sadly, a very young prostitute at Oshodi, 13-year-old Fola, found herself in the business as a result of parental neglect. The teenager, who had stopped schooling before she was brought to Lagos, said one of her older cousins initiated her into the sex cult, having been first introduced to a man, who had her for the night.
"The following morning, she gave me N3, 000 and I were happy because it was big money. I have been doing it since then," she said.
When our correspondent asked further questions, she couldn't answer, saying, "Your questions are too much. Let's go if you are interested. My friends are already making money".
At Ibafo, Ogun state
Our correspondent at De Gosh brothel met some teen prostitutes at night.
Upon engagement under pretense for patronage, a teenage girl, Favor, who is now 15 years old spoke with our correspondent.
"This job, en, worrisome…but what can I do? When I got to Lagos with my other friends, I was helping a woman to sell 'hot' drinks in a car park; but later, I had to join others to do this job when I met a 'sister' who introduced me to it."
The teenager, who claimed to have left her parents in a village in Abeokuta, Ogun State, without notice, said her desperation to be wealthy in life led her into prostitution.
"I paid N7, 000 for the room I use in this hotel on a weekly basis. So, I need to hustle well in order not to be thrown out by the manager because I am new here".
She added that she makes not less than N5000 daily, except for day's patronage is slow.
At Allen, Ikeja, Lagos
Allen is one of the communities in Lagos where prostitution is almost a standard way of life.
Our correspondent at Peka, a hotel located within the community spoke with one of the teenagers, Tonia, who was into prostitution.
The young girl, Tonia, 17 said she charged her clients a 'daybreak' sex service at N15000.
"I came with friends from Benin, Edo state. They have been the ones helping me in Lagos. This is my sixth months, and I know how much I have made. With this job I make a daily contribution of N500."
When asked if she was not scared of police at doing the work, Tonia quickly responded, "Police is not a problem here. They once came to our house, but we 'settle' them. I have senior friends who even date police, so they are not a problem to us on this job.
Tonia however, who was a school dropout, said, "I will quit the job and go back to school at age twenty, presently I am 17 years, but I don't tell people. I usually tell them I am 21 years".
CPN condemns act, charges government, and police on persecution
The Child Protection Network, when contacted over the development, condemned the action and called on the government and police to quickly rise to the occasion to save the future of the teenage girls in the illicit act.
Mrs. Ngozi Okoro, the Lagos state coordinator of the network, told our correspondent that the organization was ready to partner the government in combatting situation in the country.
She added that parents across the country should immediately be engaged in an awareness that will awaken their consciousness to fight against the illicit act.
"We cannot allow the future of this country to waste away like that. These children are our future. We are calling on government and police to rise quickly to save this situation. We are also ready to partner with them. Parents; consciousness should also be awakened on this matter so that we can save this situation".
The President, Civil Liberty Organization, Comrade Kenny Bakare, in his contribution, called on the Police and other law enforcement agencies to quickly embark on the immediate arrest of the teenagers, who were engaged in prostitution in different hotels around Lagos and its suburbs.
"The police and other government agencies should search hotels and brothels where these young girls are being used for commercial sex and arrest them and their hosts. After that, their houses should be traced to arrest their parents before they are sent for rehabilitation," Bakare declared.
The Zone II commands Police Public Relations Officer, SP Dolapo Badmus, said: "police will investigate the matter and take proactive measure to contain the illicit act."