False Alarm In Hawaii Left Residence And Tourist In Total Chaos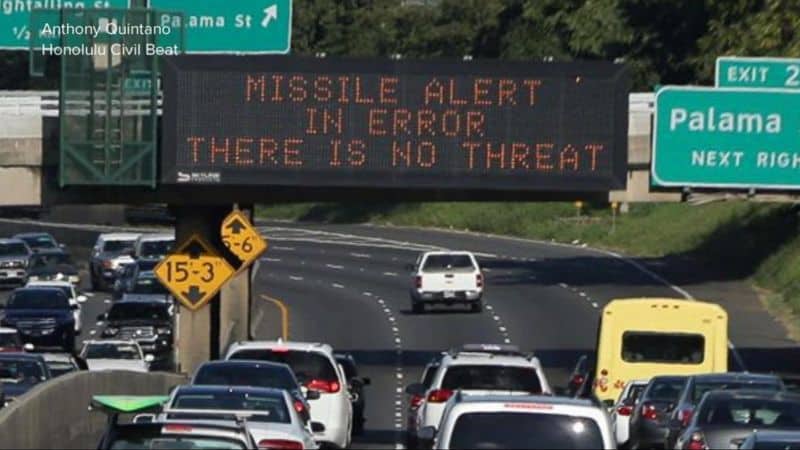 Posted:
January 15, 2018 at 5:29 pm / by
Sneha Goud
/
A mistaken alert sent to residents of Hawaii warning of an imminent ballistic missile attack alarmed Hawaiians for thirty-eight minutes before a detraction was issued in the morning hours of Saturday, July 13. The Hawaiian Emergency Management Agency blamed the false alert on an employee pushing the wrong button on routine testing of the alert system.
The text message read "BALLISTIC MISSILE THREAT INBOUND TO HAWAII. SEEK IMMEDIATE SHELTER. THIS IS NOT A DRILL."
The correction text read, "There is no missile threat or danger to the State of Hawaii. Repeat. False Alarm."
The error was made at a particularly bad time, as tensions rise between the United States and North Korea. According to the New York Times, it would take about 30 minutes for a missile launched from North Korea to reach Hawaii. Because of the short distance, officials estimate Hawaiians would only have about ten minutes to prepare.
Though the agency (the federal government did not control this drill) has announced changes to the alert system to avoid a future error, not all residents are satisfied.
The alert did not give any instructions where or how to take shelter. Hawaiians are used to preparing for natural disasters like hurricanes or tsunamis but were not sure what actions, if any, to take if its a nuclear attack. People took shelter in bathtubs, basements, away from walls, etc. but confusion abounded. Much of Hawaii's current population were tourists on vacations unfamiliar with the island.
The agency apparently knew the message was sent in error soon after it was sent but say a system to retract the message was not yet in place. Regular testing consisting of sirens blaring for two minutes once a month have been occurring since December when the possibility of a nuclear attack was threatened by both the United States and North Korea.
The false alarm has political and economic implications for both Hawaii's current government and the emergency alert system itself. Vern Miyagi, the Hawaiian Emergency Management Agency's administrator, acknowledged the agency must work to regain the public's trust so that future alerts not made in error will not be ignored.
Hawaii's governor, David Y. Ige was criticized for not holding a press conference and addressing the public until five hours after the incident. He is up for re-election; his critics have already begun using the wait time as a sign of poor leadership.
Rep. Tulsi Gabbard (D-Hawaii) quickly used her Twitter account to inform followers the alert was false. Afterwards, she has been criticizing Donald Trump for even making citizens worry about the possibility of an attack and urged peace talks.
"Donald Trump is taking too long. Now is not the time for posturing. He must take this threat seriously and begin direct talks with North Korea, without preconditions, to de-escalate and denuclearize the Korean peninsula. There is no time to waste." – Tulsi Gabbard, Twitter
On Monday, January 15, the Hawaiian Emergency Management Agency announced that the employee responsible for pushing the wrong button had been reassigned and revealed both the employee and the agency have received death threats.
President Trump has not directly commented on the incident from his current location at Trump International Club in Palm Beach, Florida. Deputy Press Secretary Lindsay Walters said  "The president has been briefed on the state of Hawaii's emergency management exercise. This was purely a state exercise," indicating the federal government was involved.