Murdered Russian Journalist Shows Up Alive And Well At Press Conference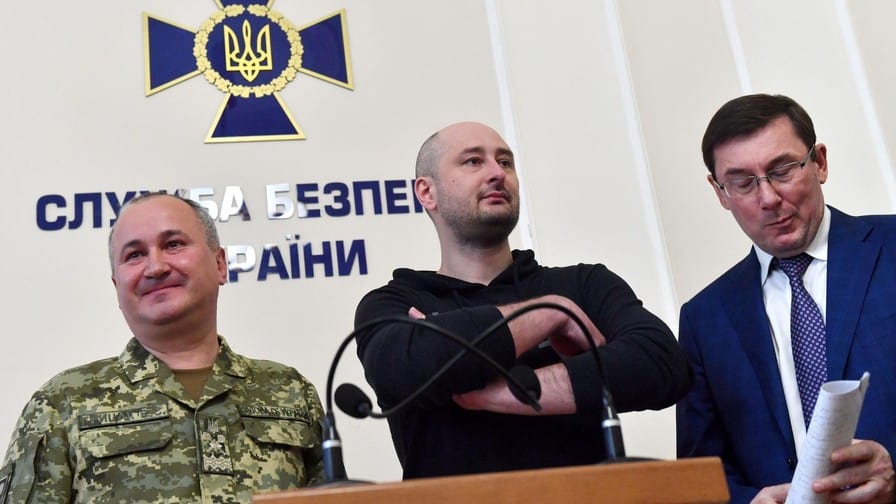 A Russian Journalist critical of Vladamir Putin reported to have been assassinated in Kiev showed up at a press conference alive and well on Thursday.
Arkady Babchenko announced to a room of stunned reporters that his murder was an elaborate ruse employed by the Ukrainian Security Service (SBU) to save his life. In an effort to catch co-conspirators involved in a Russian backed plot to kill him, Babchenko's death was faked.
The dissident reporter first apologized to his colleagues and his wife.
"I've been at the funeral of many friends and colleagues, and I know this nauseous feeling. Sorry for imposing this upon you, but there was no other way," Babchenko said. "Special apologies to my wife for the hell she's been through these two days. Olya, excuse me please, but there was no other option."
Babchenko said the sting operation had been prepared for two months although he was informed about it a month ago. He was in constant contact with the SBU, and all actions were planned.
"The result was this special operation that ending up in arresting the guy," said Babchenko. "All the evidence is there, and most importantly, my life was saved for which I'm very thankful."
Babchencko said other attacks, "bigger and more serious terrorist attacks" were prevented.
At SBU headquarters Vasyl Hrytsak, head of the agency told reporters that Russia's security services ordered Babchenko's assassination months ago. A Ukrainian national who organized the plot to murder Babckhenko was detained.
The suspect, a former Eastern Ukrainian separatist fighter, was paid $40,000 to coordinate Babchenko's murder, $30,000 to go to the assassin and $10,000 for his organizational efforts according to Hrytsak.
Hrytsak said, "We have prevented an attempted murder of Babchenko by carrying out a special operation. Thanks to this operation, we were able to foil a cynical plot and document how the Russian security service was planning for this crime."
Hrytsak said his agency acquired information about a plot to murder an additional 29 people in Ukraine.
Ukrainian President Petro Poroshenko praised the SBU and suggested Russia will continue to target enemies on Ukrainian soil.
Poroshenko tweeted on Wednesday, "Ukrainian law enforcement agencies are becoming stronger every day in countering Russian aggression. It is unlikely that Moscow will calm down — I've given an order to provide Arkady and his family with protection."