Kofi Annan, World Icon Who Reformed The U.N Dies At 80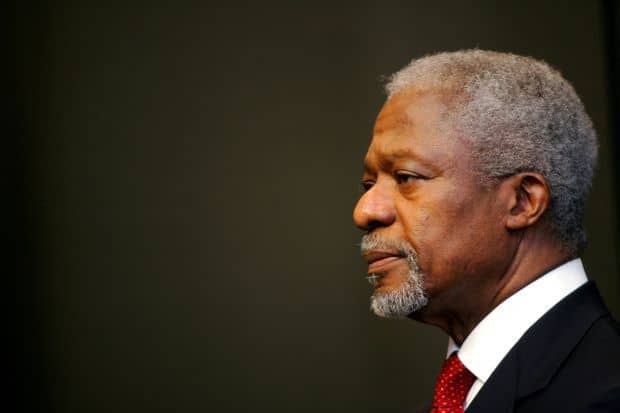 Posted:
August 18, 2018 at 10:52 am / by
James Ojo
/
Former UN Secretary-General, Kofi Annan has died. He died on Saturday in Berne, Switzerland 'after a brief illness.' He was age, 80.
His passing was announced on his Twitter page @KofiAnan early hours of yesterday:
It is with immense sadness that the Annan family and the Kofi Annan Foundation announce that Kofi Annan, former Secretary General of the United Nations and Nobel Peace Laureate, passed away peacefully on Saturday 18th August after a short illness… pic.twitter.com/42nGOxmcPZ

— Kofi Annan (@KofiAnnan) August 18, 2018
Annan was born on April 8, 1938, in Kumasi, Ghana. He was the seventh Secretary-General of the United Nations from January 1997 to December 2006.
He went on to serve as the UN special envoy for Syria, playing a significant role in efforts to restore peace to the country riven by lingering conflict.
Meanwhile, prominent figures across the world have been paying tribute to the former UN boss, spotlighting his contributions to the development of humanity.
According to British Minister Theresa May, "Annan has made a huge contribution to making the world he has left a better place than the one he was born into."
"Sad to hear of the death of Kofi Annan. A great leader and reformer of the UN, he made a huge contribution to making the world he has left a better place than the one he was born into. My thoughts and condolences are with his family," the British Minister said on her Twitter page on Saturday.
Russian President, Vladimir Putin said: "I sincerely admired his wisdom and courage, his ability to make informed decisions even in the most complex, critical situations. His memory will live forever in the hearts of Russians."
President Muhammadu Buhari also said: "Annan's humility, nobility, and love for humanity set him apart for global greatness, achieving recognition and commendation for the reform of the United Nations' bureaucracy and multiple interventions to bring peace to the world."
Bill Gates also commented on Annan's death: "Kofi Annan was one of the great peacemakers of our time. I was fortunate to have the opportunity to work with him on many occasions. I'm sad to learn of his death."
Ghanaian President Nana Akufo-Addo was also not left out of the tribute party. "The Government and people of Ghana, First Lady Rebecca and I are deeply saddened by the news of the death, in Berne, Switzerland, of one of our greatest compatriots, Mr. Kofi Annan," the President said.
"We will never forget his calm and resolute approach to matters, nor the strength of his commitments," says French President, Emmanuel Macron.
Former US President Barack Obama said: "Kofi Annan was a diplomat and humanitarian who embodied the mission of the United Nations like few others. His integrity, persistence, optimism, and sense of our common humanity always informed his outreach to the community of nations."