Weekend Review: Protests Escalate in Venezuela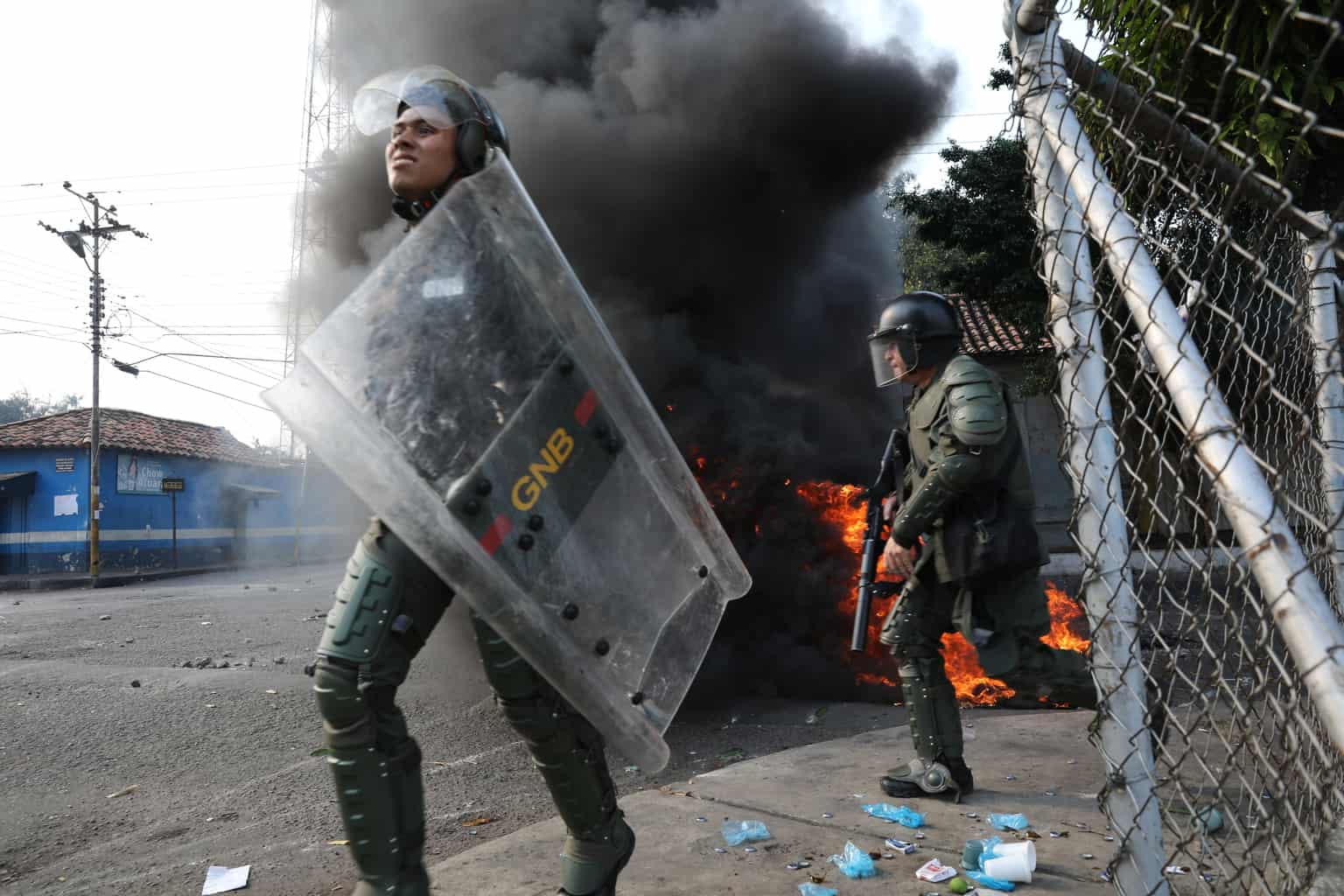 Protests at the borders of Venezuela escalated on Saturday as food and medical supplies were unable to get into the country through blockades of government security forces. While the assistance is desired by some Venezuelan citizens, opposition leaders also hope to use it to encourage remaining military and police force members to desert current president Nicolás Maduro. At least 23 members of military and police forces defected during the deadly protests and clashes on Saturday.
Self-declared interim president Juan Guaido announced via tweet that a shipment had crossed the border into Venezuela via convoys of trucks carrying food and medical supplies. However, protesters and opposition leaders who accompanied the trucks were ultimately met with teargas and rubber bullets from security forces. Three or more trucks were burned and so far none of the shipments have actually made it beyond the blockades.
At least four people were killed and dozens more were injured during the protests on Saturday. On Friday, soldiers near the border with Brazil opened fire on indigenous protesters who were trying to block their passage and two were killed.
US Domestic Terrorism Plot Discovered
US Coast Guard Lt. Christopher P. Hasson appeared in court this week after being arrested on charges of drug and gun possession. According to court filings, Hasson was plotting a terror attack with the intent of starting a race war and murdering "innocent civilians on a scale rarely seen in this country." Prosecutor Robert K. Hur urged a federal judge to detain Hasson pending trial, calling the defendant "a domestic terrorist, bent on committing acts dangerous to human life that is intended to affect governmental conduct."
Hur shared the contents of a 2017 email draft addressed to "friends" which was found in Hasson's deleted folder. In it, he wrote, "I am dreaming of a way to kill almost every last person on the earth." He elaborated a plot to stop taking Tramadol and begin to organize, first by stockpiling and then by targeting "leftists in general." He requested religious people to "send me your violence that I may unleash it onto their heads."
Hur also provided a draft letter written by Hasson which was allegedly intended for an unnamed neo-Nazi leader. Hasson identified himself as a white nationalist of over 30 years and "advocated for "focused violence" in order to establish a white homeland." The letter described "a few younger ones that are tired of waiting" and  how they would be needed to "resettle and build a community before they throw their life away with some desperate measure like shooting up a mosque in an area that doesn't want us."
According to prosecutors, Hasson routinely reviewed a manifesto that instructs "a prospective assailant to amass appropriate firearms, food, disguises, and survival supplies." He performed thousands of visits to a firearm and tactical gear websites and studied "military technical manuals on improvised munitions and tactical handbooks." When the federal search warrant was executed by law enforcement agents at Hasson's home, fifteen firearms and more than 1,000 rounds of mixed ammunition were found along with his writings, which show the desire to instigate a race war.
Computer searches show that Hasson may have intended to target many prominent "liberal" figures, including House Speaker Nancy Pelosi, Congresswomen Alexandria Ocasio-Cortez and Ilhan Omar, Senators Chuck Schumer, Elizabeth Warren, and Cory Booker, and other media personalities.
Magistrate Judge Charles B. Day granted Hur's request to hold Hasson for at least 14 days while Hur deliberates further action, which will likely include charges related to terrorism. Hasson's lawyer argued Hur is relying on circumstantial evidence for his case and called Hasson's firearm collection "modest at best."
Democrats Attempt to End Trump's Emergency Border Wall Funding
On Friday, House Democrats introduced a resolution which attempts to block President Trump's latest efforts to force construction of a border wall through use of his emergency powers. The measure will give members of Congress a chance to rebuke the President's emergency proclamation based on the argument that it subverts their congressional powers.
Congress seems likely to pass the measure, while the Senate is questionable. However, the president already promised to veto the resolution and added, "I don't think it survives the veto. We have too many smart people that want border security, so I can't imagine it can survive a veto. But I will veto it, yes."
Bernie Sanders 2020 Campaign Raises Nearly $6 Million in 24 hours
Sen. Bernie Sanders announced his intention to run for president in 2020 this week and received $5.9 million in donations in his first 24 hours of announcing. Receiving an average of $27 from 223,000 donors, Sanders received contributions from all 50 states within an hour of his announcement. The 24-hour totals paint Sanders as a Democratic front-runner and surpass that of Sen. Kamala Harris of California, who previously announced raising $1.5 million from 38,000 donors within the first 24 hours of announcing her run.
President of Sudan Declares National Emergency
President of Sudan Omar al-Bashir has declared a state of emergency as protests over his 30-year rule have been escalated. "I announce imposing a state of emergency across the country for one year," he said. He further proclaimed he is "dissolving the government at the federal level and at the provincial levels."
Sudan's National Security and Intelligence Services (NISS) had earlier reported that Bashir would be resigning, due in part to anti-government protests which have killed 40 people.