Weekend Review: Hate, Death and Mourning in Wisconsin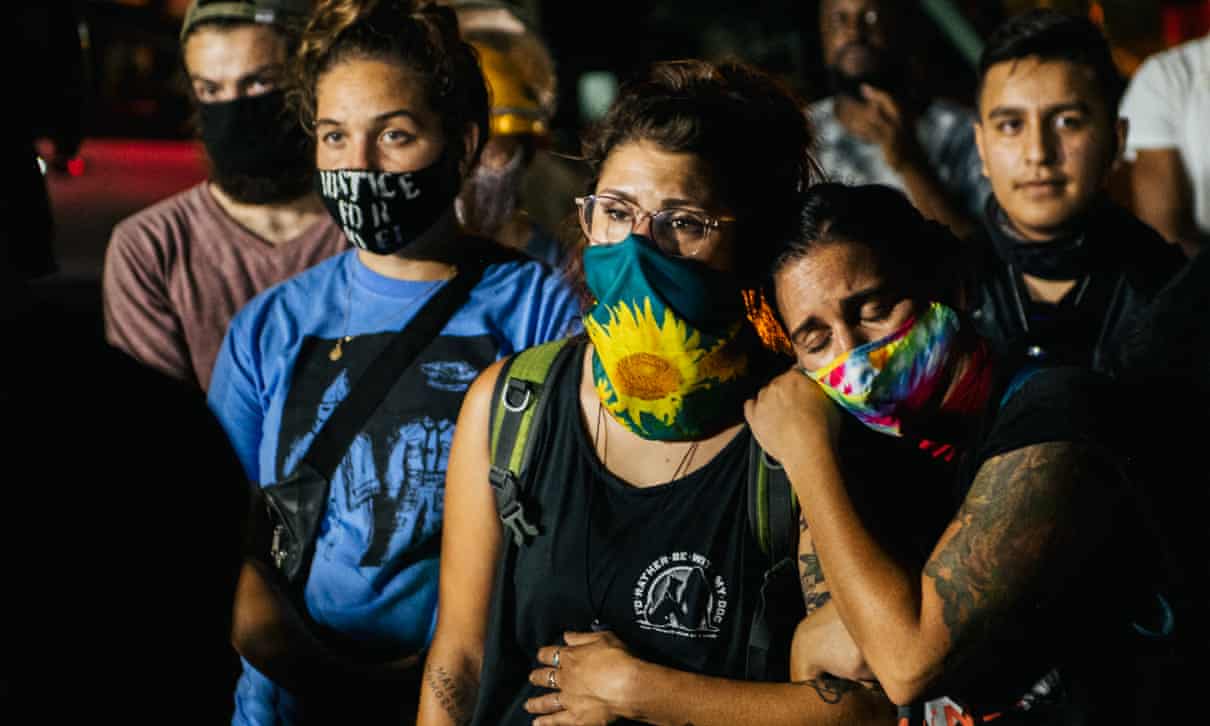 Last Sunday, police officers in Kenosha, Wisconsin became the latest to fall under scrutiny for using devastating police force against an unarmed Black man.
Cell phone video shows the 29-year-old man, Jacob Blake, was walking away from police officers who had their guns drawn. They followed him to his vehicle and shot him in the back seven times when he opened the driver's side door.
Witnesses say Blake had tried to help defuse a domestic disturbance and was relieved when police arrived to intervene. Neighbors who knew him claimed he was trying to get back to his children, as it was one of the boy's birthdays.
Nevertheless, two officers followed Blake to his vehicle and he was shot in front of his children. He survived the shooting and the subsequent surgery, but the bullets severed his spinal cord. He is now paralyzed from the waist down, and the damage to his family is untold.
Blake was also initially handcuffed to his hospital bed, according to his uncle who visited him, adding "an insult to injury." Police claimed the handcuffs were policy due to old warrants. Blake has not yet been charged with any crime related to the shooting.
Following public outcry, Blake's attorney announced that the old warrants were cancelled, Blake's handcuffs were removed, and the police guards were withdrawn from watch over the hospital room.
Kenosha police do not wear body cameras due to alleged budget shortfalls, but the encounter was caught on cell phone video by a bystander. The Wisconsin Department of Justice is now investigating the shooting, which went viral on social media and put the spotlight on Kenosha as a hotspot of civil unrest.
Shooting deaths at Kenosha protests
On Tuesday, a 17-year-old named Kyle Rittenhouse killed two people and grievously injured another with an AR-15 style weapon. He crossed state lines to act as a self-styled property justice vigilante in the wake of Blake's shooting.
It is a crime for anyone under the age of 18 to possess such a weapon, but video shows Rittenouse was allowed to roam the streets with the gun unchecked after curfew and was even filmed receiving gratitude from local police.
The teen eventually shot and killed one man who may have confronted and tried to disarm him, according to reports. That victim, Joseph Rosenbaum, worked in Kenosha and had moved to Wisconsin to be a father to his two-year-old daughter.
When Rittenhouse ran from the scene where Rosenbaum was shot, he was chased by a group of witnesses and tripped to the ground. At that point, a man armed only with a skateboard, Anthony Huber, attempted to disarm him and was also fatally shot.
Rittenhouse then shot Gaige Grosskreutz, a volunteer medic who drew his handgun on the shooter while he was still on the ground. His arm was nearly severed and he required surgery.
When Kenosha police arrived on the scene, Rittenhouse displayed his weapon to them with his hands in the air as if he was accepting arrest, but they drove by him with a wave. He later surrendered to police in his hometown of Antioch, Illinois and his trial has been postponed for a month.
The victims were mourned as friends, fathers, and heroes at an on-site memorial in Kenosha.
Kenosha police have filed multiple charges against Rittenhouse, including first-degree intentional homicide, first-degree reckless homicide, and possession of a dangerous weapon by a person under 18. He faces life in prison if convicted as an adult.
Portland shooting leaves one dead
Last night, a convoy of an estimated 1,000 Trump supporters entered Portland's downtown, firing pepper spray and paintball guns from vehicles at protesters standing on sidewalks.
Video from bystanders shows large trucks mowing through groups of people who are legally crossing in a crosswalk.
One man was killed following a clash between protesters and counter-protesters. The identity of the victim is still unknown, but it appears he was part of the Patriot Prayer group and was killed as a result of the conflict.
President Trump targeted Portland in his speech formally accepting the Republican party's nomination. He has painted the whole city as being overrun by a violent mob, blaming Democratic leadership.
However, Portland city officials have made clear distinctions between peaceful protesters and smaller groups who seem intent on agitating aggression.
Demonstrations have been unending in the city since the agonizing death of George Floyd under the knee of former Minneapolis police officer, Derek Chauvin. This week, he requested a judge dismiss murder charges against him as prosecutors announced they are seeking a harsher sentence because children were present to witness Floyd's death.
Japan's prime minister resigns due to health problems
The longest-serving prime minister of Japan, Shinzo Abe, is resigning due to resurfaced ulcerative colitis, a condition he has suffered with since he was a teenager.
Abe said the condition was well-controlled until this year, and cited "illness and treatment, as well as the pain of lacking physical strength" as his reasons for resignation.
He will remain in the position until a new leader is selected, likely in the next few weeks.