Buhari visits Gambia for President Barrow's second-term inauguration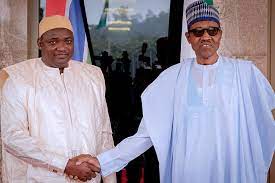 President Muhammadu Buhari on Wednesday visited Gambia to participate in the second-term inauguration of President Adama Barrow.
Buhari was welcomed in the country by The Gambian Vice President, Dr Isatou Touray and Nigerian Ambassador to The Gambia, Mr Muhammed Manu Kola at the Banjul International Airport. 

Read Also: Electoral Bill: Buhari wins as Senate dumps direct primary
Barrow won a second term in The Gambia's presidential election conducted early December 2021 with ease.
His coming as president of the country five years ago put an end to more than 20 years of the reign of dictator Yahya Jammeh.