Slammed by Nigerians, Aisha Buhari withdraws case against Aminu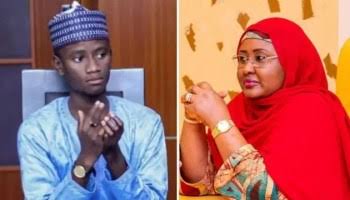 Aisha Buhari, the wife of President Muhammadu Buhari, has dropped her lawsuit against Aminu Adamu, a final-year student at the Federal University of Dutse.
Police in Dutse detained Adamu, 24, for allegedly tweeting a disparaging allegation about Mrs. Buhari on his Twitter account.
Adamu, an Environmental Management student, is accused of posting the allegedly offensive tweet in which he posted a picture of the First Lady looking chubby with the caption, "Mama is feeding fat on poor people's money."
It was published on Twitter on June 8, 2022. He was arraigned on Tuesday before Justice Yusuf Halilu of the Federal Capital Territory High Court in Maitama after spending nearly two weeks in detention and allegedly being subjected to torture. He entered a not guilty plea and was remanded to Suleja prison in Niger State.
However, after the intervention of well-meaning Nigerians, the prosecution's attorney, Fidelis Ogbobe, withdrew the case against the defendant on Friday. He claimed that the First Lady, who serves as the mother of the country, made the decision to do so.
To move the application for the withdrawal of the case, he used Section 108 subsection 2(a) of the Administration of Criminal Justice Act.
Justice Yusuf Halilu of the FCT High Court ruled on the case and praised Mrs. Buhari for her "bold steps" in forgiving the accused.
He urged parents to keep an eye on their kids at all times to prevent repeat offenses.