Nigeria, Ukraine To Strengthen Trade Relations Through Agriculture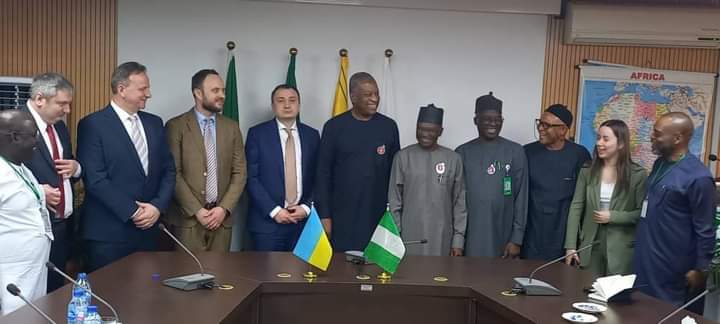 In spite of the war in Ukraine, the Ukrainian food industry wants to have closer relations with Nigeria through the establishment of grain hubs in Nigeria that will enable it bring in high quality grains to Nigeria.

Speaking at a bilateral meeting between the Ukrainian Minister of Agrarian Policy and Food, Mykola Solskyi, and Nigerian Minister of Foreign Affairs, Geoffrey Onyeama,  Solskyi said establishing such hubs would influence positively o the prices of grains in Nigeria.
Solskyi noted that creating grain hubs in Nigeria should be a priority based on her size and capacity  adding that if both countries synergise in that aspect, it would be a practical step towards business reaching a new level.
According to him, grains from Ukraine would be arriving in Nigeria next month, under the "Grain from Ukraine" initiative.

On his part, Nigeria's Minister of Agriculture and Rural Development, Mohammad Abubakar, stated that more than 30 percent of Nigeria's business in agriculture are with Ukraine in the area of wheat, fertiliser and other grains.
According to him, the Lagos and Onne Port in Port Harcourt, Rivers State, are being considered as the proposed hubs and assured that the relationship between Nigeria and Ukraine will improve, especially, in the agricultural sector.
Also speaking, the host of the meeting, Minister of Foreign Affairs, Geoffrey Onyeama noted that by this action, the Ukrainian government has demonstrated friendship, super human courage and generosity by reaching out to Nigeria and other African countries despite the war.
He said Nigeria has had long-standing, close relations with Ukraine, especially in the number of Nigeria students it hosts in many important fields and disciplines who incidentally are one of the victims of the war in Ukraine.