2023 Elections: Tunde Bakare Warns Against Politics Of Entitlement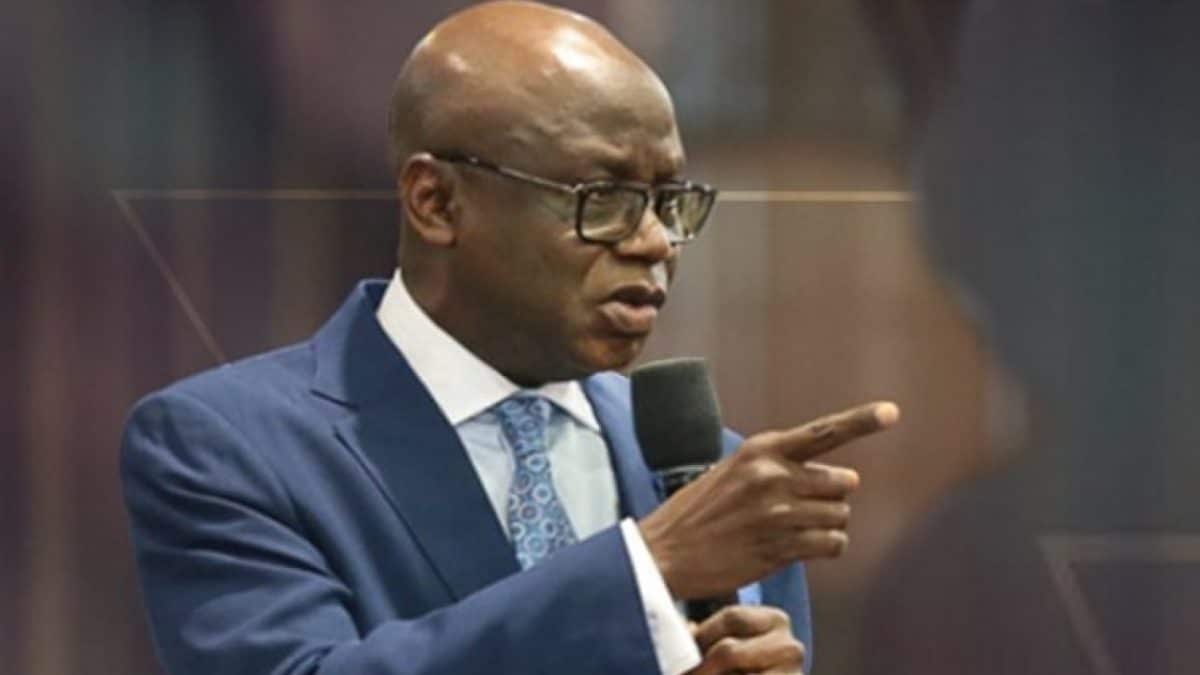 The Presiding Overseer of the Citadel Global Community Church (formerly Latter Rain Assembly), Pastor Tunde Bakare has said good politicians do not ask others to answer questions directed at them.

Bakare said this in his state-of-the-nation address, on Sunday.
Although he did not mention the name of Asiwaju Bola Tinubu, Presidential Candidate of the All Progressives Congress (APC), he gave several instances that showed he was referring to the ruling party's candidate.
During his presentation at Chatham House, London, in 2022, some members of the audience asked Tinubu some questions bordering on insecurity, oil theft, education and economy and how he planned to address crises in those areas if he became president.
As he was asked by the moderator to respond to the questions, Tinubu said he would assign some members of his entourage to do so.
The former Lagos State governor assigned Governor Nasir El-Rufai of Kaduna State to speak on how his (Tinubu-led) government would address insecurity and asked the Director of Strategic Communication of the APC Presidential Campaign Council, Dele Aleke, to respond to the question on oil theft, while he delegated a former Commissioner for Finance in Lagos State, Wale Edun, to respond to a question on how he (Tinubu) would boost the economy if elected.
This had created a storm as critics said the action showed he was unfit to govern, but Tinubu's supporters defended him saying what he did show he was ready to run an inclusive government if elected.
In his address, Bakare also warned against politics of entitlement, describing it as bad politics.
The preacher also made reference to the Yoruba word, 'Emi lokan", meaning it is my turn. Emi lokan became a popular term after Tinubu used it to canvass votes in Abeokuta, Ogun State capital, in the buildup to the APC Presidential primary, which Bakare contested but lost.
The cleric said politicians with a sense of entitlement evade political debate and fail to address Nigerians they seek to serve.
He also asked Nigerians to reject vote buyers in the 2023 election and called for entrenchment of good politics which focuses on issues of development.
"This 'emi lo kan' politics that insists on one's turn, even if circumstances do not align, is bad. Politics of entitlement also manifests as perennial candidacy, not with the intent to serve, but to gratify long personal ambitions. It could also manifest as insistence on a given political office as a reward for what one considers a lifetime of sacrifice to the nation. Politicians with a sense of entitlement evade political debates and do not consider it imperative to communicate with the electorate."
"Entitlement politics will breed an imperial presidency that is distant from the people and has no sense of responsibility or accountability to the people. Such imperial governance will slide towards dictatorship and will be intolerant of dissent.
"Entitlement politicians set low performance benchmarks for themselves when they secure power and are content with projecting molehills as mountains of achievement. Good Politics, Good Governance, Fellow Nigerians, having completed our analysis of bad politics and the bad governance it outputs, let us now take a look at good politics and its output of good governance. Good politics is pragmatic politics in the interest of the people.
"Politicians who practice good politics talk to the people they intend to govern; by communicating, they allay fears, restore hope, and assure the citizenr. It is engaging and interactive p : The practitioners of good politics are open to interrogation and they do not avoid debates or evade difficult questions. It is inclusive : good politics gives a sense of belonging to historically excluded or vulnerable groups, including women, young people, the elderly, and persons living with disabilities," he said.