FG Tasks Private Sector On Utilising STI Research Outcomes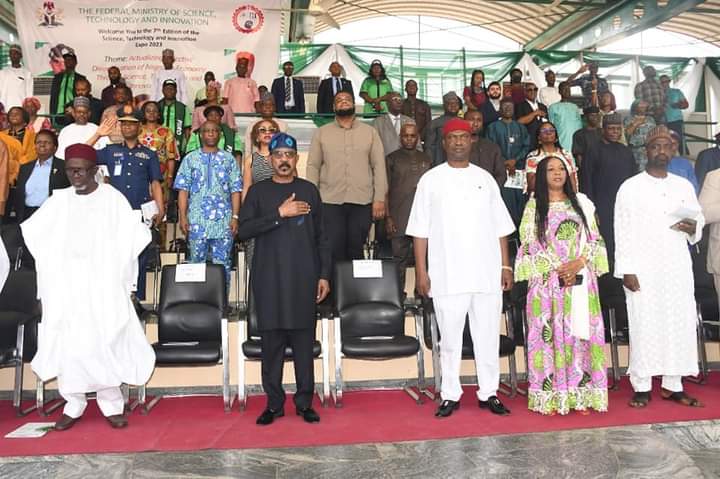 The Federal Government of Nigeria has asked the Organized Private Sector to utilize the outcome of science, technology, and innovation research to create jobs and reduce poverty and crime among Nigeria youths.

Speaking at the closing ceremony of the 2023 STI Expo with the theme: "Actualizing effective diversification of the Nigerian economy through Science, Technology, and Innovation (STI) in Abuja, the Minister of Science, Technology, and Innovation (STI), Dr. Adeleke Mamora, encouraged the Organized Private Sector to take advantage of the research results and prototypes showcased at the expo, to create jobs for the people, reduce poverty and crime in the country as well as create wealth for themselves and the nation.
He charged them to add the lessons learnt, the outcomes of the expo, and the contributions of all the stakeholders, to the contributions of the government, the academia, and research institutions to actualize the dreams of the nation for the future. Dr. Mamora, while recognizing the role of the media in promoting science, technology, and innovation in the country, pointed out that one of the major highlights of the expo was the Technical Sessions/Special Days on Research & Development commercialization, which provided a platform for researchers, innovators, and entrepreneurs to showcase their work and connect with potential investors and partners.
According to the Minister, there is a wealth of talent and innovation in Nigeria, and his ministry is committed to supporting the commercialization of the technologies to help drive economic growth and diversification.
He, however, stated that even though there is a strong interest in investing in Nigeria, there is still work to be done in creating more conducive business environment for local entrepreneurs and they are committed to working with the government and private sector to addressing the issues so as to attract more investments to the country. The Permanent Secretary of the Ministry, Mrs. Monisola Udoh, had earlier explained that the theme of the expo: "Actualizing Effective Diversification of Nigerian Economy Through Science, Technology, and Innovation," is in line with the present Administration's Diversification Agenda.
According to her, it is a truism that every nation can only become great with effective deployment of STI apparatus hence the Ministry of Science, Technology and Innovation is in the forefront at putting Nigeria on the pedestal of sustainable economic growth and development through maximization of STI Human Capital Development and to put in place enduring STI infrastructure.
She said the organization of the Technology and Innovation Expo every year, particularly this last one of the Buhari led administration is a testimony of the Ministry's bold initiatives towards developing a sustainable and inclusive industrial growth of the economy in the years ahead.
The Expo featured exhibition of the most innovative inventions and ideas from inventors and innovators across the country.