2023 Election: INEC Expresses Misgivings On Scarcity Of Fuel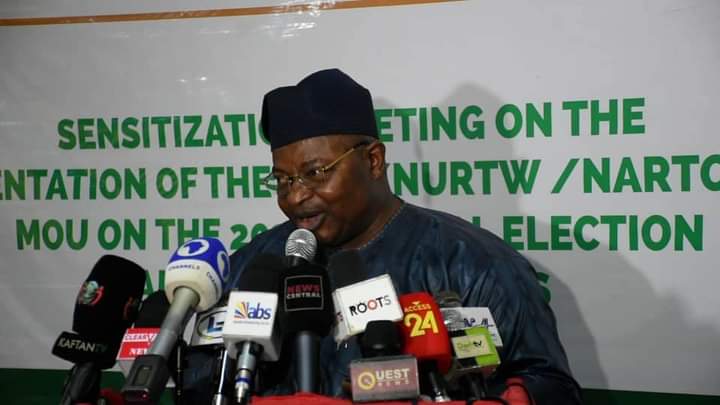 Following continuous fuel crisis in the country, the Independent National Electoral Commission has expressed worries that it may hinder the success of the upcoming presidential election.
Chairman of the Commission, Professor Mahmood Yakubu, who lamented the situation at a consultative meeting with national officials of the National Union of Road Transport Workers in Abuja, said, it will work with all institutions particularly the Nigerian National Petroleum Company Limited to ensure hitch-free movement of personnel and logistics on election day.
With 25 days to the presidential election, problems of fuel scarcity have persisted in the nation despite interventions from all fronts.
Not long ago, the Department of State Services, DSS, had asked petroleum marketers to do all they can to ensure the product is readily available for citizens.
This request goes a long way to show the significant impact the non availability of the product can have on transportation of personnel and materials if authorities do not take concrete steps to tackle the menace.
It is on this backdrop that the INEC Chairman promised that all steps will be taken to ensure the product is available for before, during and after the elections.
The Corps Marshal of the Federal Road Safety, Dauda Biu, represented by the Deputy Corps Marshal, Bisi Kazeem, said the Corps has approved a checklist that will aid the selection and certification of vehicles for the election so as to ensure the safety of election personnel and materials,
According to him, only inspected and certified vehicles will receive a tag from FRSC, and he urged the union to comply with the safety rules for effective discharge of duties during elections.
Earlier, the President of the Nation Union of Road Transport Workers, Tajudeen Baruwa, had noted that the gathering is aimed at enlightening members on the various rules of the MoU signed and how to implement them effectively.
He pledged their unalloyed commitment to assisting achieve the targets of the 2023 election
The Memorandum of Understanding between INEC and the NURTW is based on four thematic areas of trust, respect, transparency, and cooperation with each other, and they are expected to take an oath of affirmation of neutrality and nonpartisanship for smooth participation in election duties in the country.