Venezuela Police Helicopter Attacks Buildings; President Claims Coup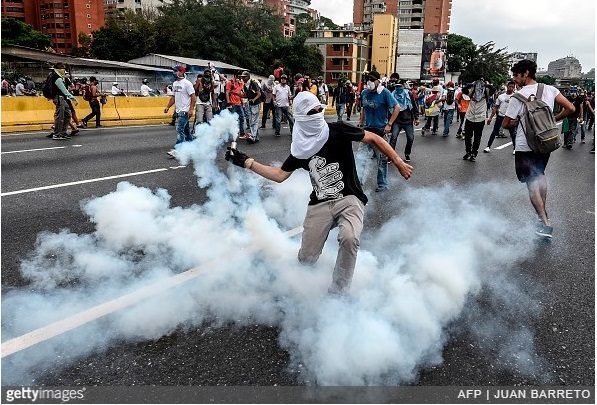 Tuesday night, a stolen police helicopter in Caracas, Venezuela led to further controversy in the country's already turbulent political situation.
No one was killed in the attack, which involved grenades firing at Venezuela's Supreme Court.
President Nicolás Maduro blamed the attack on Oscar Perez, a police pilot who is allegedly still at large.
Political opponents of Maduro claimed that the attack was a ruse created by the government in an attempt to distract from months of protests.
According to the Associated Press, Maduro said, "Sooner rather than later, we are going to capture the helicopter and those behind this armed terrorist attack against the institutions of the country. They could have caused dozens of deaths."
At least 76 people have died, with hundreds more injured and arrested, since the protests began escalating in April. The protests are based on a desire for free and fair elections and solutions for the country's failing economy.
The suspects in the helicopter displayed a banner which read "350 Libertad", a reference to the Venezuelan constitution which states, "The Venezuelan people will not recognize any regime, legislation or authority that runs counter to democratic values, principles and guarantees, or undermines human rights."
Opposition legislation speaker Julio Borges told the press, "Some people say it is a hoax, some say it is real, some say that it was police personnel who really are fed up. Whatever it is, it is very serious. It all points to one conclusion: that the situation in Venezuela is unsustainable."
Former intelligence minister Miguel Rodriguez also dismissed Maduro's claims of terrorism, saying, "I'm not at all convinced by the helicopter incident […] Conclusion: a cheap show. Who gains from this? Only Nicolas for two reasons: to give credibility to his coup d'etat talk, and to blame Rodriguez."
Venezuela's next presidential election is scheduled for 2018. Several opposition leaders have already dismissed from the running, including Leopoldo López, who was imprisoned for leading protests against Maduro during the 2014 elections, and Henrique Capriles Radonski, who was banned from holding public office for fifteen years after allegations of political misconduct.
Goldie Poll, Caracal Reports