Weekly Round Up: Catalan President Flees to Belgium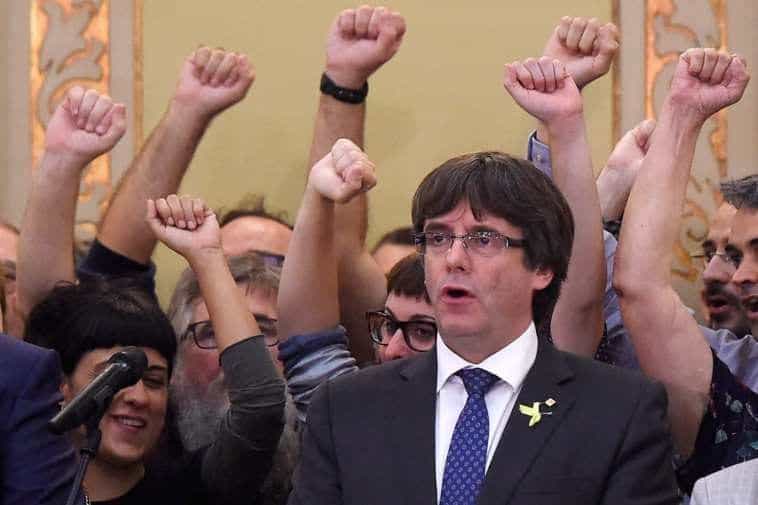 It's been a hectic week this week with three or four news cycles' worth of news packed into the space of seven short days, so let's not waste any time and jump right into it.
Special Counsel Indictments
On Monday, Paul Manafort and his business partner Rick Gates were indicted as part of special prosecutor Bob Mueller's investigation into the Trump campaign's potential ties with Russia. They were charged with numerous crimes, mainly financial.
Details also came to light of a plea deal made with George Papadopoulos, a former Trump campaign foreign policy adviser, who admitted lying to the FBI in the course of the investigation and is now thought to be working with the FBI on the case.
A trial date of May 7th has been proposed for the trial of Manafort and Gates.
We got to see the tax bill
On Thursday, the GOP released its version of the tax bill that it has been attempting to conclude for the last couple of months. Despite claims that it would have a positive effect on the middle class and small businesses, the bill has been criticized as a tax cut for billionaires thanks to its action on repealing the Estate Tax and many other cuts like the adoption tax credit.
GOP tax bill would eliminate adoption tax credit https://t.co/pwDVlklFRx pic.twitter.com/6xTUg2w5Xr

— The Hill (@thehill) November 4, 2017
Associations that represent realtors have come out against the bill due to objections to changes in state and local tax deductions, and the National Association of Independent Business has also spoken up against the bill. It is one of the GOP's primary legislative goals, and it would be seen as a major setback if the bill fails to pass.
President Trump set out on his trip to Asia
On Friday, President Trump began his 13-day trip to Asia, where he will visit Japan, South Korea, China, Vietnam, and The Philippines. The focus of the visit is mainly going to be the threat posed by North Korea. Observers are hoping that President Trump will be talking to the key players in the region to try to develop a strategy to avoid all-out military conflict in the region. America's approach has thus far been inconsistent, with Secretary of State Rex Tillerson going down the more diplomatic route, while President Trump appeared to undermine that tactic by threatening military action on Twitter. The president made a stop at Hawaii before flying to Asia.
Thank you to our GREAT Military/Veterans and @PacificCommand.

Remember #PearlHarbor. Remember the @USSArizona!

A day I'll never forget. pic.twitter.com/CMkB0kTkSc

— Donald J. Trump (@realDonaldTrump) November 4, 2017
Sexual Assault Accusations Continue
Following accusations against Harvey Weinstein, and the viral #MeToo campaign that came after, more allegations have come to light. Kevin Spacey has been accused of making unwanted sexual advances against 14-year-old Anthony Rapp, and many other people have come forward with their own stories in the days since the first claim was made against him.
Netflix has cut ties with the actor, effective immediately, and he has also parted ways with his agent and his publicist as a result of the allegations.
Catalan President Flees to Belgium
Catalonia's President Carles Puigdemont fled to Belgium this week, after he was removed as President of the region by the Spanish government. He is facing charges of rebellion after the territory declared independence from Spain last week, a move that Spanish PM Mariano Rajoy and his government maintain is illegal. He has not yet officially sought asylum.
We zijn bereid tot volledige medewerking met Belgische justitie nav het Europees aanhoudingsbevel uitgevaardigd door Spanje

— Carles Puigdemont 🎗 (@KRLS) November 4, 2017