In A Bold Move, U.S. Imposes Sanctions On Dozens Over Abuses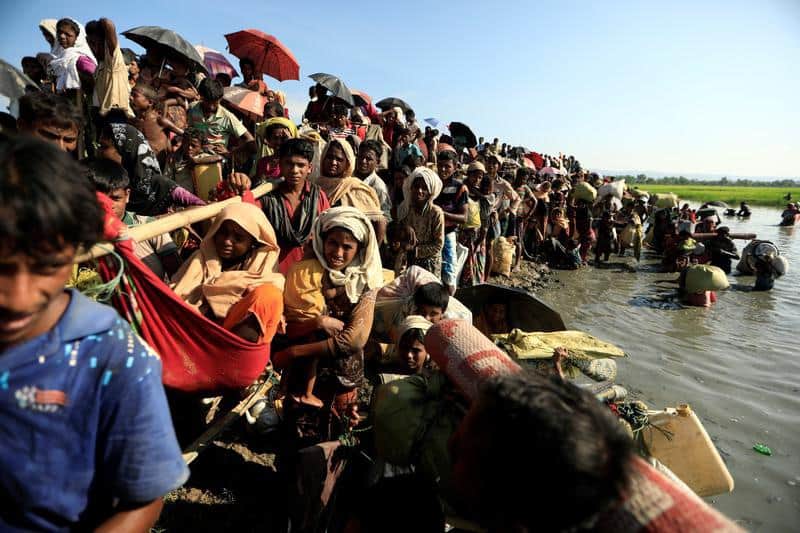 Posted:
December 26, 2017 at 3:08 pm / by
A.L. Long
/
A set of sanctions widely missed by mainstream media were imposed by the United States this week; pertaining to 52 people and entities alleged to have violated human rights and corruption. The list included Muang Muang Soe; a top Burmese General heavily cited for the gruesome and often deadly suppression of the Rohingya – a Muslim ethnic group.
Chief of the Burmese Army, Maj. General Muang Muang Soe head of the Army's Western Command is the first high level Burmese military official to be named, an action the Treasury Department said grew out of credible evidence of his involvement in the crackdown on Muslims. Survivors say such horrifying acts involved government soldiers stabbing babies, beheading boys, gang-raping girls and setting fire on entire families – to their death.
More than 620,000 refugees have fled to neighboring Bangladesh since August, in attempts to escape what Secretary of State Rex Tillerson described as "ethnic cleansing."
"Today, the United States is taking a strong stand against human rights abuse and corruption globally by shutting down these bad actors out of the U.S. financial system," said Steven Munchin, the Treasury Secretary. An action proposed to send "a message that there is a steep price to pay for their misdeeds."
Yahya Jammeh former president of the Gambia who came to power in 1994 and stepped down in 2017, was also charged on Thursday. Mr. Jammeh created a terror squad called the Junglers – a group he used to interrogate, intimate and kill people who threatened him, according to the Treasury designation. Benjamin Bol Mel of South Sudan; Dan Gertler, who did business with Democratic Republic of Congo and Mukhtar Hamid Shah of Pakistan were among those listed.
The pinpointing is the first result from the passage of the Global Magnitsky Act, a bi-partisan bill intended to punish people around the globe who are credibly accused of heinous violations of human rights and corruption.
Magnitsky is a follow up to an earlier passed law from 2012 which was designed to punish only people from Russia. On Wednesday, the Trump administration imposed sanctions on five Russians from the earlier law. Among those singled out was the leader of the Republic of Chechnya.
Assets are frozen as part of the sanction, on either individuals or entities held in the United States and also prevent the use of any American financial institution for banking or other purposes. The United States' global financial reach creates an improbable path for individuals to use major banks anywhere in the world.
The laws are named after a Russian lawyer, Sergei L. Magntisky who died in pretrial detention after exposing a $230 million tax-theft sham plotted by Russian officials.
"The fact that these listing were made today reflects the reality that despite many disagreements in Washington about the U.S. governments role in promoting human rights, there is a bipartisan consensus the U.S. government can and should act to told humans rights abusers to account," said John Sifton, the Asia advocate director of Human Rights Watch.
The sanctions against Maj. Gen Muang Muang Soe is among the first concrete signal by the United States against a top Burmese official for the continuing murderous campaign against the Rohingya – broadly popular in Myanmar, a majority Buddhist area.
Senator John McCain (R-Arizona), and Senator Ben Cardin (D-Maryland), co-authored the Global Magnitsky Act, released a joint statement welcoming Thursday's announcement.
"We look forward to continuing to work with the administration and the human rights community to end the global culture of impunity and ensure robust and comprehensive implementation of this landmark law," the statement said.