North Korea Leader Touts US With First Visit To Traditional Ally, China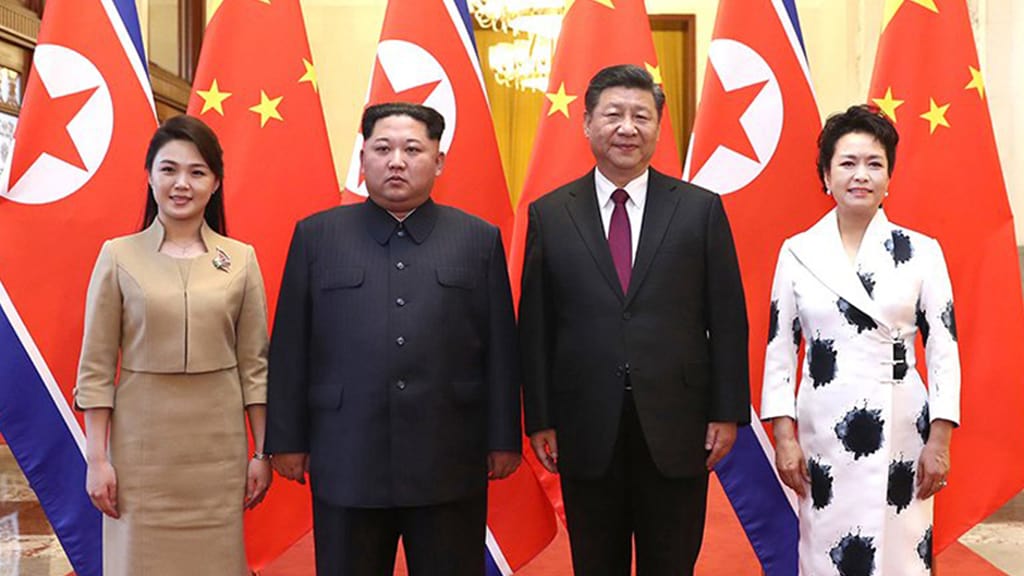 Posted:
March 28, 2018 at 5:37 pm / by
Sneha Goud
/
North Korean leader Kim Jong-un's surprise visit to China on March 27 may change the future of North Korea's relationship with the United States.
The visit has been the first international trip by Kim since he took power in 2011. The tension between North Korea and the United States has heightened since President Trump entered took office. The president has alternated between threatening the leader and promising a truce. North Korea has also threatened to use their nuclear weapons against the United States.
Though the visit was called a surprise, Chinese president Xi Jinping reportedly gave Kim and his associates the royal treatment with an official banquet and art performance. Though the United States has been the most vocal critic against North Korea, the visit is reportedly being seen as China expressing their power as a closer connection to the secretive country and its leader.
"China is saying to the United States and the rest of the world: Anyone who wants a deal on anything on the future of the Korean Peninsula, and certainly something which deals with nukes, don't think you can walk around us, guys," Kevin Rudd, a former Australian prime minister who is on good terms with the Chinese leadership, said in Hong Kong on Wednesday. President Xi has been publicly critical of North Korea trade policies and threatened to stop trading with the North altogether. 
Kim Jong-un is scheduled to meet with South Korean president Moon Jae-in and President Trump next month. By visiting China ahead of these meetings, Kim has expressed their dominant position and a force to be reckoned with.  
Because of North Korea's tightly controlled media and China's secrecy around the official events, conflicting reports about the visit have emerged. The trip was only confirmed by both governments after Kim returned to North Korea.
White House press secretary Sarah Huckabee Sanders said Trump was briefed about the visit by Chinese officials. Trump subsequently tweeted: 
For years and through many administrations, everyone said that peace and the denuclearization of the Korean Peninsula was not even a small possibility. Now there is a good chance that Kim Jong Un will do what is right for his people and for humanity. Look forward to our meeting!

— Donald J. Trump (@realDonaldTrump) March 28, 2018
Received message last night from XI JINPING of China that his meeting with KIM JONG UN went very well and that KIM looks forward to his meeting with me. In the meantime, and unfortunately, maximum sanctions and pressure must be maintained at all cost!

— Donald J. Trump (@realDonaldTrump) March 28, 2018
President Trump's optimism for peace between the two countries is likely premature as no public promises have been issued by either side. Worried about North Korea's nuclear powers, China has backed United Nations sanctions to reduce the export of goods into China.  
The visit has highlighted the similarities and history between North Korea and China that the United States does not have. North Korea and China have been politically close since China sided with North Korea during the Korean War and shared a Communist background.  
According to reports, North Korean media portrayed Kim Jung Un as a strong dominant figure as they always do when the leader appears in public. Chinese media showed the two enjoying a close relationship, shaking hands and discussing issues in a meeting.
The new alliance between North Korea and China is likely worrisome for newly appointed National Security Advisor John Bolton, who favors harsh policies to prevent conflict with North Korea. Time will tell how influential this surprise visit was.