Michael Cohen Paid $400,000 To Fix Trump Poroshenko Meeting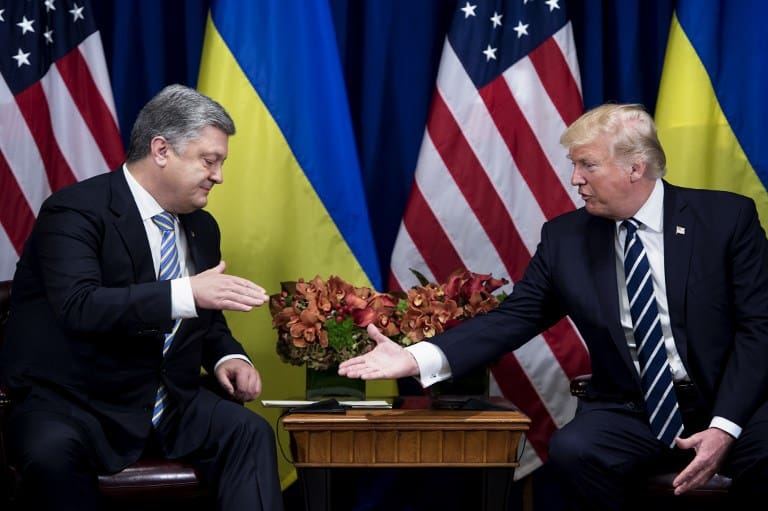 The BBC reported on Wednesday that President Trump's personal attorney, Michael Cohen received $400,000 to $600,000 to set up a meeting between Trump and Ukrainian President Petro Poroshenko.
A BBC source, a "high ranking intelligence" officer in Mr. Poroshenko's administration said Cohen was hired to fix the meeting because "Ukraine's registered lobbyists and the embassy in Washington DC could get Mr. Poroshenko little more than a brief photo-op with Mr. Trump. Mr. Poroshenko needed something that could be portrayed as 'talks.'"
According to the BBC Poroshenko hoped to create a back channel to Trump. The task was assigned to a former aide who, in turn, reached out for help to a member of Verkhovna Rada, the parliament of Ukraine.
"He, in turn, used personal contacts in a Jewish charity in New York state, Chabad of Port Washington. This eventually led to Michael Cohen, the president's lawyer and trusted fixer. Mr. Cohen was paid $400,000," according to the BBC.
In addition to a second source who claimed Cohen was paid $600,000, the BBC referred to Stormy Daniel's lawyer Michael Avenatti. "Avenatti said that Suspicious Activity Reports filed by Mr. Cohen's bank to the US Treasury showed he had received money from "Ukrainian interests," the BBC reported.
Avenatti tweeted a link to BBC story on Wednesday afternoon accompanied by the words, "Boom. #Basta".
The Trump/Poroshenko meeting was scheduled for June 20, 2017. The BBC reported that while Poroshenko was on a flight to Washington DC, he didn't know how much time he would have with the US President.
Officially, Poroshenko was only scheduled for a "drop-in."
"Mr. Cohen's fee was for getting Mr. Poroshenko more than just an embarrassingly brief few minutes of small talk and a handshake," according to the BBC.
The BBC reported that Poroshenko "was desperate to meet Mr. Trump."
Having assumed Hillary Clinton would win the 2016 presidential election, Poroshenko was allegedly responsible for authorizing a leak of a page of the "black ledger." The document confirmed that former Trump campaign manager Paul Manafort received $1.2 million from a pro-Russia party in Ukraine.
The leak was damaging to the Trump campaign, and Poroshenko certainly wanted to smooth relations with the new US President.
Negotiations for the Poroshenko's meeting with Trump "continued until the early hours of the day of the visit," according to the BBC.
In the end, the Ukrainian President received an extensive meet and greet with Trump. In a follow-up oval office press conference, Poroshenko praised the US President.
The BBC reported, "A week after Mr. Poroshenko returned home to Kiev, Ukraine's National Anti Corruption Bureau announced that it was no longer investigating Mr. Manafort."
The network said that its sources did not overtly state that Trump asked "Poroshenko to kill the Manafort investigation. But if there was a back channel, did Michael Cohen use it to tell the Ukrainians what was expected of them?"
A source for the BBC said Poroshenko "had given Trump 'a gift'- making sure that Ukraine would find no more evidence to give the US inquiry into whether the Trump campaign "colluded" with Russia."
The BBC reported that a "Western country's intelligence community says Mr. Poroshenko's team believe they have established a 'non-aggression pact' with Mr. Trump."
The alleged pact required Ukraine stop investigating Manafort and "end cooperation with US agencies investigating Manafort."
The pact also includes the sale of US coal, diesel trains, and anti-tank missiles to Ukraine.
A source told the BBC Ukraine is fighting for its survival. "He said he had kept in touch with his former subordinates and had heard many of the details about a Cohen backchannel'."