Trump Backed Out Of Tariffs Statement At G-7 Summit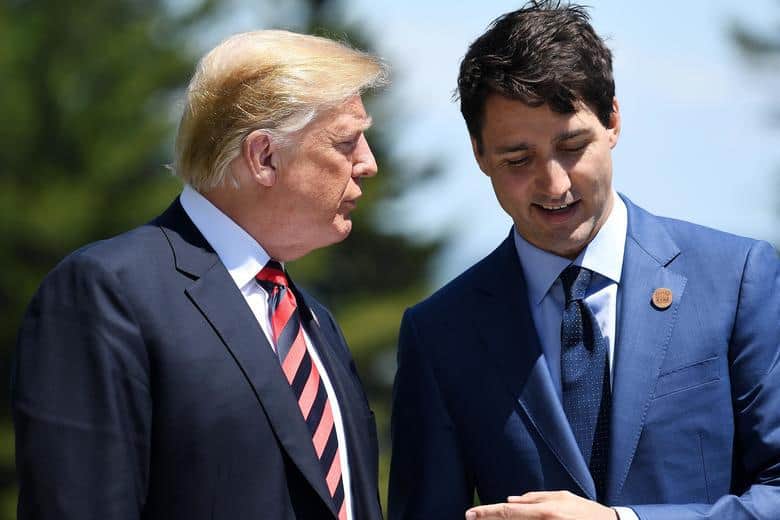 US President Donald Trump angrily backed out of endorsing the final tariffs statement at the G7, blasting the Canadian prime minister as "dishonest" and "weak".
The G7, or Group of 7, is a grouping of the seven most advanced economies in the world. G7 member states (Canada, France, Germany, Italy, Japan, the United Kingdom, and the United States) gathered this week for a summit in Quebec.
In spite of simmering tensions over tariffs, the summit seemed to be running smoothly. Leaders reached an agreement on a communique or a list of the points that the leaders had agreed on during the summit.
President Trump left early, to travel to Singapore for a much-anticipated meeting with North Korean leader Kim Jong Un. But no sooner had Trump left than everything fell apart.
Canada's Prime Minister Justin Trudeau gave a press conference at the close of the G7 summit and announced that Canada would be "moving forward with retaliatory tariffs" in response to American tariffs on steel.
Trump immediately lashed out on twitter and said that he had asked US officials not to endorse the G7 communique after all.
Trump said he was outraged by what he called Trudeau's "dishonest" and "weak" behavior. He seems to have viewed Trudeau's announcement of new tariffs as a sort of sneak attack, carried out after he himself was no longer there to defend himself.
Trump, en route to Singapore, tweeted,
PM Justin Trudeau of Canada acted so meek and mild during our @G7 meetings only to give a news conference after I left saying that, "US Tariffs were kind of insulting" and he "will not be pushed around." Very dishonest & weak. Our Tariffs are in response to his of 270% on dairy!

— Donald J. Trump (@realDonaldTrump) June 9, 2018
Based on Justin's false statements at his news conference, and the fact that Canada is charging massive Tariffs to our U.S. farmers, workers and companies, I have instructed our U.S. Reps not to endorse the Communique as we look at Tariffs on automobiles flooding the U.S. Market!

— Donald J. Trump (@realDonaldTrump) June 9, 2018
Trump's economic adviser, Larry Kudlow, appeared on Sunday morning talk shows and said that Trudeau had "stabbed us in the back."
But other G7 members were very quick to throw their support behind Canada and cast blame on the US.
The French president, Emmanuel Macron, said, "international cooperation cannot be dictated by fits of anger and throwaway remarks."
And Germany's foreign minister lamented that "in a matter of seconds, you can destroy trust with 280 twitter characters."
The communique (which the US has now rejected) included a statement about the need for "free, fair, and mutually beneficial trade" and the importance of fighting protectionism.
It also included a pledge to ensure that Iran's nuclear program remains peaceful, and a call on Moscow to withdraw its support for Syrian president Bashar al-Assad.