Togo: Ending President Gnassingbé's Dynasty Imminent For opposition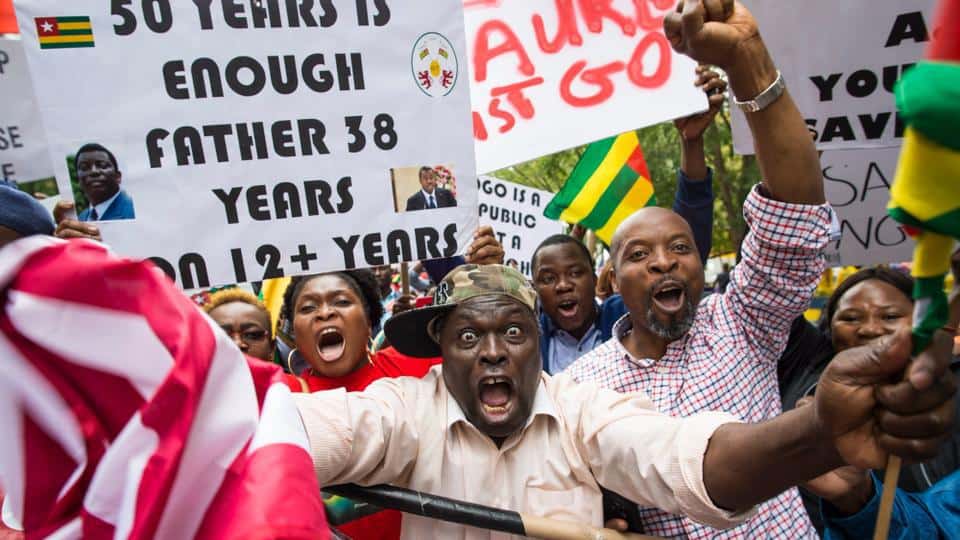 Posted:
September 20, 2018 at 5:48 pm / by
James Ojo
/
Talks of halting President Faure Gnassingbé's dynasty have been sweeping across major towns in Togo following the recent announcement of the country's highly anticipated constitutional referendum and election dates billed for December.
On Tuesday, many Togolese nationals, the opposition especially, could not hide their feelings when the country's electoral body announced referendum and legislative election dates.
"We will hold the local elections and the referendum on December 16, and on December 20 we will organize legislative elections," national election commission chief Kodjona Kadanga announced on Tuesday.
He added: "We are technically prepared. I can assure you that we have sufficient balloting material as well as people. There are no problems on our side."
The Faure-Must-Go Movement
Calls for a change of political power in Togo, especially among youths who constitute the majority of the country's population, have been coming for a long time; but they seemed far less realistic, with a ruling government determined to hang on to power at all cost at the helm of its affairs.
However, recent events have shown opposition in Togo could grind out a positive result against the ruling government in the forthcoming December elections.
There are two major factors igniting the political crisis in Togo. On one hand is the demand for an end to President Gnassingbé's reign in the country. The Gnassingbés have been at the corridors of power in Togo since 1967 when Gnassingbé Eyadéma seized power in a military coup.
He had gone ahead to rule the country from 1967 to 2005 before he passed on. Following his death, his son, Faure, the country's incumbent president took over power, despite international criticisms aimed at stopping his succession.
On 24 April 2005, Faure was elected President of Togo, receiving over 60% of the vote according to official results. His main rival in the race had been Emmanuel Bob-Akitani from the Union des Forces du Changement (UFC) or Union of Forces for Change.
Faure Gnassingbé won re-election in the March 2010 presidential election, taking 61% of the vote against Jean-Pierre Fabre from the UFC, who had been backed by an opposition coalition called FRAC (Republican Front for Change). Though the March 2010 election was largely peaceful, electoral observers noted "procedural errors" and technical problems, and the opposition did not recognize the results, claiming irregularities had affected the outcome.
Till date, Faure remains the country's president, with no plan of stepping down, a development that has led to many political unrests in Togo.
The country has witnessed series of protests demanding the end of President Faure Gnassingbé reign. More than half of Togo's 7.5 million population is under 25, according to an Aljazeera report. These people have only known life under the rule of Gnassingbé and his father, Gnassingbé Eyadema, the report added.
Another factor is the call for constitutional reforms in the country's polity. Anti-government movements in Togo are demanding a return to the country's 1992 constitution which only approved a two-term limit of 5 years for presidents, which would be effective retroactively to disqualify Faure from running for the presidency again in 2020. Similar to this is also call for restating a two-round voting system, and granting doors for those in the diaspora to vote during elections.
As it stands, it remained unseen how these measures will see off Gnassingbe's dynasty in the country. The president so far looked unperturbed by various demonstrations held in the country, since a political crisis started in 2017. Confrontations between security forces and protesters have left many dead, but it seems such clampdowns are of little significance to the opposition at the moment.
With December's legislative elections and a constitutional referendum some months away in Togo, it is clear that the opposition will leave no stone unturned to draw the curtain on Gnassingbé's reign.