Chaos in Illinois: Pritzker Failed to Regulate, Speaker Accused of Accepting Corporate Utility Bribes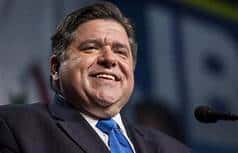 As previously reported by Caracal Reports, utility protections in Illinois and other states were not extended quickly enough, and utility terminations resumed last month. Meanwhile, Illinois' Democratic Governor J.B. Pritzker stood idly by while ignoring repeated calls from activists and other members of the Democratic party who were concerned about an impending crisis.
Pritzker's refusal to take government action to regulate corporate utility companies led to shutoffs for some Illinois residents under hardships related to the pandemic.
At a Sept. 18 press conference, Pritzker said of the utility companies, "It is my intention to continue to lean on them to do the right thing. I must say, though, that many of them have stepped forward to do the right thing on their own."
Pritzker left the conference after he was directly asked if he would prevent utility terminations. After that, people in the crowd began to chant, "No utility shutoffs."
In other states, governors enacted mandatory moratoriums on utilities and left the companies without any choice. On Sept. 22, a state regulated, voluntary utility moratorium was finally enacted through March 2021 for "eligible customers" in Illinois.
A press release from the Illinois Commerce Commission specified that certain "low-income residential customers, and those who self-report to utilities that they are experiencing financial or COVID-19 hardship" will qualify. They are required to call their utility companies to express their hardships and allegedly will not be required to provide any proof.
But according to Allan Max Axelrod, the campaign leader of a coalition called #NoAmerenShutoffs, a corporate utility company called Ameren Illinois resumed disconnects within days of the extension. Axelrod told Caracal Reports that "due to the Governor's continued inaction," a voluntary moratorium which was supposed to extend six months "did not last even 72 hours."
Demand for Pritzker to take action
Axelrod noted that the same powers Pritzker has "repeatedly used for eviction moratoria have been used in other states such as Kentucky for a mandatory moratorium on utility shutoffs."
In an open letter to Pritzker, Axelrod has demanded the governor mandate immediate action on utility shutoffs. The letter notes how some Illinois residents have been forced to separate their families due to termination of vital utility services in their homes. Others have been left without power while infected with COVID-19.
The financial issues created by the pandemic and the virus itself disproportionately impact people of color. Families are falling through the cracks of Pritzker's piece-by-piece action, which prioritizes corporate wealth over the health of Illinois residents.
Axelrod's letter accused Pritzker of a "prolonged evasion of addressing utility shutoffs" and "an inexcusable pattern of behavior which cynically politicizes Illinoisans' pandemic safety." Also noted is that Pritzker's office has been receiving requests since July to enact a mandatory moratorium, but the governor remained silent until September.
Utility fraud and bribery in Illinois
Illinois House Speaker Michael Madigan is under investigation for allegedly taking bribes from an Illinois utility company, Commonwealth Edison. Madigan has not been charged and has denied the allegations against him.
The longest-serving House speaker in the country and chairman for the Illinois Democratic Party, Madigan, has dismissed the accusations as "a politically motivated stunt."
But on Tuesday, former ComEd executive and longtime lobbyist Fidel Marquez pleaded guilty in a U.S. District Court to one count of bribery conspiracy relating to payments made to people associated with Madigan.
Marquez admitted to conspiring with others over a span of several years to bribe Madigan and his associates. He said this was done with the intention of shaping favorable legislation for ComEd. Payments were arranged by a lobbyist who is a focus of the probe but has not yet been charged.
Communications with Marquez show that two of Madigan's associates were put on the company's payroll as subcontractors, not required to perform any work. Marquez was instructed to remain quiet about the arrangement and to not "put anything in writing."
ComEd previously agreed to pay a $200 million fine when federal prosecutors alleged that the company was involved in the bribery plot. Federal prosecutors estimate that ComEd received at least $150 million in legislative benefits from the arrangement with Madigan.
House committee compromised?
In a separate but related scandal, Madigan's relationship with the chairman of the Illinois House committee charged with investigating his ties with ComEd is also under scrutiny.
Records show that Madigan worked to get state jobs for six people closely associated with the chairman, including his wife. Only one of those recommendations was subsequently appointed to their position by Pritzker.
"Helping people find jobs is not a crime," Madigan wrote in response. But the Illinois GOP has accused the chairman of "performing as a human shield for his mentor, Mike Madigan."
Madigan declined to testify, but on Tuesday, Gov. Pritzker spoke on the issue for the first time and called for Madigan to answer questions before the state committee.