White House Scrambles to Accommodate Unaccompanied Minors Flooding U.S. Border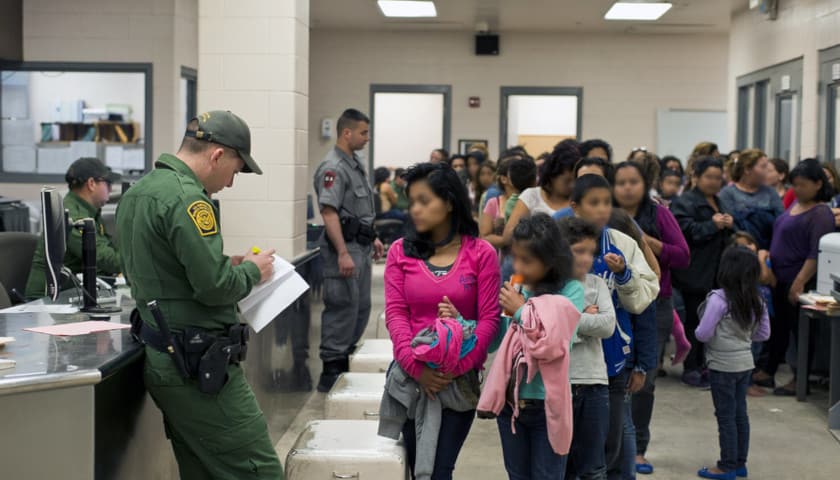 The number of unaccompanied minors crowding the southwest border has soared to record levels over the past month, with over 13,000 minors in custody as of March 16—up from the 4,276 reported as recently as Sunday. Without enough beds or personnel, the situation quickly becomes a humanitarian crisis that the new administration cannot afford to ignore.
In an official DHS statement, Homeland Security Secretary Alejandro N. Mayorkas said, "We are on pace to encounter more individuals on the southwest border than we have in the last 20 years."
Though dastardly immigration conditions have been ramping for the better part of a year, the Biden administration faces invigorated criticism following the massive influx of unaccompanied minors during their first few months in command. February saw a 63% monthly increase in children taken into custody, with a total of 9,297. An estimated 60,000 children will arrive on U.S. soil this fiscal year alone. 
Biden Administration Points To Extenuating Circumstances While Republicans Blame Lax Border Control Policies
Though U.S. borders are not technically open, Biden has directly addressed immigration concerns by ending the border wall construction and ordering the reunification of separated migrant families. Such measures have likely encouraged UACs to seek asylum.
With thousands of unaccompanied minors flooding the border, government agencies struggle to provide adequate housing and care. The 72-hour holding guideline designated by law is being stretched to accommodate the overwhelming UAC population, and many children are now spending extended hours at detention facilities, averaging an astounding 117 hours. 
According to Republican lawmakers, the blame falls strictly on the shoulders of the new administration. During a visit to the El Paso border on Monday, House Minority Leader Kevin McCarthy said, "The sad part about that is this didn't have to happen. This crisis is created by the presidential policies of this new administration."
However, other potential causes for the surge in UACs are probable, namely increased poverty, violence, corruption, and back-to-back hurricanes in Central America. Other prominent persons suggest that the current situation stems from inherited consequences. In other words, problems put into motion during the previous administration have now come to fruition.
Democratic Representative Veronica Escobar of Texas said, "This is not something that happened as a result of Joe Biden becoming president. . . . What we are seeing today is the consequence of four years of dismantling every system in place to address this with humanity and compassion."
A Growing, but Ever-Present Crisis: The Compounding Effects of Zero-Tolerance and Covid-19 on Border Control and Safety
In April 2018, a zero-tolerance policy implemented by former-president Trump persecuted all adults who crossed the border without authorization. Approximately 4,400 children were separated from their parents, some of whom have yet to be reunited.
Moreover, the COVID-19 pandemic further displaced those looking for refuge. In March 2020, the Trump Administration began barring all undocumented immigrants, following CDC guidance. The policy has since been extended despite initially acting as a temporary measure for pandemic safety.
Though the immigration storm has been a long time brewing, founding director of the Border Network for Human Rights Fernando García partially blames a lack of preparation for today's dilemma.
"I think [the] Biden administration is not ready, was not ready to deal with a situation like this, and specifically after Trump destroyed the systems, destroyed the infrastructure in the refugee and asylum systems in the last four years," García said during an interview with Democracy Now.
New Emergency Shelters To House Unaccompanied Minors Amid FEMA Deployment
To help combat the growing problem, Biden has instructed the Federal Emergency Management Agency (FEMA) to aid border patrol for the next 90 days starting Saturday, March 13. However, the network of shelters designated for such purposes is quickly running out of space.
As such, new emergency shelters are being opened to accommodate the surge of UACs. The Department of Health and Human Services constructed a temporary shelter in Midland, Texas on Sunday, and is expected to build another in a convention center in Dallas. An emergency shelter formally opened in Carrizo Springs, Texas, is expected to stay open and remain in operation.
According to Tucson Police Chief Chris Magnus, the government will also open a tent facility to process and temporarily hold migrants near Tucson, Arizona. Government plans to process and manage border migrants are steadily underway.
Moving Forward With Immigration Legislation
Last week, Senator Marsha Blackburn of Tennessee openly denounced the Biden administration's handling of illegal immigration, claiming that unsecure borders threaten the safety of American citizens.
Conversely, Director Garcia stated, "Migrating to the United States to flee persecution and crisis is not a decision that can be postponed until it is convenient for the White House. Additionally, seeking asylum is a legal right, and U.S. law states that asylum seekers may remain in the U.S. while their case is pending."
No matter the origins of the border issues at hand, there is little doubt that it must be handled promptly. New legislation is one possible solution to combat the lack of available resources for the thousands of stranded UACs.
This week, the House will be voting on a pair of bills targeted at immigration. The American Dream and Promise Act seeks to create a pathway to legal status for undocumented individuals brought to the U.S. as children. The Farm Workforce Modernization Act would create a temporary status for agricultural workers or allow them to earn a green card, streamlining the process for foreign citizens to live temporarily in the U.S. for agricultural work.
Though bill advocates champion hope, Congress has failed to enact broad immigration changes in over three decades, the last comprehensive bill having died in the House in 2013. The time for an effective, long-term solution is long overdue.
When concluding his statement regarding the border, Garcia said, "I came to this country as an infant, brought by parents who understood the hope and promise of America. Today, young children are arriving at our border with that same hope. We can do this."