Corporate Push Against Voter Suppression Laws Angers GOP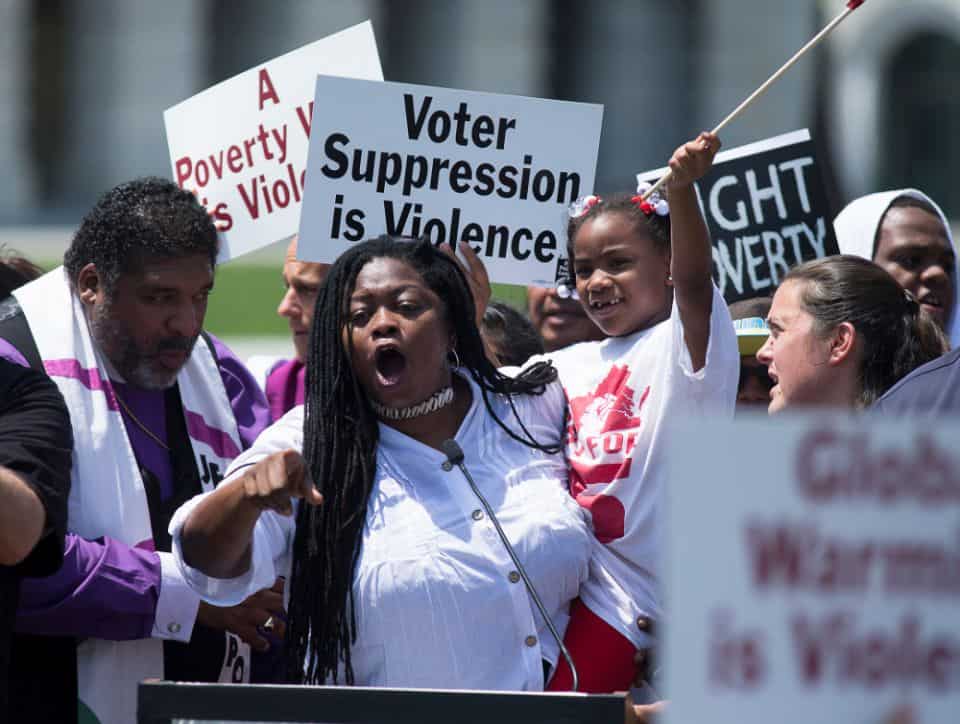 With the fight against voter suppression laws still ramping, corporations find themselves stuck between a rock and a hard place. Since Georgia's legislature passed SB 202, an outraged public has taken up arms against similar bills introduced across the country. Many have called upon corporations to take a stand and utilize their leverage and influence to protect voting rights.
"They have the most powerful lobbyists in the Georgia Legislature. They could've stopped this in its infancy had they wanted to," said Nsé Ufot, chief executive of the New Georgia Project.
On the other hand, denouncing Republican efforts puts corporations at odds with proponents of business-friendly values, such as tax cuts and deregulation. A recent Public Citizen report found that corporations have donated $50 million since 2015 to lawmakers supporting voter suppression bills.
In some ways, backlash from Republican legislatures has already begun. The Georgia House advanced a bill revoking a tax break on jet fuel closely after Delta Air Lines released a statement announcing their disapproval of SB 202.
Republican leaders have also rebuked corporations for giving in to liberal demands. Upon receiving criticism for SB 1485, Arizona State Senator Michelle Ugenti said, "Unfortunately, my Democrat opponents have resorted to their usual scare tactics and misinformation campaigns by using alarmist rhetoric to label this modest reform suppressive and somehow advocating racism."
The Political Role of Corporations
On Tuesday, Texas Lt. Gov. Dan Patrick spoke directly to corporations during a news conference, condemning their interference with political matters. "You've meddled in a lot of issues lately. Stay out of things you don't know anything about," said Patrick.
However, corporations often have an invested interest in appealing to consumer crusades as social media and public support play an active role in business success. "Consumers and employees care about the values of the corporation that they either work for or do business with. It's different than it was 10 years ago or 20 years ago," said Doug Schuler, professor of business and public policy at Rice University.
Though Delta Air Lines and Coca-Cola have denounced SB 202, Delta received considerable backlash over their initial lackluster response to public outcry. After claiming that they put forward significant efforts to tame the original draft of the law, CEO Ed Bastian released a memo that called the final bill unacceptable and failing to "match Delta's values."
In turn, corporations across the nation have come together to protect consumer interests by condemning voter suppression laws. Arizona's Greater Phoenix Leadership is one such organization that has taken up the torch against voter suppression.
"Any issue that has the potential to harm Arizona's reputation and therefore our potential to continue to do very well economically is an issue we're going to weigh in on," said President Neil Giuliano. "You can't dance on these issues. There are constituencies that are going to want to know what you believe."
Microsoft, which is currently investing heavily in Atlanta, released an extended statement detailing their concerns. President Brad Smith said, "It's clear to us that the new law contains important provisions that needlessly and unfairly make it more difficult for people to vote. We hope that companies will come together and make clear that a healthy business requires a healthy community. And a healthy community requires that everyone have the right to vote conveniently, safely, and securely."
Major League Baseball also made a resounding declaration by announcing that the All-Star game would no longer be hosted in Atlanta. The NFL, which has faced scrutiny for political involvement in the past, has yet to comment.
Future Battlegrounds for Voter Rights
Texas, Arizona, Florida, and Iowa are next in line for voter reform measures. However, it appears that corporations with footholds in these future battleground states have learned from corporate mishaps in Georgia.
Accordingly, many have pre-emptively denounced voter suppression bills before they pass. Despite having donated to bill sponsors in the past, AT&T, Verizon, and Comcast have all denounced voter suppression bills.
Civic Alliance also released a joint statement from company executives, calling on elected leaders to "ensure that every eligible American has the freedom to easily cast their ballot and participate fully in our democracy." Participating companies included Microsoft, Uber, Twitter, Target, Capital One, Salesforce, and more.
Regardless of public and corporate retaliation, Republican legislatures have vehemently defended the need for voter reform.
"Senate Bill 7 is about voter security, not about voter suppression, and I'm tired of the lies and the nest of liars who continue to repeat them," said Texas Lt. Gov. Dan Patrick. "You're questioning my integrity and the integrity of the governor and the integrity of the 18 Republicans who voted for this when you suggest that we're trying to suppress the vote. You are, in essence, between the lines, calling us racist, and that will not stand."
Emerging Support for Federal Interference
GOP opposition to H.R.1 claims that the federal government wants to take power entirely away from states while H.R.1 supporters endorse its protective features. The For the People Act of 2021 is the primary focus of those looking to ensure voter rights on a federal level. The bill's statement of purpose reads:
"To expand Americans' access to the ballot box, reduce the influence of big money in politics, strengthen ethics rules for public servants, and implement other anti-corruption measures for the purpose of fortifying our democracy, and for other purposes."
Along with many American citizens, some corporate officials are looking to federal measures to remedy state voter suppression laws' damage. In his statement, Coco-Cola CEO James Quincey said,
"Our focus is now on supporting federal legislation that protects voting access and addresses voter suppression across the country. We all have a duty to protect everyone's right to vote, and we will continue to stand up for what is right in Georgia and across the U.S."