Manchester United Fans Disrupt Play to Protest Owners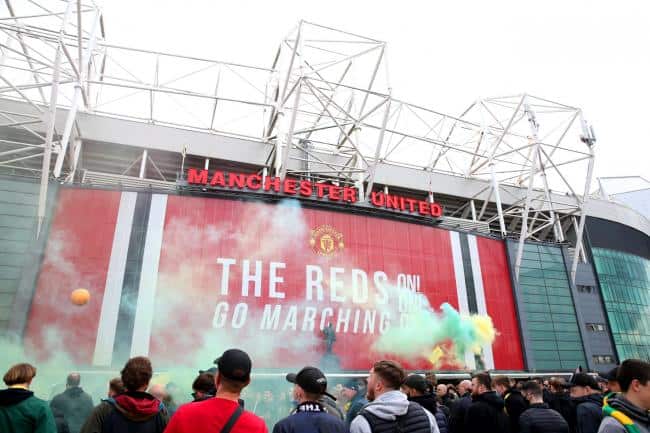 The biggest story in British soccer this weekend happened off the pitch as Manchester United fans stormed Old Trafford to protest the club's ownership. The protest was so well-attended that the Premier League postponed United's match against Liverpool.
For American sports fans, it's almost hard to imagine fans having so much power over their team, but ever since Super League protests kicked off, English fans, in particular, have shown their strength in numbers.
But United fans' disdain for their owners, the Glazer family, did not just start with the Super League. Years of problems have piled up with Manchester United and other clubs, and it seems like the botched attempt at the Super League served as the last straw.
The billionaire Glazers were not even well-received when they first bought the club in 2005 as a police van had to drive them to safety when they were met with angry protestors on their first visit to the club. Several years ago, multiple sources reported that the Glazer family had drained over $1 billion out of the club through various dividend payouts and stock sales.
In the eyes of fans, the regular disdain the owners have shown the club was reason enough to disrupt the team's game.
No fans were allowed in the stadium due to COVID-19 restrictions, and the U.K. government condemned violent actions by the protestors. Protestors and police clashed, and two police officers were injured, and some protesters vandalized parts of the stadium.
While not everyone supported the protests, United fans did have some high-profile supporters. Legendary former Arsenal manager Arsène Wenger called the protests "part of a revolution in the sport. United legend Gary Neville was also photographed fist-bumping protestors in the stadium.
Othe Premier League News
While United fans stole the headlines this weekend, there were still important matches played.
As the fight for a top-four finish and a spot in the Champions League goes down to the wire, several teams improved their chances.
Leicester City drew Southampton 1-1 on Friday and failed to capitalize after Southampton defender Jannik Vestergaard was sent off in the 10th minutes. Leicester actually went down 1-0 after a penalty kick from James-Ward Prowse, but the Foxes quickly equalized when Jonny Evans scored.
Leicester now sits in third place, and the team behind them in fourth, Chelsea, made up ground by winning 2-0 against Fulham. German star Kai Havertz notched both goals for the London side. Chelsea has a more difficult run-in than others competing for the fourth spot as the club is still in the Champions League; thus, they need to rotate their starting eleven more.
Four other teams are still within striking distance of a top-four spot, Tottenham, West Ham, Liverpool, and Everton.
As previously mentioned, Liverpool had their match against Man United postponed. United sits comfortably in second but far off cross-town rival Manchester City.
Tottenham battered Sheffield United 4-0, recovering from a heartbreaking Carabao Cup final defeat against Manchester City. Gareth Bale scored a hattrick, including a wonderful team goal for his third.
Everton lost to Aston Villa 2-1 and greatly damaged their already slimming chances to make the Champions League. West Ham's game against Burnley is an opportunity for the London club to turn their fortunes around.
With just four games remaining in the Premier League, there's still all to play for, and several clubs will see their futures change drastically based on upcoming results.